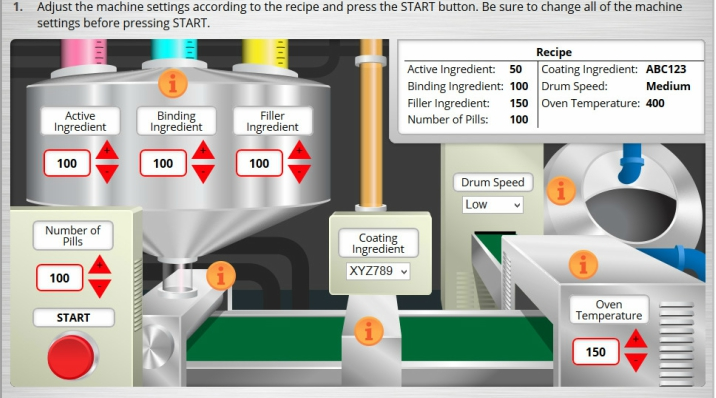 Back in the '90s, the typical manufacturing hiring process involved a two-hour proctored exam followed by a series of interviews. Technology has made today's screening process more streamlined. Instead of in-person exams, candidates can now complete assessments online or from their mobile devices, making it much easier to compete for jobs and widening the pool of applicants.
But something was lost in that convenience. Less formality means applicants are less likely to take the process seriously, and some hires make less of an effort once they are on the job. "The harder you make the selection process the more that person is going to want that job and stay in that job once they get it because it's a badge of honor," says Dr. Matthew O'Connell, co-founder and executive vice president at Select International, an employee assessment provider.
For these reasons, a good screening process is more important than ever. A recent Select International study of 800 employees showed that screening out as few as 8 percent of applicants using an assessment would have resulted in a 25 percent reduction in disciplinary actions and a 40 percent reduction in workers' compensation claims.
For more than two decades, Select International has been a leader in employee screening assessments and research. The company was founded in 1993 with a focus on computer-based assessments. Within two years, it brought its employee screening processes to the manufacturing segment.
"Since we've been working in this space for so long, we have a very robust set of solutions that apply to a broad range of organizations," O'Connell says. Each of those solutions can be adjusted to the client's desired employee competencies, such as multi-tasking or problem-solving, to ensure they are placing job candidates in positions that best fit their skillsets. "It helps the decision-makers slot candidates into positions where they will be more successful," O'Connell states.
The company will roll out a new platform later this year that will give clients even more configuration options. "It's sort of a build-your-own-assessment we're moving toward," O'Connell says. "Clients can have the core component and pick and choose the ones they want in their assessment on the fly."
Safer Workplaces
Three core competencies are key to evaluating potential manufacturing employees: work ethic, personal responsibility and attention to detail. Workers who excel in those areas and have a positive personality tend to be the ones that last on the job and contribute the most to the company's environment and culture.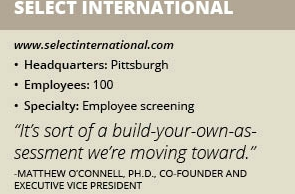 "Those three traits really make up the core of a great manufacturing employee and we can get really great measures of those in a short amount of time," O'Connell says. Using Select International's tools, companies can get a good measure of those traits and a broad range of competencies relating to the available job through a one-hour assessment.
A strong assessment can eliminate candidates from consideration who are more likely to not show up for their shift or exhibit behaviors that can threaten the safety of themselves and those around them. An individual who engages in one act of counterproductive work behavior, such as ignoring a safety procedure, is nine times more likely to be involved in a safety incident, according to a Select International study. The danger increases exponentially with the number of violations. Individuals who exhibit two incidents of counterproductive work behavior are 24 times as likely to be involved in an incident.
Expanding Service
Most clients utilize Select International's technology through a software-as-service model. They create a customized assessment, then administer it to candidates and Select International supports it from the back-end. But a trend has emerged in recent years where some clients want a more turnkey solution where Select International provides on-site personnel – a service Select International calls "Assessment Process Outsourcing" (APO).
APO differs from traditional recruitment process outsourcing (RPO) in its fundamental goal. RPO focuses on the candidate sourcing process, while APO focuses on talent evaluation, assessment administration and logistics. A seamless process has become even more critical, given the tight labor market.
Because its assessments are designed to determine the quality of a candidate, not only their qualifications, Select International can screen out workers who are more likely to have worker's compensation claims or who will need to be replaced later on – ultimately saving the client money.
With its APO service, Select International takes control of the entire process and gives clients greater confidence they will get the assessment results they need. "A lot of organizations, especially in the manufacturing world, see the value in having us run their systems," O'Connell says.
Select International's assessment is good at identifying the strength of a candidate's key traits, but even the best questionnaires have limitations when it comes to physical job performance. Manufacturers want to know the person they are hiring can complete the tasks the role requires and maintain consistent quality standards.
The best way to evaluate that ability is to see the candidate in action, which is why Select International has developed many production simulations that mimic key aspects of the job. An auto manufacturer, for example, may have a potential employee install bolts and weld components on the inside of a car cab to test whether they can learn and perform the task in a real-world setting.
These production simulations not only benefit the manufacturer, they also set expectations for the job candidate. After two or three hours in the simulation, potential employees have a better sense of what the day-to-day of the role entails and whether it is the right fit for them. "We would much rather have someone say at the end of that simulation, 'That isn't for me,' rather than go on to be hired and likely turnover," O'Connell explains.
Having perfected the science of screening employees, Select International is putting its industrial organizational psychologists' expertise toward another common manufacturing challenge: recruitment. Many of the organizations it works for have a core group of employees and a larger variable workforce. Variable workforce jobs are lower pay with fewer benefits, even though the workload is similar to full-time positions. That makes those jobs less attractive and more difficult to fill.
The solution is to make advancement opportunities more obvious and to better incentivize variable employees to stay on longer. To help with that, Select International is putting together a consortium of variable workforce vendors designed to address the problem. The group will address questions such as "What are the best practices? How do you improve the environment so they see there is a clear path forward?" O'Connell explains.