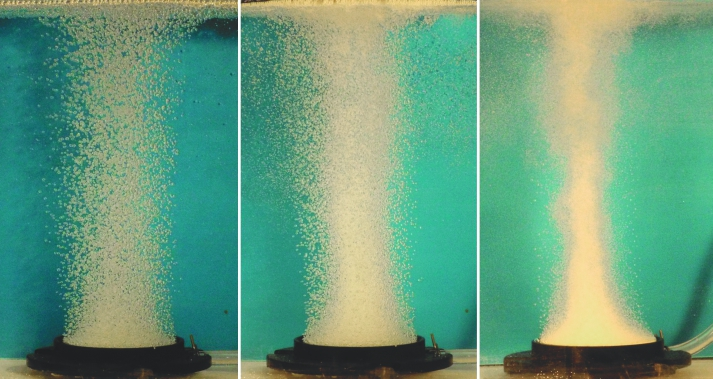 Chad Sheckler likes solving challenging problems. A ceramic engineer specializing in high temperature chemistry and process technology, Sheckler's company focuses on custom-designed ceramic solutions others find difficult.
"We like to take on projects that have been an ongoing challenge for the customer," says Sheckler, founder and president of Seneca Ceramics. "We are looking for the problems that companies have not been able to solve. For example, we had a company that was trying to develop a product for about 10 years. They needed a small complex ceramic component for it. After looking all over the world, they came to us."
Seneca Ceramics was able to design the part and ended up manufacturing 1 million pieces of the product for the company. The Phelps, N.Y.-based manufacturer specializes in ceramic microstructures, near net shape and complex shapes.
"We've worked with a wide range of companies in various industries including pharmaceutical, mining, electronic, abrasives, law enforcement, and aquaculture," Sheckler says. "You never know where the customer will come from. But they all have a problem that requires a ceramic solution. We're good at coming up with solutions that nobody else can make and at a very affordable price."
Custom Made
Since its customers rely on Seneca Ceramics to help them make technological advances in their respective markets, the company goes to great lengths to safeguard the nature of that technology.
"One hundred percent of our products are custom designed," Sheckler says. "We almost never have a competitor for what we are making. Our products are so customized that they are not easy to reproduce. It's not like a cellphone where there are eight manufacturers that make the same product and everybody is trying to compete with each other."
Seneca Ceramics' solutions are built from the ground up. That means starting at the microstructure and chemistry stage and building up to design and manufacturing. It provides ceramic solutions that can be either fully dense or porous.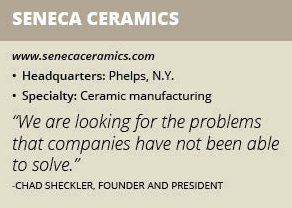 Some of the applications that Seneca Ceramics offers include kiln and furnace furniture, porous shields, nonreactive plates for sintering, furnace liners, custom lab ware and diffusers. The company can develop complex, high-definition forms and shapes, and practices body and surface chemistry that is tightly controlled and tailored to specific performance requirements. It also promises faster and lower-cost product-development cycles.
Some of its repeat customers include those in the dental implant industry. Seneca Ceramics supplies refractory ceramics, materials that can withstand very high temperatures without degrading or softening and are nonreactive to its customer's finished product. These materials include ceramic containers and trays that are used in furnaces to make dental implants.
"We make what is called 'furniture,'" Sheckler says. "It's a broad industry term for the containers with components that will protect their parts [dental implants]."
Aside from furnaces, refractory materials are used in kilns, incinerators and reactors. They are also used to make crucibles and molds for casting glass and metals and for surfacing flame deflector systems.
The oxide of aluminum, silicon and magnesium are the most common materials used in refractory materials. "We specialize in oxide ceramics," Sheckler says. "Aluminum oxide is a high-temperature material that's non-reactive with many other materials. The electronics industry uses high purity aluminum oxide in refractory applications."
A majority of Seneca Ceramics' projects include controlled pore ceramics, which contain open-cell structures that allow the free flow of liquid or gas. Porous ceramics offer a variety of desirable characteristics ranging from an increased surface area, to permeability, to the control of heat transport within the structure and the maximization of the strength/density ratio.
"We are designing the porous structure in the ceramic," Sheckler says. "A lot of engineering goes into that." Some of these porous ceramics include filters, diffusers and spargers. "Our product is used in many infrastructure applications."
Growing Up
Founded in 1999, Seneca Ceramics started out as a company that sold ceramics giftware and handcrafted porcelain products. But Sheckler's vision for the company has always been on the technical end.
"I was the director of R&D for a technical ceramics company," he says. "When I left to start my company, I could not move into their market for the first five years so we only did giftware ceramics. But during that time I was working on developing new technology."
Sheckler's passion for research and development and exploring new territories has helped grow his company during the past two decades. He refers to it as a small company that does roughly $1 million in sales.
"We grow at about 10 to 15 percent per year," he says. "I'm expecting this year to be a good year as we have several new products that are maturing."
On a typical year, the company gains two to three long-term customers. "It's a lot of work to bring on a customer for these technical products," he adds. "From first request by the customer to full production it can take three years or more," Seneca Ceramics has customers that order five to ten pieces a year while others purchase tens of thousands of pieces per year.
The company has a 30,000-square-foot facility at its headquarters in Phelps. It operates mainly in the United States but it has overseas clients.