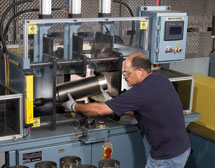 Joe Mockus believes wholeheartedly in American manufacturing. He knows quality and innovation from U.S. manufacturers are unparalleled by low-cost options throughout the rest of the world, and he relays this attitude to the 500-strong workforce at Senior Flexonics in Bartlett, Ill., every day.
That attitude includes acceptance that if U.S. manufacturing expects to outlast competition from overseas, it must move on from old practices. This includes implementing lean manufacturing initiatives throughout the operations at Senior Flexonics.
"I am passionate about manufacturing in the United States, and believe we can be competitive," says Mockus, who serves as vice president and general manager. "But not if we're using the same techniques we used in the '70s."
Senior Flexonics was founded in 1902 as Chicago Tubing and Braiding, building parts for the gas lamps used throughout the Chicago area at the time. The company continued to expand into additional markets and sectors, and it changed its name to Flexonics in 1952 as it turned its focus to specialized thin-wall metal tubing applications. In the early 1990s, Flexonics became a part of Senior plc, an international manufacturing group that produces engineered products for the aerospace, defense, land vehicle and energy markets.
Today, Senior Flexonics sells its products primarily to the heavy-duty truck industry, specifically engine manufacturers and truck OEMs. While this sector represents about 75 percent of Senior Flexonics' sales, the company also offers applications for the medical and alternative energy industries. Its products include bellows assemblies, exhaust components, flexible tubing, fuel injection components, heat exchangers and EGR coolers.
Not only are Senior Flexonics' products technologically advanced, but they are built to last, as well. Mockus takes pride in the rigorous testing its products experience before they're shipped.
"We have a lot of engineering content in our products, and we try to carve out a market niche on the technology side," Mockus says. "These are high-durability products, which means that our customers can subject them to extremes. We really seek out very tough applications, such as temperature extremes or high-pressure conditions. It's how we believe we can make some money and separate ourselves from our competition – by designing our products for severe applications and high performance."
Leaning on Efficiency
When he joined Senior Flexonics in 2010 after spending 20 years with a Fortune 500 electronics company and with two private equity-backed metals firms, Mockus soon realized the company had to make changes to compete with overseas competition. He began implementing strategies to eliminate waste from the company's processes by first speaking with employees on the shop floor, knowing that they best understood the daily problems with machine downtime and scrap that cost Senior Flexonics money and hurt its competitiveness.
"Because the company had been around for so long, long-term employees remembered all the initiatives from the past that hadn't always been sustained and they were ready for another one to fail," he says. "So, we went back to the basics – rather than making this a top-down initiative from my office, we went bottom-up. We got a lot of people involved in kaizen activity early on, so that we had 500-plus people as part of the team and not just a few specialists or consultants."
Through this initiative, Senior Flexonics developed standard work operations that reduced setup and production times, as well as launched numerous kaizen events to find other ways to reduce the company's overall operational waste.
"We cast a wide net to get a lot of people involved so they have a grasp of the tools, speak the language and see the impact," Mockus says. "If I can create a culture where over 500 people are looking for ways to get better and are listened to, that is really, really powerful."
Despite being less than two years into its lean initiative, Senior Flexonics already has seen improvements in its operations. Mockus says productivity is up by 15 percent, and the company's working capital turns have improved by almost 20 percent. Mockus also reports significant decreases in inventory, floor space and lead times.
"The financials, however, are the ultimate indicator," he says. "If we've done the process fixes we need, I'll see it in the numbers and that is what will keep jobs here in Bartlett."
Booming Business
Mockus says that suppliers to the heavy truck industry are benefiting from new EPA regulations on emissions. This means Senior Flexonics is experiencing an uptick in sales, and the company is preparing for even more business.
"The last time the EPA put out new regulations was in 2006-2007, and all the trucks that hit the road at that time are now reaching a million miles-plus and are getting replaced," Mockus says. "Besides the regulatory changes, a large portion of the trucks on the road are owned by small owner/operators and, when the Great Recession was upon us, they couldn't get financing, or were just hunkering down and didn't want to spend money. Those operators are now purchasing new trucks, which is leading to resurgence in our industry."
Despite the state of the economy, countless customers are still looking to overseas manufacturers to get their products at a cost savings. However, Mockus realized companies like Senior Flexonics offered a distinct advantage with access to technology and proximity to the clients themselves, which allows for greater customization of products for its clients' needs and better responsiveness.
"On the customer side, we have to understand their applications and what they're doing with the products and understand what issues they have so we can design a solution for them," Mockus says. "We are never going to compete with low-cost countries on the price tag, but we can be competitive with the total value we provide.
"On the technology side, we have to have better products and manufacturing capabilities than the competition."
Staying Relevant
Although Senior Flexonics has drastically improved its operations while expanding its product line, Mockus realizes the company cannot rest. He admits the lean tools the company utilizes on a daily basis are far from complex, but remaining disciplined to adhere to a program for continuous improvement is how companies like Senior Flexonics will stay in business.
"For us to stay relevant in a high-cost country, we need to continuously improve," he says, adding that this includes management.
"I don't believe anyone comes to work to do a bad job," he adds. "Management fails them somehow. You have to give people the tools and decision-making rights to do the right thing – it's not just training and putting in metrics, but also driving accountability, putting in rewards and recognition to incentivize the right behaviors, and giving people a clear direction of where we're going as a team."