Five star plastics
Senoplast is an established technology leader in the highly complex production process of co-extrusion and a specialist in producing high-grade plastic sheets and films for a range of applications
With a history dating as far back as the beginning of the 20th century, when the Klepsch family ran a steel, iron and bronze foundry, Senoplast was founded by 18-year-old Wilhelm Klepsch in 1956. Thanks to the vision of its founder who came up with an idea to collect old plastic materials and use them again, the company has developed from its early days as a simple production operation into a global player in the area of co-extruded sheets and films for thermo-forming into a wide variety of applications. Throughout this period of growth, key to the company's success was its commitment to regional responsibility, the use of environmentally friendly materials and technologies as well as the delivery of reliable, innovative and high quality products, all of which further enabled its sustained success in a competitive market.
Today operating as part of the Klepsch Group, the Austria headquartered company has been producing for the NAFTA area from its base in Mexico since 2000. In 2006 Senco (Europe) was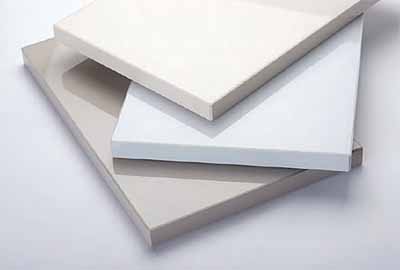 founded, a new production site in Piesendorf created to produce for the automotive industry and Senosan GmbH, a producer of high-grade, co-extruded and scratch resistant plastic films for the furniture industry was established in 2011.
"Senoplast manufactures high value plastic sheets and films for the most varied areas of application, such as automotive, sanitary, furniture, refrigeration, roof boxes and travel cases. Since our foundation we have established ourselves as a technology leader in numerous patent applications. We aim to be the co-extrusion specialists with the best surface quality in our market. My father was one of the first to start using co-extrusion as a way to combine the properties of different polymers into one sheet; something he did at the beginning of our industrious history," begins Günter Klepsch, CEO at Senoplast.
He continues: "We have since continued on this road and rely on the most modern co-extrusion production lines, which are all technically adapted by our own machine building company to ensure our high standards are fulfilled. Some examples of our expertise in extrusion and product design include our ability to alter materials so they match stringent norms in the car industry where impact strength is the highest priority; we have also modified materials to improve heat resistance by a number of degrees or developed UV protection for fire retardant material. Customising for our customers is an ongoing process for us."
With more than 50,000 tonnes of the company's senosan® products delivered from its headquarters in Piesendorf, Austria, and subsidiary in Queretaro, Mexico, to countries across the world, Günter says Senoplast uses its flexibility and innovation to meet the needs of its broad customer base: "To meet the requirements of our customers we manufacture sheets and films in various dimensions, levels of thickness, surface structure and colours. Furthermore, our products boast superior surface quality and brilliant colour, while the mechanical and chemical properties of our products of course meet the highest demands for quality."
Recent product launches for Senoplast include a new embossing 022HT, which is available in ABS, TPU and PMMA surfaces as well as different colours and a maximum width of 1.650 mm; thickness options range from 2.00 to 6.00 mm.
A new ongoing project has been launched together with the Green Hospital®, the so-called Room 2525®: an innovative trendsetting programme aimed to build new patient rooms in hospitals. Senoplast supplies high quality senosan® materials for furniture surfaces.
"Our strength is clearly our ability to innovate," he adds. "Key to our innovative development is the fact we have our own research and development department, which assists in creating products to fit the needs of our clients. We can also rely on our quality leadership and strong reputation in the market; a difficult position to maintain over the years, however the low turnover of employees means we can maintain our in-house knowledge at the required level. We also regularly invest in in-house training for our personnel."
Alongside this investment in its employees, the ISO 9001 & ISO 14001 certified company has also invested five million euros into its specialised extrusion lines and production environment to achieve Class A surfaces. "Refined surfaces need a dust-free environment in production, which is also a reason for this high level of investment; once completed, we will be able to supply the increasing demand for these types of products," explains Günter. "On top of this, we have just invested in SAP as our ERP system for the Klepsch Group of companies; this will involve a lot of work over the next 12 to 18 months, but we are convinced this will improve our internal processes and enable a flowing co-operation between our companies across the globe."
As the company continues with its commitment to ongoing improvement in all areas of operation, the future of Senoplast looks bright as these enhancements enable it to remain at the forefront as a pioneer of high quality and innovative plastic solutions. With 95 per cent of its products exported across the globe, the company has its sights set on further growth in key strategic areas, as Günter concludes: "For the next three to five years we will stay on our expansion route and aim to increase our North American business as well as our European market. We also hope to have implemented our Asia strategy during this time frame too."
Senoplast
Services: High value plastic sheets and films