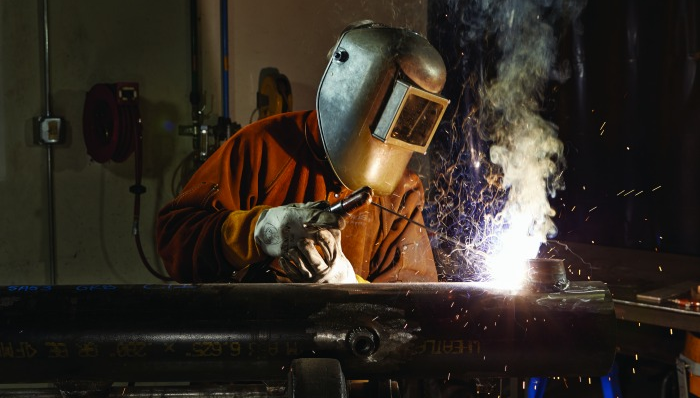 Sentry products play an essential role in the manufacturing operations of its customers. "We are a manufacturer that helps other manufacturers improve their processes," says Rick Steinke, vice president of operations of the Oconomowoc, Wis.-based company.
The company manufactures equipment to capture and analyze representative steam, water, solid, powder, gas, liquid or slurry samples directly from its customers' process streams. Markets served by the company include power generation, oil and gas, food and beverage, chemical and petrochemical, cement, mining and pharmaceutical. "Whether it's someone producing gasoline or consumer products such as shampoo, ice cream or orange juice, we have the ability to tap into their process stream and capture a representative sample for reliable and accurate quality analysis," Steinke adds. "We help our customers make sure their products are being manufactured within specification and regulations, all while keeping their operators safe and protecting the environment and their plant assets."
The sampling equipment manufactured by Sentry Equipment is installed directly into its customers' process streams. Sampling solutions can be engineered and customized to each customer's specific manufacturing environment. "We can look at their application and tell them the type of equipment we can engineer to perform reliable and accurate sampling in a particular part of their operation," Steinke says. "We have the deep engineering expertise to advise customers the best way to capture a representative sample in any part of their process."
Sentry Equipment's engineering capabilities are among its greatest strengths. "We have very well-respected engineers throughout all the industries we serve," he adds.
The company has installations in every state as well as in 55 countries. "We've touched your life today, whether through production of electricity or through a glass of orange juice," Steinke says. "We're a very specialized company that does something that is very important for your quality of life."
'A One-Stop Shop'
Sentry Equipment began diversifying its customer base in 2003. Previously, the company had mainly served the energy sector, but "learned its lesson the hard way" following the collapse of energy company Enron in 2001, Steinke says.
Much of the company's diversification came as a result of acquisition. The company continues to seek growth opportunities through acquisition as well as organically. Within the past few years, the company also has aggressively focused on new product development, which has worked to improve its existing product lines as well as develop new products to serve the needs of its markets.
The diversity of the Sentry brand and its market sectors allows it to stand out in its field. "We have a broad portfolio of products that can meet nearly any application, anywhere. We have competitors in each of the markets we work in, [but] not one of them offers the product and service breadth and depth that we can," he adds. "We are a one-stop shop for all of a company's sampling needs."
Agile Manufacturing
Sentry Equipment consolidated the operations it acquired in recent years into a 67,000-square-foot facility in Oconomowoc. The company manufactures sampling equipment to meet a number of quality and regulatory standards, including 3-A dairy sanitation standards and American Society of Mechanical Engineers (ASME) specifications. The facility is ISO 9000:2008 certified, and is migrating to ISO 9000:2015 standards, which include a risk management standard, Steinke says.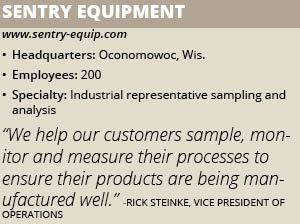 The company's manufacturing processes include milling, turning and welding. Sentry Equipment recently added to its operations robotic welding and multi-tasking machines capable of both turning and milling. Welding is performed to ASME and other industry standards.
The company works closely with CNC equipment provider Mazak to standardize its machines and train employees. This includes regularly sending staff members to Mazak's technology center in Schaumburg, Ill., for training.
Sentry Equipment operates manufacturing cells dedicated to each of its manufacturing models. The company produces products on a make-to-order, make-to-stock, engineered-to-order and configured-to-order basis. Machinists, assemblers and other manufacturing personnel are cross-trained across each of the cells. "We focus our factory on being very agile," Steinke says. "All of our turning operators are sent to milling school and vice versa, and everyone is trained on various tasks, so any time a machine is open, someone can use that equipment."
A Safety-First Culture
Much of the company's manufacturing operations are inspired by lean methodologies, though it intentionally does not have a formal lean program. Steinke credits the company's staff with operating in a highly efficient manner to improve velocity. "We've embraced 5s, Kanban and other methods, though we don't necessarily call it lean here – we call it applying the best practices we can in order to be successful," he says. "Looking forward, Industrial Internet of Things (IIoT) technologies such as sensors, machine learning, robotics and other automation will continue to move us towards lights-out manufacturing to improve our velocity."
The work ethic of Sentry Equipment's employees is in part driven by its status as a 100 percent employee-owned company. "Our employee-owners take pride in having a beautiful, clean factory," he adds. "When customers, suppliers or job candidates come through here, they often say, 'Wow, this is an awesome operation.'
"Being an ESOP [employee stock ownership plan] company gives us a competitive edge, because everything our employees do affects the bottom line. This approach allows us to stay competitive and deliver high quality solutions to our customers while adding to the employees' own back pockets."
The company also prides itself on operating in as safe a manner as possible. "We have had 17-plus years of no lost-time accidents," Steinke says. "That doesn't happen without a lot of people caring about what they do and watching each other's backs."
Close Connections
Sentry Equipment maintains close ties to its community. This includes involvement with the Wisconsin Youth Apprenticeship program as well as an organization that works to immerse local high school students in the manufacturing industry. The company brings high school sophomores participating in the program into its facility, where they are shown all aspect of its operations. "Hopefully, this will lead them to a career path in manufacturing," Vice President of Operations Rick Steinke says.
The company also participates in community activities including high school robotics teams and highway cleanups, and donates to local food pantries. "We believe in showing benevolence to the community and are generous with our time and money," he adds.