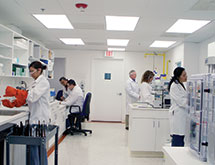 Quality assurance is the most important part of Sentry Manufacturing's processes and its nutritional supplements can undergo 50 to 200 quality control checks during the course of the manufacturing and testing process. "Our staff is made to realize that the products we make will be consumed by customers who also could be friends and family members," Senior Vice President Vijay Gokarn says. "Hence, every employee is trained to be a quality assurance inspector."
The Miami Lakes, Fla.-based company was founded in 2005 as a dietary supplement contract manufacturer. Sentry Manufacturing makes more than 1,000 customized products, including tablets, capsules, instant powders, drink mixes, protein powders and pet formulations.
Sentry Manufacturing creates nutritional supplements mostly for Mason Vitamins – one of the largest vitamin suppliers in the United States and also located in Miami Lakes – which are then sold to 44 countries. New York-based Ito En, North America owns both companies.
"We are celebrating our 10-year anniversary this year and it's a sense of achievement in terms of overall growth," Gokarn says. "We started off in a small building in 2005 with 5,000 square feet and having grown today to a 150,000-square-foot facility. It has been a satisfying journey."
Quality Guaranteed
Sentry Manufacturing prides itself on being a one-stop shop for dietary supplements. The company offers product development, product ideas, manufacturing, label development, marketing materials and product packaging. To begin its process, Sentry Manufacturing globally sources raw materials. "We have global sourcing because some ingredients we use are not manufactured in the United States anymore," Gokarn explains. "A great deal of supply chain has moved overseas."
The main challenge for Sentry Manufacturing is locating credible suppliers, so its vendor approval process can take three to four months. "We need to know who we are dealing with as we consider our suppliers our business partners," Gokarn notes. "This helps us establish long-term relationships. This is followed by very aggressive testing of all incoming ingredients with absolutely no exceptions."
Sentry Manufacturing tests its raw materials for contamination, identity and purity, which can take more than seven days after it arrives. The product is then moved through a nine-step manufacturing process. "Everything we do here is checked by the first person and verified by a second person," Gokarn says. "We maintain thorough documentation of each product to ensure complete traceability."
Once the manufacturing process is complete, every product is sampled and goes through a number of tests over the next 10 days that will determine whether it is released or rejected. A simple Vitamin C tablet, for example, undergoes 56 different quality control checks before it leaves the building, but a more complex formula can undergo more than 200 quality checks. "The entire cycle from start to finish takes eight weeks to complete because of the extensive testing," Gokarn says.
Along with its in-house testing, Sentry Manufacturing also sends its products to third-party labs to ensure and cross-verify product integrity and content uniformity. "Quality is not a destination; it's a never-ending journey," Gokarn says. "We always strive to improve on what we do here."
Human Interaction
Sentry Manufacturing requires its manufacturing employees to undergo three months of intensive training under the supervision of senior employees who evaluate them after the training period. "If that person has progressed well we start letting them gradually become independent," Gokarn says. "However, they are still monitored during the first year."
The quality assurance department is staffed only with people who have prior experience in the field. "We have top-notch people on our staff that includes highly qualified industrial pharmacists, microbiologists, engineers, chemists and others," Gokarn notes. "For example, our quality control lead chemist has a Ph.D. and more than 40 international publications to her name."
Although automation is highly sought-after in the manufacturing industry, Sentry Manufacturing strongly values human interaction in its processes. For example, a computer system manages its vast inventory of more than 400 different ingredients by deducting the raw material as it is used; however, the machine does not automatically reorder the product. "We want our people to interact and not totally depend on the system," Gokarn says.
Having a purchasing group allows the company to stay aware of fluctuations in the marketplace. If the system alerts the team that a product needs reordering and current market price is below average, Sentry Manufacturing can take advantage of that situation and buy more.
Moving forward, Sentry Manufacturing's long-term goal is to maintain double-digit growth because Gokarn says any growth below the industry average is the first sign of losing out on the marketshare. "Growth comes through new products, innovation and new ideas," he says. "We don't want to be a me-too company, which is quite common in this industry."