At your service
Representing a powerful brand under the wider Service Industries Limited Group, Servis Tyres is a name synonymous with high quality tyres and tubes in both Pakistan and across the globe.
Headquartered in Gulberg Lahore, Pakistan, and with manufacturing facilities in Guirat and Muridke, Servis Tyres is today regarded as a pioneer in the production of tyres and tubes for
motorcycles, bicycles, rickshaws, ULT and other three-wheeled vehicles. With its products used by millions of commuters in both Pakistan and beyond, Servis Tyres is enjoying a leading position in the business segments it operates in. In fact, the company currently has more than a 50 per cent share of the local market, in both OEMs and replacement, as well as an almost 60 per cent share of exports from Pakistan.
Having established roots in four continents, Asia, Africa, South America and Europe, the company is keen to pave the way for further expansion as it continues to grow its portfolio of products that are available from its 10,000 retail and wholesale outlets in Pakistan. "We are proud to be an undisputed market leader in motorcycle and bicycle tyre segments in Pakistan for the OEMs and replacement market and are also the major supplier of tyres to Japanese motorcycle manufacturers such as Honda and Yamaha. We also produce wheel barrow and three wheeler tyres/tubes and are currently paving our way to other tyre segments," says Muhammed Ejaz, Country Manager for Sales & Marketing at Servis Tyres.
Since previously being featured in Manufacturing Today Europe in May 2016, Servis Tyres has continued its trend of success and ended the year with nearly 25 per cent growth in its international business; moreover, Service Industries Limited Group achieved sales of more than $185 million. Muhammad discusses some of the reasons behind this growth: "In 2016 we successfully added the Servis Lubes business to our portfolio and started selling this product range through our national and retail and wholesale outlets. We also recently started supplying lubricant for our lube brand, Nitro, from Total Parco Pakistan Ltd; this enabled the Servis Lube brand Nitro motorcycle engine oil to establish itself as a successful brand in the lubricant industry of Pakistan.
"Additionally, Pakistan has the sixth largest population, around 200 million, and we are also currently one of the fastest growing economies in the region, with increasing mobility needs for passengers as well as rapidly increasing logistics requirements countrywide. Because of these fast growing mobility needs, the demand is expected to increase manifold, particularly in the context of the China-Pakistan Economic Corridor (CPEC); as such, we are investing in a lot of other tyre segments and aim to increase our product portfolio by adding more segments that, in turn, will meet the growing demand of the local and international market. This is one of our top priorities right now and we are seeking to add more tyre segments in the near future."
One example of the company responding to potentially significant growth in the market is its development of Agri Tyres, especially considering the fact agriculture continues to be a major tyre segment in Pakistan. "Pakistan is an agricultureorientated economy in which agriculture contributes 25 per cent of the annual GDP and almost half of the employed labour force. This market has tremendous potential in the Agri Tyres segment, with an overall size of more than $100 million annually; our production of Agri Tyres is expected to begin during the first quarter of 2018 and we will initially be catering to all major sizes of tyres and tubes in the domestic agriculture tyre market," comments Muhammad.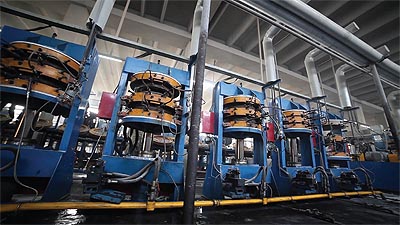 Alongside this strategic development, the company has also successfully enhanced its two and three wheelers tyre production capacity by more than 25 per cent to ensure it can meet both domestic and international market demands. "We have invested heavily in increasing the existing capacities of our three wheeler segment with $6 million invested in machinery and the building. We have also invested $1 million in an auto dosing system, which is a computerised weighing system that provides consistency in rubber compound properties, which ultimately leads to superior quality and a pollution-free environment," highlights Muhammad.
Other investments at Servis Tyres' manufacturing facilities include the acquisition of a $6 million state-of-the-art Italian calendar line from Comerio, which not only ensures consistent quality but also improves range and efficiency. The company also invested nearly $2 million in stateof- the-art machinery from Taiwan to become the first company in Pakistan to produce tubeless tyres for its motorcycle segment.
Proud to be progressive and innovative, the company is also the first in Pakistan to acquire international certifications such as ISO/IEC 17025; it also has DOT, E-MARK, SNI, BIS, ISO 9001, SGS QHSAS 18001 and INMETRO certifications, which further enhances its reputation for excellence in tyre manufacture.
With a broad and ever-growing portfolio and increased demand for its products, both locally and abroad, Servis Tyres will seek to add more segments to its existing product portfolio while also focusing on marketing itself as a top quality tyre brand on an international scale. "We are determined to provide customers with satisfaction through exceptional product quality and range; we also want to demonstrate that we are meeting our commercial goals in an unmatched manner," says Muhammad.
"Looking further ahead, we believe Servis Tyres will emerge on Pakistan's industrial and business landscape as an organisation that is widely recognised for its pioneering role in the development of the industry. Our unwavering commitment to quality, continuous R&D efforts, highly innovative approach to manufacturing and marketing and persistent search for meeting the diverse needs and tastes of our customers keeps us miles ahead of the competition. In this context, we are striving hard to add more tyre segments to our portfolio and to increase demand from our domestic as well as international clientele," he concludes.
Servis Tyres
Products: Tyre and tube manufacturer