Servosteel: Why becoming green is paying off for this UK business
With the capacity to process in excess of 500,000 tons of steel per annum, Servosteel is the largest independently owned toll steel processor in the UK. Based in Dudley, in the heart of the West Midlands, the company operates from a staggering 200,000-square-foot facility and utilizes three slitting lines, three de-coiling lines, three lasers, and a press brake in its tried-and-tested processes.
Equipment such as this enables Servosteel to set itself apart in a crowded market. Indeed, the company is also the only non-mill owned steel processing facility in the UK to feature a coil pickling line as well as offering the only coil recovery service via its Smooth Clean Surface (SCS) line. As such, customers regard Servosteel as a complete one-stop steel shop.
We recently sat down with joint owner, Darryl Macready, who also serves as Operations Director, to find out more about the business. First, a little bit about Darryl: "I joined Servosteel in 2017 as Operations Manager, having spent two decades in the steel stockholding and processing industry, mainly occupying operations, safety, and quality management roles," he begins. "I then became Operations Director in 2018. My role encompasses all things operational across the site and I oversee the Works, Engineering, Quality, Safety, and Environmental departments, respectively.
"Having now become a part owner of the company, I still hold these overall responsibilities, however as you would expect, the transition to shared ownership brings another set of challenges and responsibilities," he continues. "My main vision when coming into the role, though, was to develop the business and create a safe and efficient model by adapting already established processes and systems.
"In the six years that I've been at Servosteel, we've improved efficiencies and processes in almost all areas. At the same time, we've added new equipment and created a full suite of safety-related policies, procedures, and training packages to suit the needs of the business."
Robust strategy
Indeed, it's clear that Servosteel prides itself on providing the best steel toll processing services to its clients, ensuring that processes are as efficient as possible. As Darryl has noted, continual improvement is key to achieving that. But does sustainability play a part?
"Certainly!" answers Darryl. "We're aware of the fact that steel processing is an energy intensive operation, and in order to minimize our impact on the environment, becoming more aware of our energy usage and carbon emissions has been a central pillar of our business growth strategy. We'll always do everything we can to ensure our steel processes are as green as possible."
On its mission to become more environmentally friendly, Servosteel began working with the Manufacturing Growth Program (MGP), the UK's largest and leading business support scheme for small- and medium-sized manufacturers, earlier this year.
Darryl unpacks the partnership: "One of the key challenges for Servosteel is escalating energy costs. These costs affect both the overall cost of processing materials and that of running the business. Therefore, we need to reduce costs to better navigate difficult periods – and that is one of the reasons why we joined the MGP.
"With their support, we can build a robust net zero strategy and investigate the possibility of generating our own energy, which would not only help to reduce overhead costs but also benefit the planet," he goes on. "We've worked with the MGP a number of times because it allows us to assess a specific need, while also reviewing the current state of the business internally and as a result of external factors.
"In this specific instance, we were able to utilize a grant to part fund a project to investigate the feasibility of installing a solar array for inhouse generation at our site in order to offset the ever-rising energy costs of the business."
Net zero future
Over the past six years, Servosteel has worked closely with Pro Enviro – a specialist energy engineering, carbon abatement, and process optimization consultancy with more than 30 years' experience working with organizations operating in energy intensive industries.
During this time, Nersi Salehi, Managing Director at Pro Enviro, has supported Servosteel's senior management to develop and implement both low carbon process optimization and net zero carbon strategies, which have significantly reduced overhead costs and carbon emissions.
"With Pro Enviro and the MGP by our side, we're firmly committed to the development of a comprehensive net zero carbon strategy," Darryl explains. "The support also means we can put together net zero carbon and sustainable development strategies that are uniquely tailored to our needs, and over the next eight years, we'll continue to align ourselves with the Paris Agreement's 1.5C limit. This will ensure the future sustainability of the business, add further value for clients, and help deliver the lasting change our planet and societies so desperately need."
Servosteel's green mission began with metering and monitoring all the energy intensive plant and their ancillary equipment in its entire 200,000-square-foot facility to better understand how its energy was being used.
That was in 2016. Fast forward to today, and the company now finds itself in a position where it can make strategic decisions on how and when to run equipment in order to be more efficient and reduce peak loads and overall energy consumption.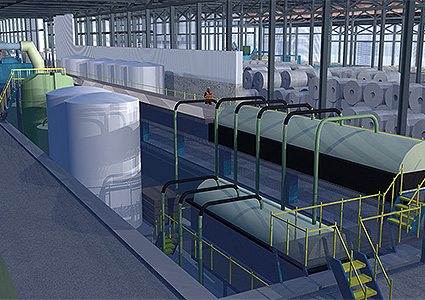 "We're also currently working closely with Pro Enviro to capture our Scope 1, 2, and 3 data, which will then allow us to identify, target, and reduce our emissions, taking our journey to the next step and further reducing the environmental impact of our processes," says Darryl.
"As a key member of the Repowering the Black Country Project, part of the government's Industrial Cluster Decarbonisation strategy, moreover, we're joining a host of likeminded companies, with the shared target of cutting carbon emissions through process optimization and innovative development programs, to engage with the government and highlight the need for action and support in our area.
"With the support of the project and those involved, we've managed to create a theoretical masterplan, with the aim of showing how – with the right support – we can deploy a zero-carbon hub that will undoubtedly bring us closer to a net zero future, as well as supporting the region with clean, efficient energy."
Solar project
Times are tough for everyone – including those in the manufacturing sector. Over the last few years new (and existing) challenges have proven almost insurmountable for many businesses. And they've come thick and fast, one after the other.
The current energy cost crisis in the UK is one such challenge. Yet, as Darryl has explained, Servosteel has taken the necessary (green) steps to overcome it.
"There is a definite level of uncertainty surrounding what the future holds," concludes Darryl. "The next challenge is just around the corner. However, in 2023, we're aiming to maintain the strong position that we hold within our sector, while also enhancing and improving our quality and service.
"During the next 12 months we have plans to implement some of the projects identified in our net zero carbon strategy which includes installation of 750 kWp of inhouse solar generation. This, over time, will enable us to deliver a more sustainable service that will benefit both our industry sector and mitigate the impact of climate change."