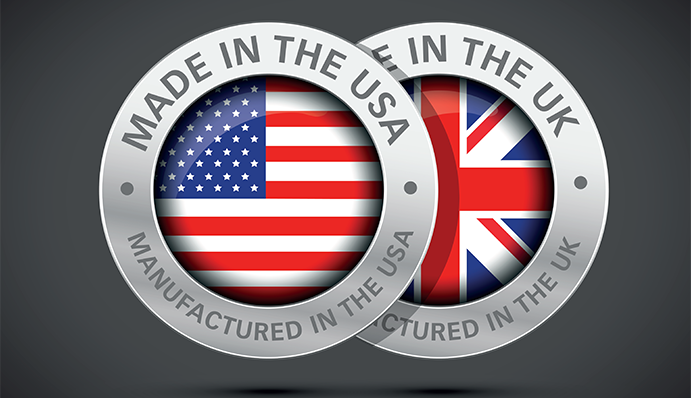 Global manufacturers undoubtedly faced a challenging year in 2021, and the pandemic, materials shortages and supply chain disruptions will continue to impact the industry through 2022.
In the UK, manufacturing output is yet to rebound to pre-pandemic levels and is currently tracking 2.1 percent below the February 2020 rate. Alongside this, manufacturers have raised concerns that Brexit will continue to hamper businesses and drive-up costs.
The picture in the US is quite different. The manufacturing recovery picked up pace in 2021, with growing demand driving US production to its highest levels in three years.
This manufacturing bounce back is set against an historic infrastructure bill. In November, President Biden signed a $1 trillion package to overhaul elements of domestic production and infrastructure – including a significant push for advanced manufacturing.
The US manufacturing industry is the second largest in the world, and therefore clearly vastly different in scale and economic influence to the UK. However, there are still a number of key lessons that British business leaders can take from the success of their American counterparts.
It's all in the detail
In July, the UK Government pledged £53 million to five new digital manufacturing research centers and projects. The funding was introduced to support the development of innovative technologies and methods for manufacturers to boost productivity, efficiency, and sustainability.
A September announcement followed, with the release of the Government's National AI Strategy. The AI strategy is set out as a 'ten-year plan to make Britain a global AI superpower,' promising investment and support. AI is fast becoming a key differentiator for businesses, and has the capability to transform industries like manufacturing.
The Government has rightly identified manufacturing, AI and advanced computing as some of the key industries for the UK to demonstrate R&D and industrial strength globally, and the pledges of investment and support here is good news for the industry. However, without the key details on how manufacturers can access this support, or which types of businesses can be included, the jury remains out on the long-term effectiveness of these plans.
Yet to be determined is whether legacy businesses across these sectors will be able to benefit from the increased investment – not just newer start-ups.
To help the UK compete on a global scale, especially in a post-Brexit world, the government needs to work with the manufacturers that already have significant experience and customer trust. By supporting these companies with projects that champion technology and collaboration, like accelerating the adoption of Industry 4.0 and AI in manufacturing settings, the overall sector will benefit from increased innovation to deliver new solutions at scale.
Without clear guidance and access to this support, businesses will struggle to scale their digital projects effectively. Industry 4.0 use cases in the manufacturing sector have struggled to take off as, according to a 2020 McKinsey survey, almost 74 percent of manufacturers are stuck in pilot purgatory and unable to scale.
The UK Government must act and follow the lead of the US with greater detail on how new pledges, investment, and support will be provided – giving manufacturers the information and confidence to roll out new plans. Biden's infrastructure bill could act as a template here, as clear goals and full detail are already mapped out ahead of the official introduction of the new House Bill.
Embracing technology
With the advent of industry 4.0 in the manufacturing sector, businesses are embracing digital technologies to bring greater efficiencies and elements of automation to their processes.
The adoption of modern technologies by US manufacturers has been strong, aided by several government initiatives such as the National Network for Manufacturing Innovation. A recent survey of US manufacturing executives revealed that 50 percent expect an increased operation efficiency in 2022 from automation investments, and expenditure on AI technologies is expected to see a compound annual growth rate above 20 percent leading to 2025.
Given this, it's encouraging to see that technology investment is high on the agenda for UK manufacturers this year, with cloud, IoT and predictive analytics ranking as the top three investment priorities amongst industry leaders. UK manufacturers must proceed with digitization or risk falling behind.
Enabling digitization with IoT capabilities, for example, can provide a number of benefits to manufacturers, including real-time data analytics and operational insights. One key use case of IoT for manufacturers is condition-based monitoring and predictive maintenance. By connecting Industrial IoT sensors to their machines, manufacturers can monitor the mechanical state of each machine and avoid one of the costliest pitfalls of manufacturing – machine failure and unplanned downtime.
According to Aberdeen Research Group, the average cost of one hour of downtime across the manufacturing industry amounts to about $260,000. This can be easily avoided by pivoting from reactive maintenance, where emergency repairs are made in response to failures, to proactive (or predictive) maintenance, where maintenance schedules are driven by the real-time condition of machines.
Manufacturers that had already introduced digital elements into their business managed to navigate the impact of the pandemic with greater resilience. As we continue into 2022, embracing digitization can set businesses up for success while long-term uncertainty remains.
For a list of sources used in this piece, contact the editor.

Saar Yoskovitz
Saar Yoskovitz is CEO at Augury. Augury is building a world where people can always rely on the machines that matter. Augury supports its customers by enabling Digital Transformation through superior insights into the health and performance of the machines they use to make products, deliver services and improve lives.
www.augury.com