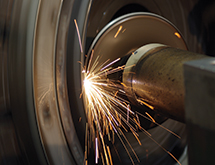 After more than a century, SETCO Inc. has not stopped focusing on ways it can be more productive, President Jeff Clark says. "Quality today is a given," he says. "You have to strive to [find out] how you can be better than the next person."
Based in Cincinnati, SETCO designs, builds and services precision spindles, and stands as the largest independent spindle manufacturer in the nation, Clark says. The company originally started operations in 1912 as Standard Electric Tool Co., and manufactured grinders for the foundry industry.
In the 1950s and 1960s, SETCO began making machine tool spindles. Today, the company makes specialized spindles for a variety of industries, including oil, glass, aerospace and automotive, which represents a large share of SETCO's business. "General Motors is a large customer of ours," Clark adds.
Spindle repair represents a growing percent of SETCO's business. Customers will bring the company spindles manufactured by its competitors for it to repair.
Eighty percent of its repair work, he adds, consists of non-SETCO spindles. "We're the largest independent spindle rebuilder in the United States," Clark declares. "It's like a lot of people not going to the car dealer [for repairs] and coming to the independent."
Not only does SETCO offer a better cost, "We do a better rebuild," he states. "We will tweak the machine tool spindle to better suit [the client's] applications."
Getting Better
SETCO continually reinvests in itself, Clark says. Recently, it purchased state-of-the-art analyzers for its service business that "tell you how a spindle is running from the balanced perspective," he says.
The company will soon add new ID and OD grinders to its operations. That way, "We can hold better finishes and tighter tolerances," he says.
Last year, SETCO upgraded its service center in Novi, Mich., in an effort to better serve the automotive market.
"It's a little over 24,000 square feet, which is big for a spindle repair center," Clark says, adding that it features new equipment. "We've [had] customers that see other services centers, and this one really impresses them."
Going Overseas
SETCO's initiatives include expanding its reach internationally. In 2012, it acquired India Spindle Services, in Pune, Maharashtra, India, which enabled SETCO to move into a 5,000-square-foot service center.
That same year, SETCO purchased a second spindle company in Taiwan, which "makes a lot of spindles for standard machine tool builders," Clark says. Located in the Taichung Industrial Area, the center cooperates with companies in Japan and Europe to improve the skills of its workforce, technology and service.
SETCO does not plan to slow its expansion. "Over the next five years, we're going to open up more service centers in India," Clark says. "We'll do the same in China."
The company has its eyes on Shanghai, which is the largest machine tool center in the country. "There is a strong manufacturing base [there]," Clark says, noting that Shanghai represents 40 percent of China's $35 billion machine tool industry.
Efficiency Focused
All of SETCO's locations have implemented lean manufacturing initiatives, Clark says. "We have a black belt at our Novi and Cincinnati facilities," he says. "We believe that lean is a good business philosophy to challenge ourselves on how we're using assets."
SETCO has become more efficient by eliminating waste and looking at processes that it puts its assets through, "like horizontal machine centers and more efficient set-ups," Clark says. "We are focused on maximizing the productivity of our assemblers."
SETCO's Go-Getters
Clark joined SETCO in 2000 and is proud of the company's management team. "They're energetic, they're bright and they have a lot of capability," he says.
"We've got to continue to strive for improvement because it's a competitive landscape out there," he says. "Our future is bright [because] we have go-getters."
SETCO also heavily believes in a team environment, Clark says. "I visit each service center and find they work really well together," he says. "Everyone is on the same page of what we are trying to do."
This includes growing SETCO, Clark says. Although many businesses closed their doors in 2009, the company stayed focused on growth. "We continue to grow every year," he says. "I've got people going from here to Taiwan, and they're excited about being global."