Built on expertise
With an ever-growing order book, Sewtec Automation is looking to move to a larger purpose-built site as part of its ambition to double in turnover by 2022
Sewtec Automation's appearance on the pages of Manufacturing Today Europe coincides with the completion of the first year since Endless LLP finalised the management buyout of the precision engineering specialist. Following 12 months of intensive activity, Sewtec's Managing Director, Mark Cook, sits down with us to discuss the company's key capabilities, recent highlights, and future aspirations.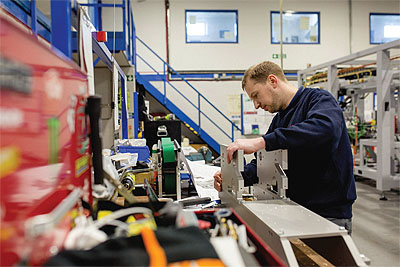 "During the due diligence performed by Endless, it became clear that there is a significant growth in the factory automation market, as a whole, and in its bespoke segment, in particular. This has led us to set the ambitious, but definitely achievable, target to double our turnover in the next five years, as we believe that current market demands fit nicely with our own capabilities."
A true end-to-end solutions provider, Sewtec stands out from the competition, thanks to its expertise and agility in creating complex systems, fully bespoke to its customers' requirements. 2022"Every one of the over 6000 machines we have supplied so far, has been designed and built to the exact specifications of our clients, which underlines our adaptability, flexibility, and speed of response," Mark notes. "Most of our customers come to us with a specification of what they want. It could be only a rough idea, so we may need to start by writing a spec ourselves and then put together various possible solutions and ideas. Usually, we can offer a viable solution straight away and go on to build the product, which undergoes various testing procedures before we ship it out to the customer's site.
"Occasionally, though, if we receive a really complex requirement, we build a prototype to prove the principles of engineering we are trying to turn into a full-scale production system," he explains the methodology adopted by Sewtec in its manufacturing practices. "We do all the mechanical, electrical, and software design in-house and while we do a lot of the manufacturing ourselves, as well, we also outsource some of it, depending on the amount of work we have got at a given moment. When we assemble the entire system, we run tests and invite the customer to witness them before we send it to their site, together with our engineers who do the site installation and run a further site acceptance test. Our involvement does not end there, however, as we provide a high level of after-sales support, including the supply of spares and performing repairs, as required."
Being a bespoke solutions manufacturer has resulted in Sewtec setting up its factory processes in a way that reflects the fact that most of the items the company makes are low-volume and differing from each other. "We do not operate the kind of traditional production line that keeps churning out thousands of units. Instead, we have put in place machines that enable us to accommodate the unique requests we receive. For instance, we have a number of CNC machines, as well as a fabrication base to do some welding and general metalwork. It is vital for us to be able to react to potential last-minute changes, either in the client's demand, or if something has not worked the way we have projected it to at first."
Evidently, the way in which the company has structured its activities is paying off, as Sewtec has continually served well-known blue-chip names, such as Nestle, Unilever, Johnson & Johnston, and Procter & Gamble. "We consider ourselves market agnostics. Even though we have established a proven track record in serving industries such as general food production, confectionary, FMCG, tobacco, pharmaceutical, and medical, because these are the sectors where customers tend to have the most challenges, we are constantly on the lookout for new markets and clients. At the same time, we need to find out if these prospective customers are willing to spend a bit more on a more complex, bespoke product, because our machines do tend to be a bit more expensive, owing to the technical challenges they are trying to solve and their uniqueness," Mark comments.
The vast majority of the systems coming out of Sewtec's factory are sold overseas, with export accounting for 85 per cent of the business' turnover. "We have traditionally been strong in both Western and Eastern Europe, the US, as well as some of the nations in the Far East. Be that as it may, it is not always very easy to determine where exactly our products go. In fact, they are often bought from a central procurement and then distributed to countries where the demand for the specific product is higher," Mark reveals some of the characteristics of the company's export ventures.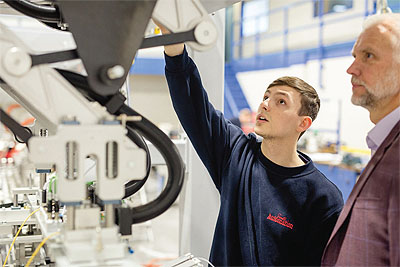 Sewtec's management team has realised that, in order for the organisation to hit its goal of doubling its turnover by 2022, it needs to take measures against various challenges that are potentially impeding its development. Mark admits that attracting new talent has proven one such challenge for the business. "There is no doubt that we have a very skilled workforce, ranging from some senior mechanical, software, and electrical designers, all the way through to the competent fitters and the machine shop team who actually take the raw materials to create various parts.
"However, it is a challenge for us to find new employees, who are much-needed to us, especially as we continue to grow rapidly. We have already made a big step forward towards resolving this issue by introducing new attractive HR policies to encourage people to come and join us, and even put a new website together that better represents our business and gives us a more appealing public image," he states.
To take down another barrier to recruiting qualified staff, but also to improve its overall efficiencies, Sewtec has set out on the task to relocate to a new purpose-built site. In what could be viewed as the first stage of the expansion plan, the company opened a new mechanical and software engineering office in Wakefield, in July 2018. "In all honesty, our current site is not ideally located and we have found out that this could be a major factor in our attempts to attract new people. If you couple this with the fact that we operate from three different sites at the moment, we have come to a conclusion that this is not the most effective way to run the business, so we agreed that we should seek a solution to the issue," Mark reasons.
"We are in discussions with a developer to combine all our three sites into one and leave room for expansion, as we are eager to move closer to the M1. The Wakefield design office is the precursor to the big move, which we are looking to perform at some point in late 2019, and an indicator to our future employees that we are keen on moving to an area that will be more convenient for them to travel to and from, whilst not adversely affecting our current employees."
Strengthening its senior management team has been another all-important mission on Sewtec's agenda, as the company advances its strategy to double turnover in the next four years. To tick it off the list, three new directors were appointed since Endless invested in the business a year ago. "Recruiting Lizzie Hay as a Finance Director,
Mark Atkins as a Business Support Director, and Ian Walch for the position of a Projects Director, all of them exceptionally good operational people, has helped us assemble a fantastic Board of Directors.
"The way I see it, we are very well-placed to meet our objective. We have got an order book which is getting stronger as the year progresses, so we cannot complain about lack of interest from our customers. It is quite the opposite, in fact. If we succeed in our plans for physical expansion and recruit the right people in the process, I am confident that we can run as a larger business," Mark sums up full of optimism.
Sewtec Automation
Proucts: Automation solutions