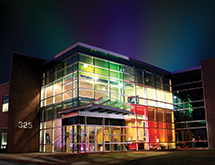 Quebec-based SF Marketing (SFM) is an unusual type of distributorship. Handling sales and marketing as well as service and technical support, "We offer a way for foreign manufacturers to essentially outsource their entire sales, marketing, logistics and service operations in Canada to us," President Randal Tucker says.
"Most of our suppliers are American or European companies," Tucker says. "The costs of opening accounts, extending credit and managing payables in an unfamiliar market can be costly." More importantly, the company knows the Canadian marketplace.
"Doing business [in Canada] requires a very different mindset," Tucker observes. "The sheer size of the country combined with the relatively small, dispersed population base makes for a pretty fragmented marketplace containing an almost infinite number of business cultures to which companies must adapt."
Sound History
"The company was founded in 1978 by Sol Fleising, who was and remains a legend in our business, and started out importing and selling pro audio products and accessories for live entertainment applications," Tucker says. "At that time, the staging companies that bought the equipment had to go through retail music outlets."
Fortunately for SFM, the music stores had limited knowledge of these products and their capabilities. SFM used its considerable product knowledge to start selling directly to the staging companies. Many of the staging companies, in turn, eventually began selling whole audio systems to venues as systems integrators.
"As more of our customers became systems-focused, [SFM] began to learn more about and seek out other products that could work within these systems," Tucker explains. In turn, as integrators added lighting, video, communication and other products to their offerings, SFM became more knowledgeable about those areas, as well.
"We've followed our suppliers and customers as they've expanded their businesses," he says. "Now, we work with integrators who create AV systems for entertainment, education, and hospitality venues, including such places as stadiums, airports, broadcast facilities, hotels and restaurants, corporate boardrooms, university classrooms and even residential spaces."
Manufacturing Solutions
The company features three sales divisions: a Pro Division serving integrators and stagers, a Retail Division and a Consumer AV Division. Tucker says about half of its business comes from pro stagers and integrators.
For example, an integrator client might ask SFM about products to use in a stadium project. "They'll be looking to incorporate both wired and wireless microphone systems for the arena," Tucker notes. "In this type of application, radio frequency interference is a big issue."
He says that given the amount of experience SFM has with all different types of audio equipment, its staff can make product recommendations based on that specific application.
"Our customers are the ones who are doing the system installations," Tucker says. "Covering such components as speakers, signal processing, cabling infrastructure, as well as lighting and video, we'll help them design and put together a package of products that we know can work together."
The firm used its base knowledge of professional stage lighting, which was primarily LED lighting, to tie lighting into the AV systems, as well. "Now, LED lighting is used for architectural applications so it was an easy transition for us to make," Tucker claims. "For a sports bar or dance club, in addition to speakers, infrastructure and cabling, we could tie the audio with the lighting to create a dramatic effect. We are constantly on the lookout for any opportunities that our clients can capitalize on."
Technical Support
Tucker calls SFM a "boutique" distributor in that the company holds and sells inventory, yet also offers additional services not typical of a distributorship. "We back up the products we sell," he declares. "We have the product knowledge to train the operators and installers on the use of the equipment and we have the technical expertise to fix any problems that may occur."
To fix equipment, the company has its own service center on site as well as six bench technicians. "We've invested very heavily in diagnostic and repair equipment," Tucker says. "We are able to get on the phone and talk the operator through the issue or have one of our techs go to a site and either fix the problem at the site or bring the component back to our headquarters to fix."
Because most of the suppliers are American companies, SFM can accommodate products needing service. This can eliminate the need to cross the U.S. border.
SFM will even provide in-house financing for select clients. "Because we have the means to partner financially with these companies, we feel it's an investment in both our and our customers' future," Tucker says. "We don't see any of our clients as one-time opportunities, but as long-term partnerships."