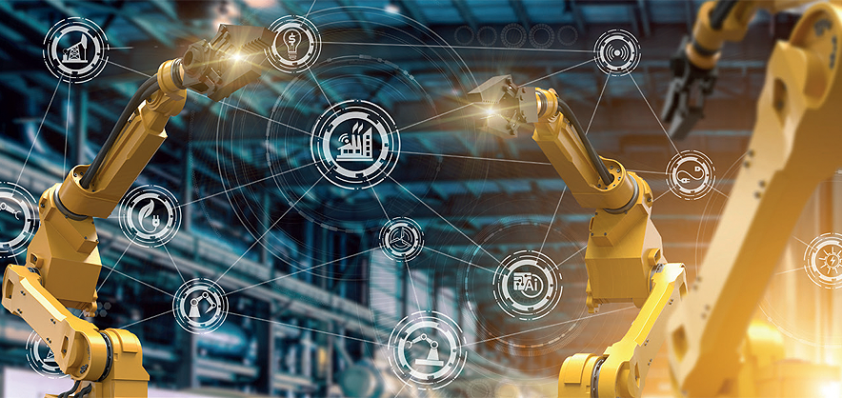 Industry 4.0 is all about doing things differently — introducing automation and data exchange to manufacturing processes. It includes utilising new technologies such as cyber-physical systems (CPS), the Internet of Things, and cloud computing. Adopting an Industry 4.0 approach also provides the means to navigate change. Manufacturers are reinventing their business models to focus on value-added services, and/or entering new geographic markets or adjacent market segments. For instance, Industry 4.0-outfitted factories are empowered to drive productivity and keep costs down while ensuring quality and consistency across manufacturing processes globally.
But with current UK political and financial uncertainty, many manufacturing bosses are faced with the complications of rising prices for raw material imports and exports within the European Union. Manufacturers also fear a current skills shortage, as they are struggling to recruit science, technology, engineering and mathematics (STEM)-based students and graduates, as there is a distinct lack of new talent coming through into the industry. Another issue faced by the industry is the KPI of productivity in the UK compared with other countries. Overall, global productivity has remained flat, but in the last ten years, the UK's performance has slumped to 16 per cent lower than nearly all the G7 countries.
But the solution for these issues is simple: investment in the right technologies. Not only can investment help keep costs down, improve overall efficiency and boost productivity, it can also save the need to increase the workforce; by automating certain jobs and functions, making existing roles easier and less labour intensive. Therefore, the manufacturing industry must turn to trusted IT advisors, to help guide them through these challenges, and direct them to the right changes and investments to make.
And this can only begin by first understanding the right technology platforms out there that will help individual businesses to digitally transform.
Turning to technology
The process of adopting and investing in any kind of new technology infrastructure should be a considered and well-informed one. Therefore, it's important for manufacturers to work closely with partners to help them find the right solutions for the specific needs of their business.
For instance, IT advisors would suggest for more automation in factory investments, as it means increased efficiency, greater precision and lower costs, and for those firms struggling to fill jobs, it could be a beneficial option. Logistics automation can be advantageous here. The movement of materials, both inbound and outbound, is critically important for speeding up time-to-volume and maximising profitability for new products. It can also be used through expanding investments in the automation of logistics processes including transportation, warehousing, and order fulfilment.
Machine learning (ML) and artificial intelligence (AI) may be more beneficial to industries looking to turn supply chain data into real-time insight and analysis about how the business is operating. Furthermore, these technologies can also provide recommendations for improving processes and even thwarting problems before they become a reality. For example, predictive maintenance uses machine learning algorithms to build an accurate predictive model of potential failures. This helps to maintain a higher level of asset availability that results in less factory downtime and lower capital appropriation spending. There will also be a lower cost of maintenance delivery.
Understanding the right technological solutions and business challenges for each manufacturing organisation is all part of the job for trusted IT advisors. And for manufacturing industries looking to digitally transform, IT advisors have the qualities needed to steer them in the right direction as far as technology is concerned – through staying niche and true to the manufacturer's expertise.
Partnering up for a forward-thinking future
Industry 4.0 promises to redefine the way that businesses of all sizes operate. Many organisations in several industries have already been able to capitalise on the fundamental technologies to help them to digitally transform. And this should be no different for the manufacturing industry.
But with so many options available to manufacturing firms, it can be difficult to figure out which offering fits an organisation's needs. And maintaining a competitive advantage, in an overcrowded and challenging modern business environment, can aggressively stretch an organisation's time and resources.
Therefore, manufacturers need IT experts to cut through the complexities and make sense of the market. Overcoming multiple barriers for adoption including security concerns, pricing and a general lack of knowledge of technological capabilities is key to helping manufacturers embrace more adoption. What's more, if partners can show the client the challenges, as well as the solutions that have worked for others, this will bring real value to conversations. This level of expertise is exactly what manufacturers need so they can trust they are investing in a stable partnership for future development. They don't want solutions to fix problems after they occur — they want solutions to avoid problems in the future.
And so, with the right partner's assets and approach, manufacturing firms can successfully accelerate their digital transformation. The right partners will not only help measure the outcomes but help shape the change needed for future digital transformation growth.
Scott Murphy
Scott Murphy is Director – Cloud, Cyber, UCC at Ingram Micro Cloud. Ingram Micro Cloud helps every partner use technology to solve more of the world's toughest business problems. It also identifies and brings to market the world's most advanced vendor technologies while providing intellectual property (IP) owners with more ways to innovate. By connecting problem solvers and innovators, Ingram Micro Cloud gives you more of what you need to build and accelerate your business – and your own ecosystem.
https://www.ingrammicrocloud.com/uk/en/