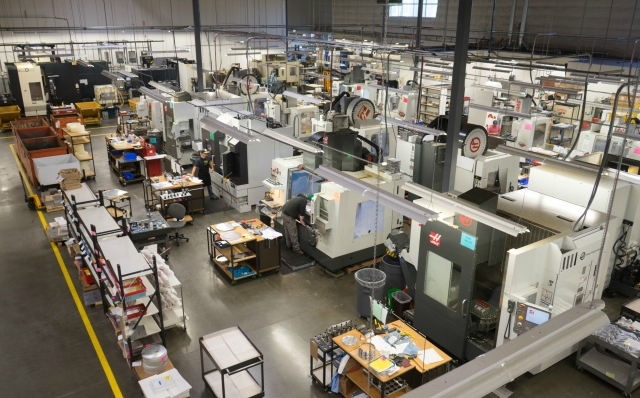 Shields Manufacturing Inc.
Shields Manufacturing Inc. sets itself apart by doing things differently from its competitors, President William Shields says. For example, he notes, "There's not a lot of shops that machine plastics effectively."
But Shields Manufacturing can and applies the same skill to metals. "Some of the products we make in the metals side are not easily made in high production quantities," he says. "We've developed processes to do that."
Based in Tualatin, Ore., Shields Manufacturing specializes in CNC machining and turning and mechanical/optical assembly for clients in the semiconductor, medical and aerospace industries. Shields founded the company in 1991 after working for another firm.
His company employs a staff of more than 130 at a 60,000-square-foot facility in Tualatin. Shields Manufacturing thrives, he notes, by continually producing quality parts for its clients, which include Lam Engineering and Applied Materials Inc.
"We've been able to develop a process to make these parts fairly consistently," he says, noting that this makes it a leader in its niche. "There haven't been a lot of people [who can] replicate what we do."
To the Floor
Shields Manufacturing has nurtured a culture of quality in its workplace. "A lot of that has to do with taking the quality to the floor and helping the people understand how to make good parts," Shields says.
With this focus, "They're not just loading a material, pushing a button and hoping for the best," he says, noting that its employees regularly inspect its products. "Typically, if people don't [do] that, they don't usually last around here."
The company uses a mentorship system to promote this philosophy. "We've got a guy that shows them the ropes, what's expected and what's not expected," Shields says. "They'll give us feedback about what's coming off the floor."
Experienced veterans also teach them about the inspection process, which requires employees to examine parts at every step of the manufacturing process. This allows the company to find an issue early on "instead of trying to catch it later," Shields says.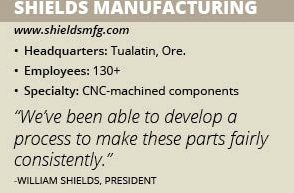 Ready to Go
Shields Manufacturing maintains a surplus of products to meet its clients' needs. "Our customers buy the same products over and over again," Shields says.
"We hold inventory so when they need something in a hurry, we can ship them and get them out of a bind," he explains. "We constantly have everything on hand."
This system works better for Shields Manufacturing than waiting for the order to build the product, Shields says. "There's no way we'd be able to produce the volume of parts [they need]," he says.
Keeping Pace
The semi-conductor market is growing at a rapid pace, which enabled Shields Manufacturing to enjoy growth over the past few years. In 2013, Shields notes, the company grew by 48 percent and moved to its current location.
"In 2014, we grew by 17 percent and in 2015, it was 31 percent," he says, noting that Shields Manufacturing also has doubled its footprint and added a second business unit to fill its clients' computer chip needs.
The unit, he explains, performs a plating process on the chips. "They put the copper layer on the circuitry patterns and add transistors to make it configured to be used for an application," Shields says.
Shields Manufacturing will need to keep growing to meet its customers' needs. "Right now, we're kind of constrained on building size," he says, noting that the company also wants to grow its second shift staff.
"We're trying to add more people so that they would be able to run our machines longer," he says. "We've also invested in machines that would be able to run unattended."
Ramping Up
Shields is proud of his 26-year-old company. "We've been able to scale up the company and maintain its reputation as a quality machine shop," he says.
"When most companies do that, they lose a piece of the puzzle," he says. "As long as we continue doing that well, we'll more than likely maintain [our] niche."
He sees a strong future for Shields Manufacturing, which plans to grow by 50 percent over the next three years. "Our customers are expecting 2018 to be huge, and we're seeing that ramp up, currently," Shields says.