Shine Food Machinery Limited
Keep it in the family
Shine Food Machinery Limited delivers innovative commercial kitchen solutions for tomorrow
With roots spanning back more than 40 years, Shine Food Machinery Limited has remained a family owned company since its inception. The company has evolved into a leading commercial kitchen manufacturer through the delivery of innovative design and the highest levels of customer service.
Shine Food Machinery provides a variety of services to both the catering and construction markets and is proud to maintain its values of delivering right first time, thanks to a combination of longevity, innovative technology and the expertise and talent shared among its 65 members of staff.
The figures speak for themselves. It has provided over £100 million commercial kitchens within the last ten years and its turnover has increased tremendously in the last five.
Innovation is key to Shine Food Machinery's success and the ability to be able to change has placed the company as a strong market leader. Reinvestment has funded the internal expansion processes and the development of impressive design and manufacturing methodologies. The company is working with a new technology called Building Information Modelling (BIM), a collaborative way of working, underpinned by digital technologies to create more efficient methods to design, build and maintain buildings and infrastructure.
Shine Food Machinery was proud to work with the Contractor LendLease on a BIM level three contract for HMP Winchester, working with the design team to meet the authorities requirements in providing a fully integrated 3D model of the entire facility to facilitate their future maintenance and renewal programmes. This has been followed by a further £14m of BIM projects to date. The BIM initiative appears to be paying off. Shine recently won Build Magazines Architecture Award 2016 for BIM commercial kitchen solutions in the UK, and the award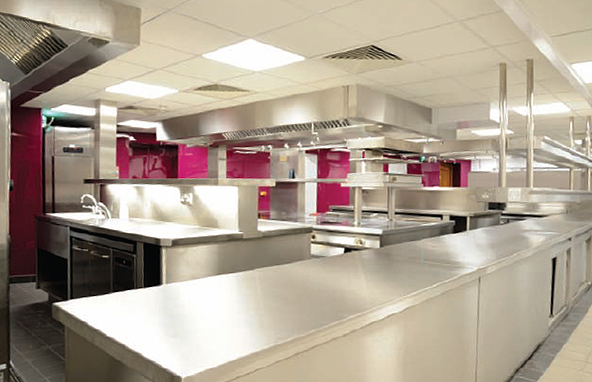 winning doesn't end there. It has also won the Catering Insight Award for distributor of the year in the rest of the UK category for the second year running. Leon Hoyles, Business Development Manager at Shine Food Machinery collected the award and said at the time: "We're delighted to win the award. It's all down to the hard work of the guys at the office and we're obviously appreciative of the fact that it's been awarded by suppliers."
The company has designed, manufactured and installed commercial kitchens for a host of big name companies including Hampton by Hilton, Bristol Airport and Hampton by Hilton Excel London Docklands, Which? Headquarters Baker Street, Hotel Indigo, Space Studios in London, the Greenway Hotel & Spa Progress, RAF Little Rissington, BHR Berkshire, Worcester Races, the Woolwich Offers Mess, Microsoft and Clarkson's Plc.
When tech giants Microsoft developed its London long-range plan it was seeking to create a Microsoft London campus, aligned to current and future needs. Shine Food Machinery was selected to deliver the project due to its understanding of the requirements for the level four main kitchen and food service area. The project, which was designed by Tricon Food Service Consultants, relied on a mixture of existing and new equipment to deliver the high expectations set by both Microsoft and contract caterers Baxter Storey. James Shaw, Project Manager at Shine Food Machinery commented: "We have been given extremely positive feedback from the client, who has said the team here in London has just set a new standard for global premises at Microsoft. Never have they seen before a project achieve such high levels of quality at practical completion." Shine Food Machinery worked with Pioneer, Foster Coldstores, Foster Refrigerator, Trak Hupfer and Hatco to produce a high standard kitchen for Microsoft.
When Clarkson's Plc, the world's leading provider of integrated shipping services, was looking for a new London office it was no surprise that Shine Food Machinery was invited to get involved. Working on a tight programme together with Overbury Plc, Shine Food Machinery was employed to provide catering equipment solutions to the main kitchen, which fed the hospitality areas, main cafe bar and outside terrace BBQ & bar. The project, which was designed by leading UK food service consultants Humble Arnold, formed part of Clarkson's decision to move to a new office at Commodity Quay at St Katherine's Dock. Shine Food Machinery worked closely with a number of suppliers such as Mechline, Celltherm, Trak, Essex Fabrication, Halton, Rational, Winterhalter, Ambach, Fosters and Amerex to ensure that the high expectations of both value and performance were met.
The company is proud of holding full ISO 9001 Quality Management. It has established a systematic approach to quality management and managing the business to ensure a structured approach while continuously focusing on the needs and requirements of its clients. As a result it has upheld the ISO 9001 accreditation for over a decade; this demonstrates that the company is a well-established and trusted market leader. It also achieved ISO14001 for Environmental Management accreditation back in 2006 and ISO18001 in Occupational Health and Safety Management. Shine Food Machinery takes the health, safety and welfare of its employees and that affected by its wider activities very seriously and has upheld the accreditation since 2009.
As Shine Food Machinery continues to build upon its foundations it looks set to grow even further. The company will continue to introduce new and advanced technologies, such as the Building Information Modelling platform to keep ahead of the competition. While the company has clearly had a very successful history it looks well placed to enjoy even more prosperous years ahead. It's expecting to generate a £12 million turnover in 2017.
Shine Food Machinery Limited
Products: Design, manufacture and install commercial kitchens