Cooking up a new design
Shine Food Machinery Managing Director, Julian Shine, has strong feelings about how to create the ideal commercial kitchen: "It is about being sympathetic to what a customer wants, but also delivering what is needed. Sometimes there is an expectation, but this won't give the best results." This approach, pointing people in the right direction to maximise results, also extends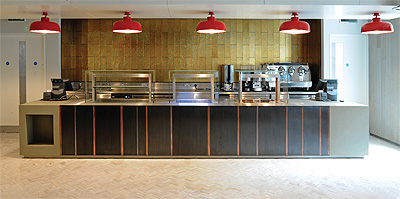 to how Julian sees his role in the company: "I am the backstop, everything stops with me. It is about directing the strategy of the business, and ensuring the systems put in place can achieve that, and individual managers within that framework understand how to facilitate objectives."
Shine Food Machinery has had to develop over the years, as technology has affected how food is stored, prepared, cooked and served since its inception in 1974: "It is much more advanced than the old analogue days, everything is connected and there is a greater emphasis on the utilisation of resources. Potentially, items such as cookers can be connected to a server, so it could make suggestions such as using a recipe with residual heat as the primary cookers are cooling down," Julian details. Efficiency is something that the organisation has used to differentiate it from the competition: "Improvements can be made through enhanced equipment and control systems, as well as through new methodologies. With the Knowledge Transfer Partnership (KTP) alongside Cardiff University, this has meant a more effective manufacturing approach, something that even large multi-nationals are struggling to achieve."
Among other investments, the company is getting more efficient by investing in the shopfloor, as well as upgrades, such as a new pressbreak, materials storage and handling system, and a new laser cutter control system. As well as improving processes, there is also a drive toward sustainability, something that was recognised in October 2017, when Shine Food Machinery won the 'Green/Sustainable Manufacturers Award' at the Insider Made in Wales Awards. Julian feels that Shine has taken great strides to improve the environmental credentials of its working practises, and outlines the steps that resulted in this recognition: "Waste is incinerated on-site and used for heating. There is also a 50-kilowatt solar array on the roof, so for large portions of the year energy is being exported back to the grid, as well as replacing lights with LEDs. Essentially what Shine is doing is out there for everybody to undertake."
Health and safety is also a concern that the company takes very seriously: "This is absolutely paramount. Shine was the first UK kitchen contractor with ISO 9001, ISO14001 and OHSAS 18001 certification, and has realigned all to the unified ISO45001 standard, so if inspected tomorrow, systems would be ready. Culturally it has been the biggest change for the organisation, it's not something that can be imposed, and everyone needs to be educated about the benefits," he reiterates.
Shine has been responsible for some of the largest kitchen design contracts in the UK, including a massive £9 million commission for Wembley Stadium and a wide array of other high-profile clients, such as Cambridge University. However, Julian insists that the size of a project is not a motivating factor: "There is no difference between a household name and an organisation that people may not have heard of, and nobody in particular is targeted. Ultimately, regardless of scale, the level of focus remains the same." One aspect the organisation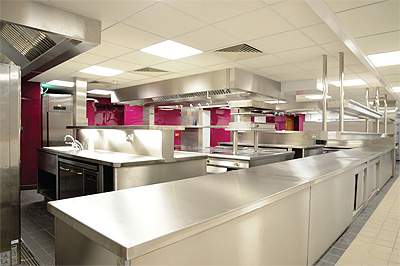 recently had to adapt to was recruitment. As with how facilities are put together, Julian has now adopted a more creative approach to choosing potential recruits to join the team: "It used to be about creating a role and looking for someone to fill it. Now there is more of a desire to look at certain areas that could be improved, and finding the ideal person to match that. There is more of a discussion, so that both parties can agree on a job description, essentially fitting the round peg into the right shaped hole, whereas it used to be the other way around."
While there may not be a specific targeting of big name clients, the ambition and drive is very much there to see how far Shine can grow. With orders already totalling in excess of £12 million for 2018, Julian believes that high targets can be achieved, and already steps are being taken to give the company the best chance of hitting those heights: "The aim is to turnover £20 million in the next few years, with aggressive plans to improve internal capacity. There is also a move to unify data streams. At present staff are internally managing this process. If this can be improved, then more time can be spent on customer facing work, allowing for increased capacity, without necessarily increasing the headcount." Implementation of a new project management focused ERP system in January 2018 will deliver this aim, potentially reducing the internal management and coordination of data to 1/12th of its current level.
Julian's words are very bold and confident, and it highlights just how much work goes on both in front of and behind the scenes. While there may be the feeling that larger clients are not being specifically courted, there is the sense that the work is so good, that inevitably it will attract more of these bigger names. In short, Shine Food Machinery has the innovations and know how to ensure that not only can it stand the heat of the kitchen, but also be the one controlling it.
Shine Food Machinery
Services: Commercial kitchen producers