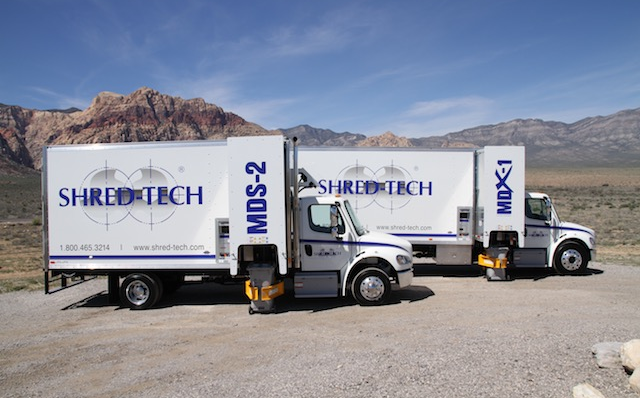 Almost every industry has some kind of legal or government- mandated responsibility when it comes to recycling of waste and the destruction of confidential materials. Companies must pay tire recycling fees, adhere to local laws for the disposal of electronic equipment or face hefty penalties if they fail to protect data.
"In a wide range of applications there is some form of government intervention either driving recycling, safeguarding information or safeguarding the environment," says Joe Roberto, vice president of sales and marketing for Shred-Tech.
Even before he joined the company, Roberto saw first-hand how Shred-Tech, a manufacturer of shredding machinery, served those various applications. Roberto worked for waste management company BFI, which in the early 1990s utilized a Shred-Tech shredding trucks to offer mobile shredding services to commercial and industrial clients. The technology so impressed Roberto that he purchased his own Shred-Tech truck and started a shredding business with a partner.
Roberto was a Shred-Tech customer for a decade before taking a job with the company. Since then, the abundance of confidential information and the rising interest in recycling more and more materials have made shredders a critical piece of equipment or service for many companies.
"In North America Recycling really got started in a big way in the early 1980s and it just continued to evolve," Roberto says. "Very few businesses now are not recycling in one way or another. The advancements in recycling are never ending. Our business and technology is constantly evolving to stay up with all the changes in materials that need to be recycled."
Investing In Capabilities
Shred-Tech started out in the early 1980s producing stationary two shaft shredders for a wide range of manufacturing plant-based applications. By the middle of the decade, Shred-Tech developed one of the world's first mobile shredding trucks, designed to shred confidential office paper and documents on site. The mobile trucks quickly became popular and have long been the largest revenue-generating segment of Shred-Tech's business.
"Since that time, the need for confidential shredding has grown tremendously as well as the number of trucks we build each year," Roberto says. "Growth in that side of the business was really fueled by legislation around the world surrounding the proper handling and protection of confidential information on documents."
Although mobile shredding trucks are the company's primary product, Shred-Tech continues to see growth in its stationary industrial shredding
equipment. Shred-Tech offers a wide lineup of plant-based shredding and recycling systems, including two-shaft shredders, four-shaft screened shredders, single-rotor screened shredders and granulators, as well as large primary shredders. Since its inception, the company has installed more than 5,000 shredding and recycling systems worldwide in locations as diverse as Fortune 500 manufacturers, hospitals and military facilities.
"On an annual basis we sell shredders to almost every industry category you can imagine – whether it's construction and demolition, automotive, metals, paper, wood or plastics," Roberto says. In the automotive industry, for example, Shred-Tech machines are used to shred byproducts produced by Tier I suppliers, including metals, plastics and materials used inside vehicles. Additionally, used tires can be shredded and recycled by third parties to be consumed as fuel in cement kilns.
Most of Shred-Tech's mobile shredding vehicles are manufactured at its headquarters in Cambridge, Ontario, but the company also has production facilities in Raleigh, N.C., the United Kingdom, Thailand, Japan and Australia. Its latest manufacturing plant is located in Raleigh, N.C., and opened in early June. It is designed to offload the mobile truck refurbishment work that was being completed at the Cambridge facility. "We were doing a lot of that work here at the head office," Roberto says. "It just got to the point where there was too much of refurbishing work to fit into our new truck assembly line."
The new facility became a necessity as more customers sought to have their aging trucks refurbished to extend their useful lives. In some cases, Shred-Tech even swaps out the chassis in older vehicles to keep them in operation. Demand for refurbished mobile shredders had grown so much that it was taking away resources to produce new vehicles.
By dedicating an entire plant to refurbishment, Shred-Tech can expand that area of the business so that it can take trucks back on trade-in and sell them as refurbished used mobile shredders. "Setting up in Raleigh gives us capacity to do more and makes a lot of sense from a logistics and production standpoint," Roberto says.
Raleigh was an ideal location for Shred-Tech's main refurbishment operation in North America because the company already had a small parts and service facility in nearby Apex, N.C. The new 20,000-square-foot facility will consolidate that parts and service operation as a complement to the refurbishment work.
Further, the location will serve as a satellite sales office for the two Shred-Tech sales representatives who work in the region and will help it more quickly respond to demand in the U.S. market.
Customized Solutions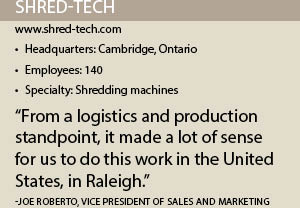 Shredding needs change depending on the application. A company that breaks down dirt at a rare earth metals mining operation requires a vastly different shredder than one that is destroying mountains of paper documents. Shred-Tech works to accommodate all of those possible shredding applications by offering a range of options on every machine. "Almost every order that we receive is customized to a certain extent," Roberto says. "Very rarely are two systems identical."
The customization process begins with the sales representatives, who gather the information on a customer's needs, the nature of the material and the volume that needs to be shredded. Even the reason for the shredding can influence the final equipment design. A client that wants to recycle old computers will have different requirements from one that wants to shred plastics down to a pellet size for recycling.
Once the use-case is known, Shred-Tech's technical sales reps conduct a site visit to the client's facility to fully understand the requirements and challenges. The system is then configured with the correct knife size, horsepower, number of hooks and feed and discharge rate for the application.
Roberto credits Shred-Tech's ability to develop those custom solutions to its technical capabilities. "We have a very large and very skilled engineering team here that works very closely with the sales department and the customer to find a solution," he says. "In many cases, customers approach us with a problem that many of our competitors haven't been able to solve. In some cases, we've invested many engineering hours with the customer to solve the problem."
After nearly four decades in the industry, Shred-Tech has earned the experience and expertise that give it an advantage in developing those implementations. "Not all applications are the same but many are extraordinarily difficult," Roberto adds.
Many of those engineers have been with Shred-Tech for more than 20 years. "A lot of our success is directly connected to the tenure of a lot of our senior sales and engineering staff," Roberto says. That experience, when paired with a strong quality control process, results in reliable, long-lasting shredding machines.
Shred-Tech follows a kanban manufacturing process to match inventory with demand and has a five-person quality control team that routinely visits suppliers. When component shipments arrive, Shred-Tech tests those materials to ensure they meet requirements.
Completed machines are also assembled and tested before being shipped to the client. In most cases, clients will even provide test materials to Shred-Tech to use during the quality testing process for their machines.
Service Focused
The development of customized shredding equipment is only the first half of the process. The machinery must still be delivered to the client before it can be put to use. Shred-Tech's involvement continues through the implementation and the entire useful life of the equipment.
The company's service department is capable of handling all of the installation work, including connecting all of the control devices and various components. Additionally, the company has nine technicians spread throughout the United States, each of which is equipped with a van outfitted with a full assortment of tools that can be dispatched directly to a customer's location.
The time between ordering a new shredding system and installation typically takes between six and 16 weeks for a customized processing system, depending on the complexity and size of the equipment. A new mobile shredding truck usually takes about six to eight weeks to deliver since the vehicles are in constant production.
"For most major markets across North America we can do all of this work with a Shred-Tech employee," Roberto says. Because the technicians are directly employed by Shred-Tech, clients can have confidence that they are fully qualified to install new systems or repair equipment. Technicians also have access to all of Shred-Tech's engineering drawings and technical data and can order replacement parts directly from the company.
However, there are a few instances where Shred-Tech outsources service. The company occasionally uses capable third-party technicians when a client is located in a remote area where it cannot provide service itself. Internationally, Shred-Tech relies on distributors to handle sales and provide service.
Evolving Technology
As more companies seek to reduce their carbon footprint and adopt environmentally conscious corporate responsibility policies, the demand for shredding machines has become more prevalent. Advanced technology is needed to break down new products and materials to meet those recycling goals.
Shred-Tech is constantly investigating new designs and materials that can improve the performance of its machines. "The products and materials that need to be recycled are continually evolving globally," Roberto says. "As waste streams and recycling changes, that eventually changes how we have to build shredders to process that material."
Even in only the past 10 years, the size and difficulty of breaking down many kinds of equipment has drastically changed. Computers and mainframes used to be large, bulky pieces of equipment made of strong materials that were difficult to shred. The miniaturization of electronic components such as processors has shrunk the size of a desktop computer tower down from the size of a file box to a coffee cup.
The metals and plastics in modern computers and electronic devices are easier to break down, but components such as solid state hard drives are already small and can potentially avoid the knives in traditional shredders, posing a different challenge to destruction. Ensuring confidential data stored on small digital devices is destroyed requires a shredding machine that can process equipment into even smaller particles than what was standard in the past.
Shred-Tech is developing those technologies internally, but it also seeks out other companies that complement its product lineup. In 2016, the company acquired AXO Shredders, a manufacturer of mobile and stationary shredders and recycling systems in the United States, United Kingdom and Thailand. "We're interested in growing through acquisition if the right opportunity arises as demonstrated by acquiring our competitor AXO last August," Roberto says.
Partnerships are another way that Shred-Tech can offer new technology to its customers. Roberto says there is opportunity to expand the stationary segment of the business through agreements with other manufacturers.
Shred-Tech was recently named the exclusive dealer of German-made HAAS primary shredders in North America. The HAAS TYRON Series Shredders features independently driven shafts, radio remote control and a hydraulic system that can shred as much as 100 tons per hour, depending on the material. Construction and demolition wastes are a popular application for these HAAS shredders. The equipment can be configured for stationary, trailer or track mounted use.
But what Roberto believes will be the true driving force behind its future is its people. "To be a top-notch company and to deliver excellent products and services to your customers starts with having the right culture in our company, having the right people and treating those people well and fairly; and that is what Shred-Tech has done"