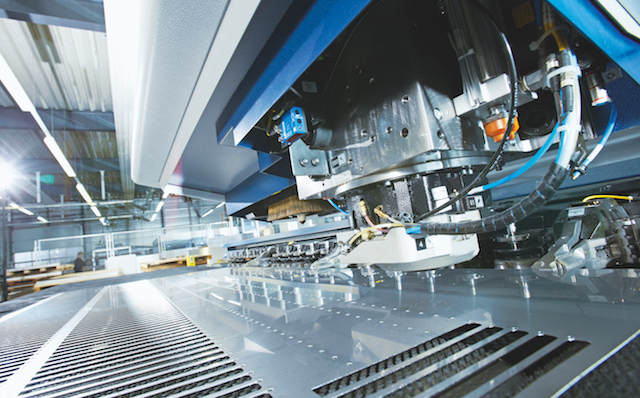 When Erwin Sick founded his company in Germany in 1946, he had to obtain a permit from the government to operate his engineering firm. A passionate inventor, Sick had spent considerable time innovating new industrial products, particularly those with optics.
His first real breakthrough came in 1952, however, as he developed volume production of the accident-prevention safety light curtain. This is an opto-electronic device that is used to safeguard personnel in the vicinity of moving machinery such as presses that have the potential to cause harm.
The sensors proved to be a huge success and since then SICK AG has become one of the world's leading producers of sensors and sensor solutions for industrial applications. It has more than 8,000 employees and more than 50 subsidiaries worldwide.
Safety First And Always
SICK, Inc., the North American subsidiary, began operations in 1976 in Minneapolis. Corey McAtee, strategic industry manager for machine building, has been with the company since 2011 and focuses on solving customers' problems with the company's many solutions.
One of the company's products, the deTec4 family of safety light curtains, can be used to safeguard the point of operation on presses that have openings where plant workers can accidently place their hands. The rugged safety light curtain has no blind zones and senses immediately if a hand has broken the light beams of the light curtain, and sends a signal to shut the machine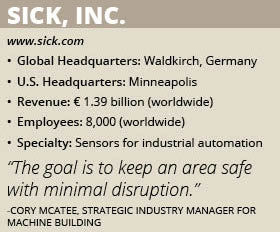 down. It is also easy to mount on the machine. "The idea is to detect the presence of somebody, and then stop the hazard," McAtee says.
Another safety product, the safety laser scanner, has been a landmark product of SICK's for years, and has evolved to meet the demands of modern manufacturing. The newest version is the microScan3 safety laser scanner with safeHDDM™ scanning technology, which ensures high reliability against dust and ambient light. Safety options were previously more limited to hard guards such as fences or even safety mats, but SICK area scanners can protect an entire work area and send a signal to shut down a machine if a worker is in an unsafe area. "Using a safety area scanner, users can potentially safeguard an entire zone," McAtee notes. "The idea is to keep an area safe with minimal disruption."
Using its expertise, SICK can help design highly functional and safe work areas. A safety expert from SICK can perform risk assessments to help you properly safeguard your equipment while trying to help increase the efficiency of the machine.
In addition to safety scanners, SICK provides an expansive service network. Within the U.S. market, a large staff can perform safety functions from risk assessments to safety validations and anything in between.  Many of these technicians interact with 11 different standards committees that govern North American safety standards.
This service is especially helpful to increase safety competency for small- to mid-size OEMs, which sometimes assign a mechanical or electrical engineer to manage safety integration as a part time task. Clients' engineers can attend classes such as SICK's Functional Safety Engineering training. SICK has partnered with TÜV Rheinland and has become a certified training provider for their Functional Safety of Machinery course. "SICK can add tremendous value with training," McAtee states. "If you have a principal engineer on staff they can attend functional safety engineering classes in Minneapolis, or SICK can come to their site as well."
SICK's services group has grown significantly in recent years because many customers have found value in partnering with SICK to implement strong safety cultures. SICK employs a staff of project management and implementation staff that works with any size customer. "More and more customers are coming to us with safety concerns," McAtee says. "Where SICK can really help is with designing and implementing a whole safety solution."