Siddall & Hilton Products Limited
The beginning of an era
An exciting future awaits Siddall & Hilton Products, as the manufacturer of welded mesh fencing panels is planning to branch out into new areas, whilst aspiring to become Europe's most environmentally-friendly producer of its kind
It was in August 2019 that six members of Siddall & Hilton Products' management team, led by CEO Ian Thurley, acquired the shares of the company's former Managing Director Neil Stewardson. This marked the second management buyout the welded wire mesh manufacturer has been subjected to in the last four years, with Thurley and Stewardson previously purchasing the company together from the Siddall family in 2015. The recent changes undergone by the business, whose roots can be traced back to the dusk of the 19th century, have outlined the noble aspirations Siddall & Hilton Products will be pursuing in the next decade.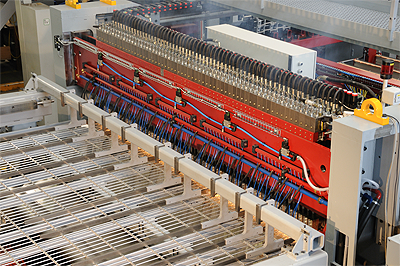 "We have the ambition to become the most environmentally-friendly mesh manufacturer in Europe and also the employer of choice in the West Yorkshire area," Ian reveals. "We wish to raise our profile in the local community and improve the prospects for our 53-strong staff here, in Brighouse. Ultimately, our objective is to transform the company into an employee-owned enterprise over the next ten years."
While advancing these goals, Siddall & Hilton Products will also continue to draw upon its exceptional customer service abilities to remain the go-to provider of welded mesh panels. "We manufacture these mainly for fencing companies who then use them for their own fencing systems. Furthermore, we have an industrial welded mesh range that includes gabion mesh and construction mesh, which finds an application in a variety of products. What sets us apart from other providers, is the very high quality of the material that we produce and the ability to respond to our customers' requirements at short notice. We tend to carry a broad range of stock and aim to serve our clients straight away," Ian explains.
The availability of a highly-skilled in-house engineering team is another key differentiator for Siddall & Hilton Products. The company's confident and forward-thinking engineers do not shy away from driving improvements to the four mesh welding machines on the shop floor, thus improving the efficiency of the manufacturing process. Ian adds: "Not many companies possess this sort of engineering capability and as a result, they run their equipment to a standard specification. We use EVG machines that are considered to be the 'Rolls-Royce' of mesh welding machines and our engineers often work in conjunction with their colleagues from EVG to modify them, so that they can operate in a way that best suits our needs."
With each of the four machines having different capabilities, there are specific skills required to master them all and in Ian's words, it takes about three years for someone to be fully-trained. "Excellence can only be acquired through experience. Our operators are also engineers to a degree, because they have to know what happens to a wire when we pass an electric current through it and how the heat generated through the welding process can affect the flatness of the panels. There is certain expertise that is needed in our industry and this is one of the reasons why we have a low staff turnover," he points out.
Figures back his claim. A shop floor employee tends to spend an average of over ten years with Siddall & Hilton Products, with one engineer recently completing 40 years of service. "We try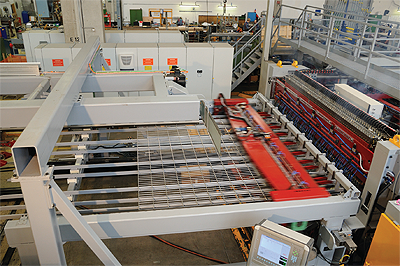 to be a good employer and with the introduction of the new management team, we are going to focus even more on aspects such as employee welfare and employee development. It is not a very big group of people, so we really want to develop a one-team ethos throughout the business," Ian reveals. "In the meantime, we are aware that our workforce is an ageing one, so we are eager to attract the younger generation into the company. We have just taken on two apprentices through the Government's apprenticeship scheme and we see such initiatives as the way forward in our efforts to future-proof the business."
Since moving into the mesh production industry in the 1980s, Siddall & Hilton Products has grown into the largest welded wire mesh manufacturer in the UK. So much so that it has got Ian thinking about taking the business in a slightly different direction. He discloses some of the ideas he and his colleagues have for the future: "We operate in a mature market, so there is a limited capacity for us to grow much more. Over the next three-to-five years, we would like to diversify and see what else we can do with the skills we have. For example, we can demonstrate a considerable expertise in welding metal and we understand the different properties of various types of steel, so we want to harness this knowledge and see what other products we can manufacture on-site."
In addition to targeting new market segments, Siddall & Hilton Products is equally as keen to add further value to the material it is currently supplying. Ian continues: "We are interested in leveraging our expertise and skills through identifying other products that we can manufacture and supply alongside our existing range into new customers and different markets."
Finally, he zooms in on Siddall & Hilton Products' objective of becoming Europe's most environmentally-friendly welded mesh producer. "Our machines consume a significant amount of electricity. Therefore, we want to start using renewable sources to generate some of the energy we need ourselves. For example, we are interested in installing solar panels and making use of battery technologies to generate and store our own electricity on-site. Moreover, we are planning to replace our cooling towers with a closed-loop system, which will enable us to cool the machines with much less risk for the environment. The other area we are seeking improvement in, is noise reduction. Our site is located close to a residential area and as we run the factory 24 hours, five days a week, we want to bring the noise levels down for our neighbours, especially at night. Combined, all these activities will not only cut our carbon footprint, but also drive our electricity costs down and, more importantly, highlight our commitment to the community within which we operate."
Siddall & Hilton Products Limited
Products: Welded mesh fencing panels and wire products