Determined to lead
Convinced at the importance of staying ahead of the competition through bold innovation, Sigma 3 Kitchens has continuously astonished the kitchen manufacturing market with its eye-catching designs
Going to places where no one else dares to go has become somewhat synonymous with Sigma 3 Kitchens – a Welsh kitchen manufacturer that stands out for its continuous development of new products that challenge the conventions and open up market possibilities for the company. As Managing Director, Gerald Jones, puts it, "we approach our product development with a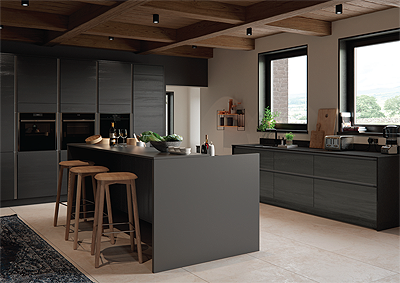 view of leading, not following, and look outside of our industry for colours, styles and finishes that consumers would accept and find new and desirable."
The company's proud heritage can be traced back to 1975 when Sigma 3's chairman, Brian Lakin, began making furniture for friends and family from an old farm building outside of Barry. Fast forward almost 45 years and the business now operates from a 70,000 square foot factory, whilst employing over 230 people and turning over in excess of £25 million. During this period, the company has gained immense experience and has crystallised its open-minded and proactive attitude in the market, which today helps all of its four main sales divisions to grow at a good pace.
"From our retail business, we sell products through eight wholly-owned and operated showrooms across South Wales, Esher, Warton, and Worthing," Gerald points out. "We also have a commercial division, which has enjoyed a sustained period of considerable growth over recent years. Then, our trade division supplies kitchens to local trades people and our contracts business works directly with housing developers and builders, from luxury housing to large-scale developments."
If any of Sigma 3's brands has the right to claim that it is the business' crown jewel, this surely is the award-winning Masterclass Kitchens. KitchensAssociated with the concept of 'affordable luxury', its portfolio of products includes both the super modern 'H Line' handleless range and classically-styled painted ranges, colours, and accessories that are affordable to most.
"Every part of a Masterclass Kitchen is unique, as every internal part of the kitchen cabinet is co-ordinated," Gerald notes. "From bin systems to pantry systems, the internal cabinet and drawer system can all seamlessly match, and for many years, the brand has illustrated how we differ from our competitors.
"Expanding on the theme of co-ordination, we have also recently developed our unique range of storage systems for the Masterclass brand that has been very well-received by our customers, because it enables them to offer products, features, and benefits that their competitors can neither match nor offer. These solutions are all exclusive to Masterclass and include drawers, 'MagnaSpace' pullout storage systems, 'Velabin' waste management systems, utensil hob storage, boot rooms, 'Lansbury' corner pantry, and even plate and wine storage," he adds.
The unrivalled package Sigma 3 offers to its retailers is the result not only of the company's willingness to differentiate itself through the creation of unique products, features, and systems;
but also of it establishing close relationships with its customers and suppliers. Gerald explains: "Together we understand that knowledge is key to kitchen design today. For many years, we have been implementing a policy of involving our customers at a very early stage of the R&D process to ensure we gain their acceptance of what we are seeking to do. We collaborate with our kitchen retail and supply partners to understand the technicalities of consumer lifestyle and property style changes, and how our products fit in with these changes."
Sigma 3's Living Collection epitomises this approach. Launched last winter, the range of free-standing furniture pieces, including coffee tables, side boards, and dresser units, complements and often perfectly matches the kitchen furniture within an open living space. "The last few years have seen kitchen specialists cater for the consumers' plans to open up their living space," Gerald comments. "It is a case of people 'living' in their kitchen environment now, with living rooms including the kitchen and becoming multifunctional living spaces. This significantly affects both the design of the kitchen layout and the materials and finishes used in the kitchen furniture. As the pieces in our Living Collection match the colour and the finish of the kitchen, they enable the complete room to be considered in a design and do not limit the designer to the traditional kitchen furniture."
With Sigma 3 maintaining a rate of two product launches per year, it is no wonder that the company places strong emphasis on the continuous improvement of its manufacturing capabilities. Gerald details: "The factory itself is forever changing as we invest regularly in it, driving process changes and making ourselves more efficient. Quality is paramount for us and for many years, we have insisted that every panel we make for our cabinets, is as good a quality as would be expected from the door itself.
"While automation has been key in achieving this continuity, the fact that the furniture is very varied in style and material means that there will always be a mix between automation and hand-manufactured pieces," he continues. "This mix is important to ensure differentiation. It is easy to assume that the kitchen is defined by its door, but what is behind the door and the details around the functionality of the furniture are equally as important."
Adhering to these beliefs, Sigma 3 is fully focused on seeking further improvements and introducing new finishes and features to its Masterclass range in the coming 12-18 months. Gerald concludes: "Many factory and IT / operating system investments are now pending and we expect to gain significant organisational benefits from the further automation and process changes we are looking to introduce. 2020 is set to be a challenging and interesting year and we are excited to learn, embrace, adapt, and hopefully thrive in it."
Sigma 3 Kitchens
Products: Fitted kitchens; kitchen storage; fitted wardrobes; living furniture