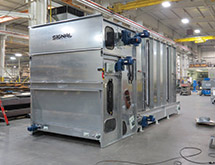 Delton Mullens understands what brings him the most professional satisfaction. "I enjoy helping a customer solve a production issue and undertaking the development of new products," Mullens says. "I like the process of transforming raw material into an effective end-product."
Mullens has ample opportunities to see that process in action at Signal Machine Inc., where he works as general manager. The manufacturing and machining company designs and builds equipment for a variety of industries, including carpet, textiles, non-woven fabric and tire and rubber. Signal Machine Inc. also provides laser cutting, controls and machine installation services. "We all enjoy designing and constructing equipment," Mullens says. "There's a good, productive atmosphere here. We work well together to achieve a result of which we're proud."
Mullens describes Signal Machine Inc. as a small manufacturer, "but we're big in the industries we serve," he notes. In fact, the company has exported equipment to numerous other countries for manufacturing non-woven materials for carpet-finishing and textile equipment. "Our clients know the outstanding technology that we bring," he says. "We have Signal equipment serving customers' production needs on several different continents."
Steady Growth
Signal Machine Inc. got its start in 1983 serving the carpet industry, but quickly grew to have a presence in other markets. The company was established by Thomas Hall as a two-room, on-demand machine shop. It was expanded in 1990 to a 28,000-square-foot facility and had doubled in size by 1997. The company added an additional 30,000 square feet to its existing facility in 2002. "We've grown the business over the years," Mullens says, adding that the company's entrepreneurial spirit drives its success.
"We're not afraid to tackle new challenging projects," he explains. Today, Signal Machine Inc. offers a complete line of opening and blending equipment and web-handling equipment for non-woven fabrics, which are commonly used in the medical and geotextile industries. Non-wovens also are used in automotive components, carpet, composites and insulation.
Performing custom work is a challenge and a passion at Signal Machine Inc., Mullens says. "The majority of our customers seek modifications to our standard equipment," he says. "We are always looking at new processes. If a customer has a need, we are prepared to meet it."
Ultimate Satisfaction
Because the company builds to exact specifications, workers must possess exceptional skills, Mullens says. The staff's in-depth knowledge and experience enable Signal Machine Inc. to manufacture, test and guarantee products with the most value for each dollar spent by the customer, he says.
The ultimate satisfaction for Mullens comes when he sees a piece of equipment that his company designed and built operating at a client's manufacturing facility helping to produce a product. "What we're doing is pretty special," he says.
Signal Machine Inc.'s commitment to quality is market driven, and the company is not satisfied until customer expectations are met. "We're always looking for ways to improve quality and efficiency," Mullens says. Employees are asked to consider the emphasis they place on quality when purchasing various products. "We try to draw a parallel with their own lives," Mullens says. "People can relate to that."
The company also has cultivated strong relationships with suppliers, who serve as valuable advisers. "We're always open to new ways of doing things," Mullens says. Suppliers play an important role in helping Signal Machine Inc. innovate because they are exposed to changes in the marketplace, he says.
"By working with the customer through the design process, we can provide the solutions that will solve the problems they face," Mullens says. "Signal Machine Inc. has developed a team of creative and motivated people who have the ability to turn great ideas into superior products. We have a lot of experience here."
The company's in-house mechanical and electrical controls design team has more than 150 years of combined experience in the area of design and engineering. The engineering department, meanwhile, is equipped with the resources to create a complete set of drawings on a piece of equipment or an equipment line, or to just get a small project out to the shop.
Flexibility is another key to Signal Machine Inc.'s success. Products can be manufactured to specifications supplied by the customer, or designed, engineered, fabricated, installed and tested to meet functional requirements, Mullens says. Additionally, Signal Machine Inc. offers complete design and engineering services to suit client needs. The company can build a project from the ground up or implement a new piece of equipment into an existing facility, he says.