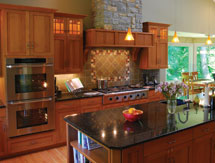 Signature Custom Cabinetry Inc.
Fine woodworking is an art handed down from generation to generation by dedicated craftsmen. In some countries, lengthy apprenticeships are required to become a fine woodworker. In the Pennsylvania region where Signature Custom Cabinetry Inc. is located, the Amish and Mennonite tradition of fine woodworking still survives, and a few of the company's employees have grown up in that tradition. The company produces its products for a mid-range to high-end clientele using hand-wiped stain and interlocking French dovetail construction, so their level of craftsmanship is appreciated.
"It's a fairly competitive industry," President and CEO Kent Martin concedes. "Our brand position we've carved out for ourselves is that we choose to be or want to believe we are the best value in the high-end custom segment of the marketplace." Instead of looking at the marketplace in the conventional view of having three categories – stock, semi-custom and custom – Martin looks at it as having five categories.
"I break the custom part of that down into two more categories," he explains. "We see it as stock, semicustom, midrange or mid-price custom, high-end custom and luxury. And our position is to be in the midrange and high-end custom categories. What we're aiming to do and essentially have accomplished is provide a very competitive product in that niche of the marketplace."
Martin compares his company's products to a BMW or Mercedes and the luxury category as being the equivalent of driving a Bentley or a Rolls Royce. For example, one of his competitors in the luxury category completed a project exclusively designed for singer Celine Dion.
"Most companies provide standard door styles to choose from, which we do as well," Martin points out. Luxury brands might create a one-of-a-kind door design or utilize veneers made from ultra-rare woods, and the cabinets' prices might be 50 to 70 percent higher than Signature's.
Manufacturing Improvements
Being primarily in the residential market, when residential construction slowed in 2009, Signature Custom Cabinetry felt the effect. "In our industry, sales dropped by 50 percent, and ours was no exception," Martin admits. "We took that opportunity to do a lot of improvements. I've always said we're not going to waste the good opportunity a recession brings to us.
"We've done quite a bit of different things since the downturn," he continues. "We've advanced our lean manufacturing initiative significantly. We've revamped our production lines to embrace the concepts of connected one-piece flow, and as a result of that and several other significant things we've done, we're running at all-time high levels of efficiency, quality and safety."
During the summer of 2011, the company invested $200,000 in a CNC point-to-point overhead router to complement its existing CNC panel saw. The saw cuts panels of plywood to size and the router cuts the grooves and notches required for each part. "That was another significant step forward for us," Martin notes.
As a result of the economic slowdown, in 2009 Signature Custom Cabinetry cut back to one shift from two in its plant and reduced its staff from the 2008 level of 200 to 100. "We had some pretty steep adjustments to make there, so again those types of things did bring – in addition to difficult decisions – some opportunities for improvements as we recalibrated our operation to the new reality," Martin remembers.
Hopefully, those days of cutbacks are over. "A couple weeks ago, we started hiring again," Martin announces. "We're starting to see demand come back, and we're feeling much better about the outlook."
A New Line
Signature Custom Cabinetry ships its products nationwide, and its line is growing. "In 2012, we revamped our lineup pretty substantially," Martin says. "In addition to the three product lines we had before – which were iQ, select and custom – we added a fourth production line called premium, and our select product line we repositioned to a different price point. Our 2012 product offerings are beginning to generate additional business for us."
To maintain quality, Signature Custom Cabinetry analyzes and tracks weekly component and production metrics. "With the weekly metrics that we get, we take a look at what they're telling us and develop action plans for any issues that crop up," Martin relates. "We have several external metrics we look at based on what customers experience in the field with our products. We also really focus in on internal quality from department to department and have a pretty aggressive approach internally to resolving issues and finding root causes, problem-solving and resolving issues before they get out the door."
The company audits production processes regularly and randomly picks a completed kitchen and audits it before it ships. Another part of its quality program is the training of new associates in the four-step job training method developed by Toyota.
"A key part of our quality control is training associates against the documented standard work for each process in the plant," Martin notes. "You don't have multiple associates in sanding or assembly each using their own method of production. There's a consistent method for each process in the plant. That's a key part of how we maintain quality control."
Filling a Niche
Signature Custom Cabinetry was founded in 1989 by Kent Martin and his brothers after high school.
"We were fairly young when we started it," he recalls. "Our grandfather had left behind some woodworking equipment for me and my brothers. I engaged in utilizing that equipment early on."
More significantly, he worked for Conestoga Wood Specialties immediately following high school.
"It was there I became intimately aware of the kitchen and bath industry," Martin remembers. He saw a niche that was not being filled in the industry, and so he and his brothers decided to launch Signature Custom Cabinetry. "That's how it got started," he says.