Comfort in choice
Having celebrated 70 years of sleep innovation in 2016, Silentnight Group has continued to invest in new initiatives that ensure customers get the bed of their dreams
It has been 12 months since Manufacturing Today Europe last spoke to Silentnight, the crown jewel for UK bed manufacturing, and in that time the Barnoldswick based manufacturer has brought to bear a number of initiatives to help continue its drive for continued growth. In catching up with Manufacturing Director, Steve Petrovic, and Marketing Director, Nick Booth, it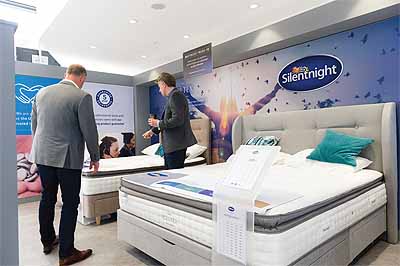 soon became clear that arguably the most exciting development has been the opening of its first flagship showroom at Manchester's Trafford Centre.
Spanning more than 5000 feet, the stunning new flagship showroom at Barton Square, Manchester, has over 30 beds and mattresses displayed across two floors including Silentnight's Which? Best Buys, cot mattresses and premium adult mattresses. Opened in April 2017 by Location, Location, Location's Phil Spencer, the showroom has been a major success, with customers able to see the complete story of Silentnight and also seek out their dream bed from the collections on display. These include the stunning new Signature Collection plus a wide range of cot beds and other mattresses, such as Studio, Mattress-Now, Bed Frames, Safe Nights, Pet Beds, Bedding and upholstered bed frames.
Featuring the company's finest selection of beds and mattresses, and designed to offer something for everyone, the Signature collection is all about choice as it comes in the most comprehensive range of comfort preferences available. Firm in the belief that the simple beauty of waking up, feeling rested, refreshed and ready-to-go is a luxury everyone should be afforded, Silentnight has chosen five stunning comfort layers to ensure a unique mattress for every type of sleeper. These are comprised of natural, Geltex, eco comfort fibre, latex and memory foam, with products also available in firmness ratings from medium, firm, medium/firm, medium/soft and extra firm.
Meanwhile, the mattresses within the Signature range are available with Miracoil or Mirapocket spring systems that reduce partner disturbance, relieve pressure in all of the right places and offer incredible comfort through the night. Silentnight's Miracoil spring system offers outstanding support, superior spinal alignment and maximises sleeping space; it also reduces 'roll-together' for less partner disturbance, which makes it ideal for couples. In comparison, each mattress with Silentnight's Mirapocket spring unit contains individual small springs that are housed in their own separate fabric pockets that respond independently to each other. This advanced technology offers soothing pressure relief to ease away aches and pains as each individual pocket spring responds to the customer's weight and the contours of their body to ensure superior spinal support that is second-to-none.
Also available to customers are Silentnight's range of Which? Best Buy mattresses, such as the Studio by Silentnight medium comfort mattress, which gained a Which? Best Buy award in June 2017 for its ability to offer good support regardless of size or sleeping position. Available in softer comfort, medium comfort or firmer comfort, Studio by Silentnight offers a fresh bed feeling thanks to its cosy touch, Allergy UK approved, anti-allergy cover. This mattress also ensures a great night's sleep thanks to its utilisation of Geltex, a unique, gel infused comfort layer that comes with highly elastic active response technology, which assists in easy movement through the night for an undisturbed sleep. Beneath the Geltex layer is a state-of-the-art memory foam mattress that offers support where needed and reduces pressure where you the customer can't. By offering tailored comfort to suit each customer's body shape, Studio by Silentnight offers a perfect sleep solution.
"The recently launched Studio by Silentnight is one mattress, making it a nice, clean and simple offer for the millennial consumer base that is beginning to grow significantly. It is a convenient, rolled-up product that is available for next-day delivery," says Nick Booth, Marketing Director at Silentnight Group. "With this new award, we now have three Which? Best Buy awards, with the other two going to our best-selling 1200 pocket spring mattress in May 2016 and the Silentnight Mattress-Now three zone memory mattress, which has been a Which? Best Buy winner since 2012."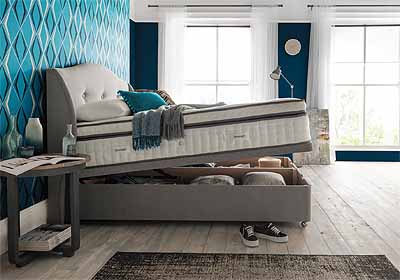 In addition to investing in a new showroom, Silentnight has expanded its testing laboratory to focus on the additional testing of moisture management. "Because it isn't part of the UK standard, we have never done moisture management before, so simulating the real experience of sleep when we sweat naturally in bed is a moisture management issue that we are developing new products for. We pride ourselves on having best-in-class manufacturing quality in the UK bed industry and a continued focus on improvements across the whole bed and manufacturing process. This test laboratory of ours is key to our quality commitments as it ensures all products are fully compliant and best-in-class," says Steve Petrovic, Manufacturing Director at Silentnight.
By utilising cutting-edge technology that replicates the sleep environment in material samples, the company is able to work with suppliers to develop materials and mattress constructions that improve the sleep environment for the consumer. In fact, the business constantly works with suppliers on technical developments to not only improve existing constructions, but also develop new ones. This is particularly the case when it comes to spring technology, for which Silentnight works with Leggett and Platt, and comfort layers via John Cottons. "This collaborative approach has enabled us to systematically introduce numerous minor technical changes that have systematically improved product performance and reduced the returns level quite dramatically," says Steve.
Alongside technical developments, the company recruited a full-time people development manager in the final quarter of 2016, a role that is responsible for training and development initiatives that covers apprenticeships as well as other initiatives that culminate in targeted leadership development. "The programme resulted in one of our apprentices being named National Apprentice of the Year in 2017 through the furniture maker's guild, a great accolade," comments Steve. "With factory morale at an all-time high, the support of our workforce has enabled us to improve efficiencies, reduce waste and provide products to a standard that has driven a positive reduction in customer complaints."
With a vision to be the home of the most trusted sleep brands, the quality-focused, innovative company has also been busy developing new products and exciting initiatives that have seen it expand the brand into lines including sofa beds, bed frames and even pet beds, as Silentnight establishes itself as the home of the most trusted sleep brand. Several of these new products were showcased at the MBF Bed Show in Telford in September 2017. "We are bringing out our new ultra-flex mini spring system, which is about enhancing our existing product range. The new Geltex range that was launched at the Telford Bed Show features the Geltex Ultra collection which we believe is Silentnight's most advanced mattress to date. It provides exceptional support and comfort for customers," says Nick. The company also launched stylish upholstered bed frames and a new sofa bed at the Telford Bed Show as part of its ongoing evolution of the Silentnight brand offering. Exclusively designed and manufactured in the UK, these products will be brought to the market in October, when they will then be available for purchase at the company's showroom.
In addition to all these exciting product launches, Silentnight is about to embark on the new consumer advertising programme "It is all about reminding customers of our key message, that we offer choice when it comes to sleep, comfort, bed, style and storage. We believe it is not a matter of a one-size-fits-all mentality, but ensuring the customer gets the right level of choice to get a great night's sleep," Nick concludes.
Silentnight Group
Products: Beds and mattresses for the whole family