Making dreams a reality
Celebrating its 70th anniversary in 2016, Silentnight Group has become the UK's leading bed and mattress manufacturer through delivering high quality sleep solutions for all the family
From its humble beginnings operating as Clarke's Mattresses Limited in Skipton North Yorkshire, Silentnight Group has become the go-to company for those seeking innovative beds and mattress that promise quality without compromise and, ultimately, a great night's sleep. "Silentnight Group is the UK's leading bed and mattress manufacturer and home of the most trusted sleep brands, including Silentnight, Sealy and Rest Assured. We promise a great night's sleep for all through a combination of market-leading quality, first-class customer service and continuous innovation," begins Marketing Director of Silentnight Brands, Nick Booth.
"Silentnight, the UK's biggest bed brand, employs around 750 people at its Barnoldswick factory and makes around 500,000 bed and mattress products each year. With its additional pillow and duvet products, we estimate one in five households has a Silentnight branded product," he continues. "While Silentnight is the mid-market family brand that offers a wide range of bed,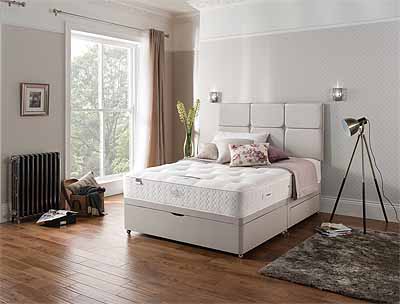 mattress and sleep accessories for every member of the family, Rest Assured is over 100 years old and one of the UK's most established bed brands, offering affordable luxury to consumers looking for a more traditional pocket solution. Studio by Silentnight is a brand new offer, which is targeting younger consumers with a contemporary, style driven solution."
Keen to remain uniquely different to its competitors, Silentnight Group keeps innovation and product development at the forefront of its operations. This has resulted in the company winning numerous awards such as Superbrands status for the tenth year running in 2015 as well as two Which? Best Buy Awards for two of its mattresses, the Mirapocket 1200 and the 3 Zone Mattress, the same year. In 2016 Silentnight was reawarded the Which? Best Buy Award the Mirapocket 1200, a traditional, double-sided hand tufted 1200 advanced Mirapocket spring system with targeted zoned support for superior comfort. The double sided mattress also features EcoComfort Fibre technology for luxury responsive comfort. Purotex treated to reduce moisture and dust-mite allergens, the mattress is drier, fresher and healthier, earning it the Allergy UK seal of approval.
Able to serve a wide range of customers through its diversity, the main products within the Group's portfolio include award-winning cot bed mattresses, which recently won the prestigious Mother and Baby Gold Award for quality and premium and pocket sprung mattresses, as Nick comments: "Our core 'adult' mattress offer includes the convenience rolled and boxed Mattress Now collection, which has sold in huge volumes online. There is also our exclusive Miracoil continuous coil system, which is popularised by the iconic hippo and duck characters, and of course the aforementioned award-winning Mirapocket pocket sprung collection. On top of these products, beds and bed frames are becoming increasingly popular, especially for customers looking for increased storage space in the bedroom. Our clever ottoman storage bases now feature heavily across all brands and are helping to reposition traditional divan bases into more contemporary furniture statements."
Additionally, the Group's recently introduced ground-breaking Geltex, a revolutionary gel infused foam comfort layer that delivers new levels of comfort, is rapidly becoming one of its most popular comfort options. By using a unique open cell structure that provides unparalleled breathability and thus allows air to pass through and prevent the body from overheating with ease, Geltex enables customers to enjoy a full and deep night's sleep. Moreover, through a unique fusion of gel molecules, foam crystals and air cells, Geltex is significantly flexible and adaptable when it comes to relieving pressure where customers need it most; this innovation helps reduce discomfort from aching joints and also reduces circulatory problems. Alongside these benefits, Geltex mattresses also ensure immediate spring back through innovative elasticity and responds to the individual contours of the body to provide perfect spinal alignment and support all night.
Aware that products must evolve to remain relevant in a changing world, the company holds innovation as an integral part of its ongoing success, as Steve Petrovic, Manufacturing Director at Silentnight Brands, comments: "We work holistically with the commercial side of the business, engaging with the New Product Development (NPD), quality and manufacturing teams to keep feeding the conveyor belt of new product demand. To further support this conveyor belt, we work in partnership with our fabric, foam, fillings and spring suppliers to further develop the principle of a holistic approach to product development. Over the last five years this has seen the Silentnight brands products transform from low value 'me too' products to a variety of products covering the needs of all age groups; it has also culminated in a number of awards, including Which? Best Buy."
In addition to developing new products, the company also focuses on improving quality across the whole supply chain, which significantly includes customer participation, as Steve adds: "Continuous improvement has become organic over the last five years. At the process level, managers are working with their respective teams to drive out issues and foster improvements, which has seen product returns reduced significantly; waste has also been significantly driven down and our business performance is on an upward trajectory. One example of our continuous improvement culture is that we have a weekly gathering of all functions where we tear down a product drawn from stock and critique it; over the last three years this has literally driven hundreds of improvements."
In line with this focus on quality, Silentnight's buying team scours the upstream supply chain to ensure the company only buys from credible suppliers. Additionally, the company ensures it is not missing anything that may affect its success by undertaking external audits such as the audit that enabled it to become a full member of the Furniture Industry Sustainability Programme (FISP). Based around sustainable development, FISP was set up by the government with four main objectives: social progress that recognises the needs of everyone, efficient protection of the environment, prudent use of natural resources and maintenance of high and stable levels of economic growth and development. To become a member of FISP the company showed commitment to social, economic and environmental sustainability throughout all parts of the business. In addition to this, Silentnight also complied with commitments to environmental management systems, waste management, energy management, packaging management and sustainable timber procurement.
"FISP is very important to the business, as we aspire to be the must trusted brands in our industry, and that means doing things right and letting the retailers and consumers alike know what we are doing is right to further develop that trust," says Steve.
Discussing another recent audit, Steve continues: "This year we were successfully audited by Bureau Veritas against the Ethical Trading Initiative (ETI) base code and we passed to a very high standard. This, along with our in-house product testing facility and a management team committed to ensuring legal compliance in all of our activities ensures Silentnight brands keeps driving towards its trust aspiration."
Keen to maintain these standards throughout the company, Silentnight established an apprenticeship scheme with the goal of replacing an ageing workforce with knowledgeable, passionate and innovative people. Since then, the apprenticeship scheme has gone on to win awards such as Apprentice Provider awards through Burnley College for the last two years as well as a regional award in the large employer category of the National Apprenticeship Awards. "We currently have 28 apprentices, of which we have recruited 15 in 2016 alone. In total we have had more than 60 apprentices in the business and are already seeing our graduate apprentices moving in to first-line supervision roles," says Steve. "Such is the scale of our training plans that in the last year we have introduced a full time development and training co-ordinator to improve the management of these young people and tailor our training to ensure we are achieving what the company needs through introducing a modular programme that delivers a broad business understanding before decisions are made on specialising the direction of the trainee."
Looking ahead, despite celebrating a record sales performance across its Silentnight, Sealy and Rest Assured brands during its last financial year (ending January 30th 2016), Silentnight won't be resting easy as it seeks to maintain its reputation as the UK's favourite bed and mattress manufacturer. As five-star consumer reviews across all brands continue to grow and Which? Best Buy awards further increase recognition in the market, the company will build on the success and growth of the last few years by focusing on its core values: market leading quality, first-class customer service and continuous innovation. "By understanding the needs of our customers and identifying new trends we will continue to bring new, exciting products to market and further consolidate our position as the home of the most trusted bed and sleep brands," concludes Nick.
Silentnight Group
Products: Beds and mattresses for the whole family