Thrilling new worlds
Simworx gazes into a bright future, as orders to design and build innovative attractions have increased ten-fold in the past few years
Theme parks are a popular destination for visitors of any age, and while one's first reaction when they hear the term might be to associate it with HBO's successful TV series Westworld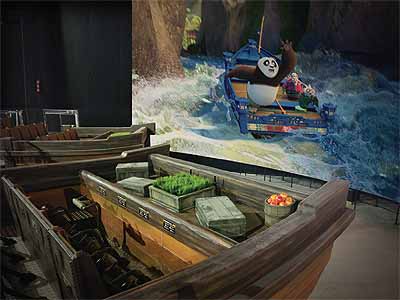 where enraged humanlike robots turn on their real human creators, here we will introduce you to a company that specialises in the design and the construction of much friendlier media-based attractions that cater for the unique experiences created by augmented reality for its customers.
"Simworx was founded in 2005 following a management buyout of a previous company, whose origins date back to 1997, when it began to manufacture capsule-style simulators before moving on to 3D and 4D effects cinemas," Managing Director Terry Monkton tells us. "Today, we specialise in media-based attractions and are acknowledged as one of the world's leading suppliers of Dynamic Motion Stimulation Attractions and 4D effects cinemas for the entertainment, education and corporate markets worldwide. Simworx has designed, built and installed its products all over the world, including in Europe, North America, South America, Asia, New Zealand and the Middle East," he continues.
Over the years, the company has crafted an impressive portfolio of attractions for numerous clients, and Terry gives us an overview of some of the brand's most sought-after products: "The AGV darkride and the 360° Flying Theatre are creating a lot of interest at the moment, but as we cater for such a wide range of parks and other leisure venues, we continue to see success with many other products, too, such as the popular 4D effects theatres, our Immersive Tunnels, and the Stargazer and Cobra motion theatres."
Having tasted success, Simworx seems to have found the formula of building upon this so that new heights can be reached by constantly looking to develop new and innovative attractions to offer to its clients. "We have recently introduced Paradrop VR, an immersive virtual reality experience that simulates flying a paraglider," Terry says. "We see our ever-evolving product range as being one of our biggest assets and drivers of success, so we aim to continue in a similar vein in the future."
All the hard work dedicated to creating new products appears to pay dividends for the company, as it has sustained ongoing enlargement of its footprint across the market. "Asia, and in particular China, has witnessed unprecedented investment in the theme park industry for several years now. There are other areas, such as the Middle East that have seen the completion and opening of many new parks and leisure-based venues, too. We are also particularly strong in countries like Vietnam, Indonesia, Russia and Mexico," Terry remarks.
He then gives his account of the most significant projects Simworx is implementing at the moment: "We signed a £46 million agreement with a major theme park developer in China that is building four new theme parks in as many years across the country, and we were fortunate enough to have signed contracts for the supply of three major rides to each of these parks," he reveals. "Another major project is the Mini Flying Theatre attraction that will be delivered to a wildlife park in Hanoi, Vietnam. It features an immersive, large format quarter dome screen concept, 20 seats, and an approximate hourly capacity of 250 guests. The riders are seated in a normal horizontal plan in four rows of five, and as the attraction cycle begins, the seats are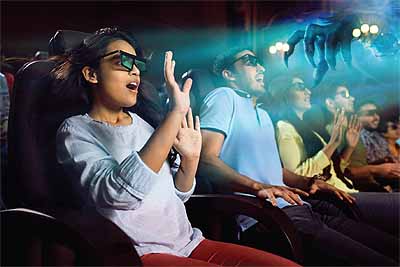 lifted into the air in a smooth transition to panorama mode in front of the dome screen, with the rear rows moving above those in front. The riders will experience unique movements fully synchronised to the movie on the screen, including programmable heave and tilt along with forward and backward motion. We have also included in-theatre effects, such as water spray, wind, snow, smoke and special effects lighting, as well as surround sound audio, and an HD/2K or 4K/3D projection system," Terry explains.
Although these are the two most significant ventures Simworx has undertaken, the company is looking to keep itself even busier, as Terry discusses a few more activities the enterprise is running simultaneously. "We are currently working on a number of other projects in Asia, including a major contract for the supply of three attractions to each of ten individual venues over the next two years. On top of that, we are building a 60-seat themed Immersive Tunnel for the new Amikoo Theme Park in Mexico, three attractions for the new Park Spirou in France, and a 144-seat 4D cinema for the Vin Group in Vietnam."
With Terry outlining how Simworx is dabbling in multiple worldwide developments, it comes as no surprise that the company has experienced a ten-fold increase of its orders in recent years. But what does he highlight as the principal reasons behind this growth? "Constant development of new products, the utilisation of cutting-edge technology, a strong R&D department, and affordable pricing are our biggest strengths. Our procurement team has also worked very hard to increase our supply chain, which has been another major growth driver. The sales process has been facilitated further by our creative team, which produces concept images and animated videos to provide the customers with a good insight as to how their attraction will look," he reasons. "Inevitably, our staff levels had to increase, too. We concentrated particularly on strengthening our project management, engineering and technical development teams, as well as our administration infrastructure."
He also praises the company's R&D team responsible for the identification of new opportunities for attraction building, and places special emphasis on the necessity to listen to the customers: "We have to comply with what they are looking for, so we can develop products that we know will work well in different types of attraction venue, and with particular visitor groups and age ranges."
Understandably, technology is an inseparable feature of any development Simworx aspires to undertake, therefore the company aims to stay in tune with the latest opportunities that arise from the invention of new gadgets. "It is necessary that we embrace new technologies and incorporate them in our attractions to provide our guests with more realistic experiences. This enhances our products further by equipping them with new interactivity, virtual reality and advanced projection mapping," Terry acknowledges.
As he shares Simworx's long-term vision, which involves staying proactive and tech-savvy in production, Terry also recognises the company's installed client base, as a potential springboard for signing new clients: "We look forward to having more of our rides installed in new areas around the world in the near future, hoping that this will attract surrounding theme parks to approach us for rides to enhance their own venues."
Simworx
Services: Design, development and manufacturing of 3D/4D Dynamic Stimulation Attractions and 4D effects cinemas