Since 2018, Astonish has tripled its turnover, but is only getting started 
In 1971, Alan Moss established a revolutionary mild-abrasive cleaner by the name of Klin. Alan was a demonstrator by trade, a talent that he used to market the product via one of the era's greatest channels: agricultural and indoor exhibition shows. These included the likes of The Great York Show and the Ideal Home Exhibition, and the market audiences marveled at the product's capabilities.
However, as the cleaner's popularity grew, Alan's suppliers struggled to keep up with its soaring demand. Unfazed, he drew once again from his entrepreneurial drive, and bought a secondhand mixing tank to start producing the formula himself. As the story goes, this saw Alan through until the mid-to-late 1990s, when an American tourist purchased Klin and returned home to his job in a luxury New York department store to spread the word of its prowess.
Brand loyalty
The department store was thrilled with Klin and faxed a request over to Alan to start stocking the cleaner in its own kitchenware range. "They said, we love the product, but the name stinks," explains Howard Moss, CEO. "So, they flew my mother and father over to New York to work on a new brand image with their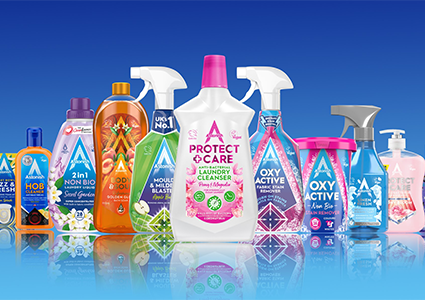 marketing team. Hence, Astonish was born. Unfortunately, the department store closed some 18 months later, but dad was able to take the brand as his own to replace Klin, back here in the UK.
"My joining the business was not typical by design. I was fascinated with retail and had started to help in dad's rather small warehouse. The product was great, but we were missing a significant retail customer base, and although people loved it, they generally found it difficult to get hold of. Dad's background was in demonstrating and visual marketing, but these specific issues were in line with my skillset, so we brought in external sales expertise and started to really push ourselves out into the mass market."
Astonish was one of the earliest UK cleaning brands to produce items across the entire category, rather than standing by a single flagship product. Before long, it had added window and kitchen cleaners and bathroom spray to its arsenal, among others. "But we stuck with the same brand, because it's one that consumers had grown to love and trust. When people see the name Astonish, they immediately think of high-quality, vegan products at the best value prices on the market.
Best-in-class products
"Today, we're still a family business," Howard continues, "which is what gives us such agility and speed to market. I bought my parents' shares almost 16 years ago now, and as we're not part of a big group, I'm able to make swift decisions with our senior leadership team. If we feel we've got an opportunity at hand, or a suggestion from one of our salespeople or customers, we'll thrash it out and come to a decision almost instantly."
The company moved into its current manufacturing facility in July 2022, shortly after we last spoke. Howard cites the initially difficult transition as being an enormously beneficial decision overall. "We certainly had some huge challenges in the beginning, to the point where we were about 100 percent behind month-on-month. However, by September, the teething problems began to clear, and from that point onwards, up until the end of our financial year in May, we've had record month after record month.
"We're 28 percent up in terms of turnover and our manufacturing volumes. All in all, it's been an absolute dream move for us, as it's allowed for a crucial stage of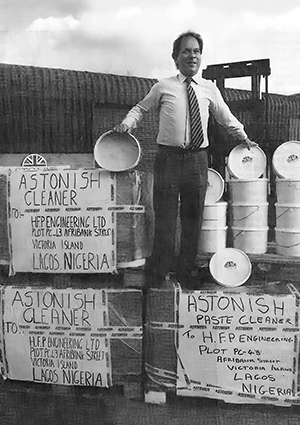 growth that we were more than ready for. We hit absolute capacity while at our last site, whereas here, we're currently sitting at around £50 million in turnover, and have the potential to expand up to £125 million. We're hugely excited to continue innovating our best-in-class products, to give our customers what they want."
Following this, Astonish has recently invested in a new €900,000 filling line, which will be installed before the end of the year. The line will play a crucial role in the launch of a new product early in the new year and have an end-to-end budget of around £1.5 million. Howard states that the overall project will increase the company's output by at least 40 million units per annum.
Continuing on the theme of innovation, he says: "We've been trying to cut out as much plastic as possible. Last year we released new versions of two of our products: The Good One and Clean and Revive. The former is now available in a metal container, the first of its kind on the market, and the latter has swapped out plastic packaging for a cardboard alternative, similar to an ice cream container, which is another industry first. In terms of items that feature trigger sprays and the like, we're utilizing fully recyclable material, that itself contains a minimum of 30 percent recycled content.
"Looking ahead, I'm excited to continue expanding the business," Howard concludes. "We've been on such an incredible journey over the last five years, where we've literally trebled in turnover, and there's so much more room to grow. We're not even supplying Tesco yet, the UK's biggest retailer, despite being in Sainsbury's, the second biggest, and Asda and Morrisons, but I'm quietly confident that we'll breach that gap in the next 12 months.
"I do believe that we'll see continued growth year on year, as long as we keep bringing out products that stand true to what Astonish has always been known for: best-in-class and best value for money. We're going to keep working on our sustainability initiatives, and focusing on filling the site here, to see where our journey can take us next."