Brian Neff's passion for aviation runs as deep as his roots in the industry. Serving for more than 15 years on both the operational and maintenance sides, it wasn't until six years ago when Neff had an "aha" moment that would change the course of his career in the aviation and aerospace industry.
In 2010, Neff purchased jet engine maintenance company CTS Engines after serving as CFO and later president of Southern Air from 2003 to 2009. "As part of CTS, I was taking a tour of a competitor in Germany and the guy who was giving the tour told me to come into this room and look at what they were doing," he remembers. "They had laser printers. I had never heard of metal printing prior to that and had no idea what it was.
"This is the kind of industry that grabs ahold of you from a financial and engineering standpoint," he continues. "It was at that moment in December 2011 when I realized I wanted to be involved in this technology. It is cool, neat and there are a lot of applications for it."
When he returned from Germany, Neff brought the idea to aerospace industry veteran Doug Hedges who was serving as CTS's senior engineer at the time. It took two-and-a-half years, but at the end of 2014 the pair came up with Sintavia and spun it out of CTS as a standalone company focused on additive manufacturing.
"As soon as it became apparent that the big OEMs were willing to use this technology more and more, we realized that there needed and still needs to be an tiered supply chain that supports the technology because it is unique and specialized," Neff says.
Located in Davie, Fla., with a staff of 26, Sintavia is the global, independent leader within the advanced manufacturing supply chain for critical industries, including aerospace and defense, oil and natural gas, and industrial gas turbomachinery. "Oil and gas exploration is a fairly new market for us and it is a good market for us," Neff says. "It's been very rewarding for us to look back over the last three years and see all that we have accomplished."
Solid Reputation
Sintavia differentiates itself through its aligned in-house quality system. "We are focused on aviation, which is a difficult industry to manufacture for," Neff explains. "We are putting metal parts on an airplane that will fly for 25 years and the parts can't break. The quality standards are the highest of any industry – much higher even than the FDA for a hip replacement, for example. If you have an airplane up 39,000 feet in the air and there's a problem, that's a catastrophic issue to contend with."
Sintavia chose the hardest market to succeed in and has become a global leader in the industry. When the company started, the most important part of the facility was the metallurgical and powder laboratory – not the printers. "Printing is important but not as much as the overall process itself," Neff explains. "A vertically aligned aerospace quality system that we maintain is a really big deal and that differentiates us from other people who are dabblers or outsource their quality systems to others."
The company prides itself on being vertically integrated so it can control performance, receive instant feedback and produce the highest-quality results. Sintavia is fully optimized with high-speed metal printers co-located alongside precision post-processing equipment, a full complement of mechanical testing equipment and a fully accredited metallurgical and powder laboratory. It is able to optimize parameters, serially manufacture and audit quality for critical industries.
"Another differentiator for us is that we are one of very few companies with a truly vertically aligned aerospace quality system," Neff notes. "That's a big differentiator and customers recognize that. They understand what it takes to manufacture in this industry and you can't be a hobbyist. You have to be in the production role."
Industry Veterans
Neff and Hedges each have two decades or more in the industry and have built long-standing relationships. In 2015, CTS – where Neff also serves as CEO – was named Boeing Supplier of the Year for its support and services. "Through this we have great relationships with OEMs – Boeing, GE and Lockheed Martin – that we can leverage on the Sintavia side," Neff says.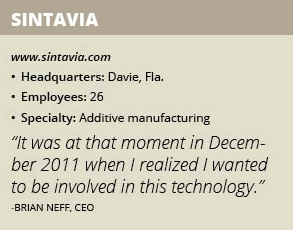 Although it is still a young company, Sintavia is recognized in the industry for the quality of its product in terms of data and representation. "Once you do that and get your product out there, people want to work with you," Neff says. "I think it's a combination of cross-fertilization with CTS and also the professionals we have in our business. We have really good contacts with most management teams. Doug and I have been in the industry for a long time and we know a lot of people."
But Sintavia finds itself starting at square one in the oil and gas industry. "Aerospace was a natural starting point given our background. Making introductions into the oil and gas industry has been more of a challenge because we are relative newcomers," Neff says. "We are meeting industry leaders at tradeshows and that has been successful, too."
In April, Sintavia will attend the RAPID + TCT Expo in Dallas to showcase itself and its corporate connections. "We are building parts for projects with 10-plus year production cycles," Neff adds. "It is important to the big OEMs to show stability and that you are going to be there next year and for the next 10 years."
Sintavia in September announced its strategic partnership with TRUMPF Group, a leading high-technology company offering production solutions in the machine tool and laser sectors, to accelerate the penetration of TRUMPF TruPrint metal printers in the global aerospace industry. "TRUMPF is a globally recognized leader within the high technology tooling and laser industries, and their machine customer support is the best in the world," Neff says. "Moreover, TruPrint 3000's build chamber is completely modular and secure – a requirement for Sintavia's new lean production facility. We are excited to work with TRUMPF on the TruPrint 3000 and to grow the relationship into the future."
Already this year, Sintavia formed a partnership with Taiyo Nippon Sanso Corp., a unit of Mitsubishi Chemical Corp. and a global provider of industrial gasses and related welding solutions, to precision industries to develop and promote metal additive manufacturing solutions across key industries. The partnership involves a technical collaboration to develop and commercialize gas flow processes that optimize the many benefits of metal additive manufacturing.
"Gas flow dynamics are the single most important – and single most overlooked – aspect of successful quality additive manufacturing builds," Neff says. "In Taiyo Nippon Sanso Corp., we are partnering with a true leader in industrial gas flow optimization. We look forward to jointly developing and marketing gas flow solutions that will benefit our mutual customers and result in superior builds."
Sintavia was the first tier I metal additive manufacturer approved to manufacture production parts for Honeywell Aerospace via the powder bed fusion process. "We have been working with Honeywell for over 18 months as part of their rigorous supplier qualification," Neff says. "We are grateful that all of our team's hard work has paid off, and are looking forward to demonstrating the many benefits of additive manufacturing within Honeywell's supply chain in the form of lower costs, shorter manufacturing times and dramatic design improvements."
Lean Operations
Sintavia began construction in December on a new 55,000-square-foot advanced manufacturing facility in Hollywood, Fla. When it opens, the $15 million facility will be the first of its kind to employ lean manufacturing principles for large-scale metal additive manufacturing.
"Our new facility, when complete, will serve as the template for future additive manufacturing facilities around the world," Neff says. "We will pioneer and continuously improve an optimized flow of work centered around Sintavia's industry-leading and vertically aligned quality system. I am very excited to commence the start of the construction process and grateful to our OEM customers who have necessitated this growth."
The new facility will fit up to 40 machines to support its next step into producing products in the hundreds per day. The company currently operates eight high-speed printers. Technology is changing in terms of speed and the number of lasers on each machine. Although Sintavia says the future of additive manufacturing is multi-laser machines, it believes there will always be a strong demand for single-laser machines. "People say they want everything to go faster and we would love for it to go faster, but at this point single laser machines have a perceived higher quality production for large components," Neff explains.
The lean and smooth process flow of the facility is being designed to handle larger batch manufacturing, which is where Neff says the company is headed. "There are a lot of applications that are small batch, including satellite manufacturing," Neff explains. "You are not making a lot of parts. That kind of manufacturing is great to have as great resource and can only be built on an additive manufacturing machine. The most successful end-market as it stands today is satellite and rocketry, and we have customers in those fields. The business aviation or general aviation market is larger batch manufacturing and we are getting into that now. Single aisle and narrow bodies are the next step after that."
Neff expects the facility will add 110 more positions by 2020. "Once you get into the mass production phase it's much simpler," Neff says. "Right now we are heavily focused on employing engineers as a company so they can work through the process."
Moving forward, Sintavia expects to continue to grow as the adoption rate of metal additive manufacturing in the aerospace industry increases. "The adoption rate is what it's coming down to," Neff adds. "We are in the early stages now for commercial, but that rate will follow the satellite adoption rate. It's a few years behind that and much bigger. We do see work in oil and gas and exploration increasing, but for us the real story is aerospace and defense."