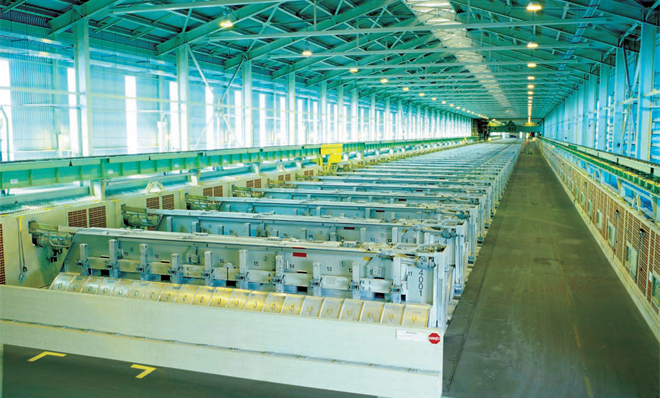 Precision insulation
Skamol is a leading supplier of a wide range of insulating materials worldwide.
With over a hundred years of experience in developing, manufacturing and marketing thermal insulating materials for heat-intensive industries and passive fire protection applications, Skamol A/S has established a proven track record with clients around the world. The business was established in the Limfjord area of north-western Denmark as Skarrehage Molerværk I/S during 1912, with the purpose of utilising the region's deposits of diatomaceous earth in the production of insulating bricks. Diatomaceous earth is also known as 'moler' and the moler bricks produced by Skamol were originally used in house building and chimney linings. In the wake of the Second World War the company began to increasingly focus on the industrial application of its products and since beginning as a local supplier of insulating bricks, Skamol has become a leading global supplier of insulating materials worldwide.
Today Skamol operates as a highly regarded industry supplier to clients across a spectrum of business sectors including applications within the aluminium industry; hearth and heating appliances; high-temperature industries, such as the cement, paper, pulp, lime, iron, glass and ceramic sectors; passive fire protection, for example core material for fire doors, heat protection shielding around fireplaces and stoves and mold protection. As the company's scope of industry applications has increased, so too has the range of insulation products and solutions that it is able to provide. Presently Skamol maintains four plants that produce insulation bricks and boards in moler, calcium silicate and vermiculite. Plants are individually dedicated to the production of moler, vermiculite and calcium silicate products respectively, along with a second plant geared to the production of moler bricks in Russia that was acquired during 2009. Further to the products it manufactures in-house, Skamol also supplies nitride bonded silicon carbide slabs produced in China.
Over the course of over a century of close co-operation with clients operating within a broad base of industries, Skamol has established a strong market presence throughout Europe and beyond and is keen to expand its market share in regions including Russia, China and the Middle East. One of the strongest areas of the business has been its presence within the aluminium industry, which has traditionally generated a significant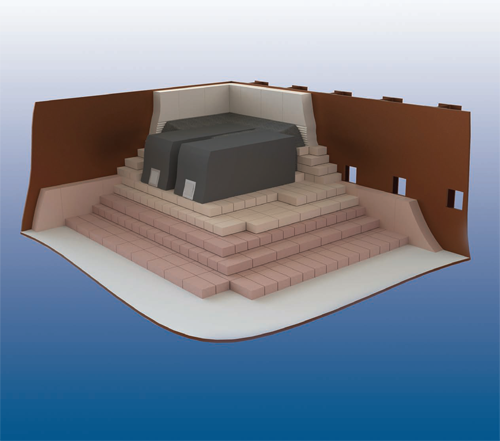 proportion of the company's turnover, as Holger Østergaard, Business Director Middle East and Africa elaborates: "The aluminium industry covers a major part of our business and has been its strongest industry for decades, because we started out very early in this sector. Since the 1960s Skamol has kept close contact with aluminium smelters and consulted with the aluminium industry regarding how it could improve its business processes. Skamol products also happen to fit very well with the aluminium industry – the smelting process takes part at 960 degrees Celsius, while all of the company's products have a maximum service temperature of between 900 and 1100 degrees Celsius. So the company's strength in the aluminium sector can mainly be explained by an early start combined with well-fitting and effective products."
Its proven knowledge of insulating materials and its strong links with the aluminium sector have allowed Skamol to acquire a significant market presence. Throughout Europe and regions outside of China and Russia, Skamol has established a market share of around 65 per cent and is present at most of the market's aluminium smelters. The company also maintains a strong and growing presence with Russia and is actively seeking to expand its activity with clients within China.
"What is special about the aluminium business is that there are relatively few customers on a global basis. In China there are just over a hundred smelters, while in the rest of the world – including Russia there are 91 active smelters presently. This makes the industry unique and as such clients in the western world and Russia know and trust Skamol. The company has worked with them for many years and maintains close co-operation through regular commercial and technical meetings with all major players.


"Within Europe, Skamol has a market share of around 65 per cent and in Russia it is working to grow its market presence," he continues. "The big challenge for us is China, which can be a challenging market to approach due to factors such as product requirements, business procedures and language for example. Skamol has worked within this market for the past two to three years and undertaken visits with technology suppliers, trials and so on, but this is still very much in the early stages. In terms of demand it appears that the market is stable, in that the global demand for aluminium is increasing. So from that point of view it is a healthy growth industry. However, 90 per cent of that growth is taking place in China, while the remaining ten per cent is in the rest of the world."
While the company continues to develop its global footprint within insulation products, Skamol will also seek to expand its sales of nitride bonded silicon carbide bricks throughout its entire market base in order to facilitate further growth, as Holger concludes: "With a market share of 65 per cent it is challenging to grow, because clients may not want to put all of their eggs in one basket, while regions may also have import taxes etc that make it difficult to grow above a certain level. Therefore around ten years ago Skamol began to deliver traded products such as nitride bonded silicon carbide bricks and these have become very successful. The company certainly expects to continue to grow in this area."
Skamol A/S
Products: Thermal insulation materials
Sites: Denmark