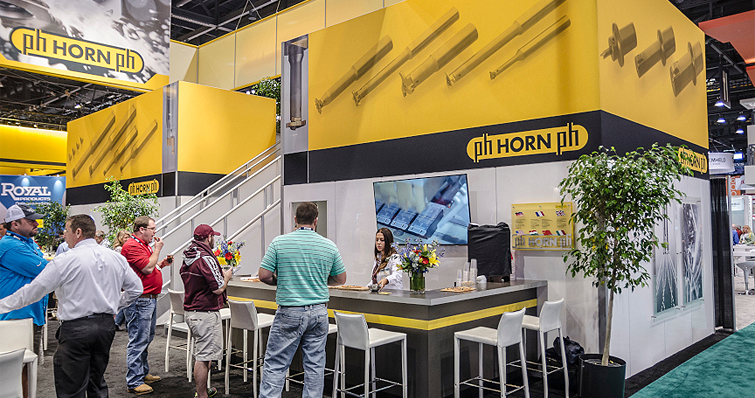 Skyline Exhibits maintains its leadership position by focusing on quality, innovation and on-time delivery.
Since it was established in 1980, Skyline has become a leader in the exhibit industry, with representation in 30 countries and serving well more than 100,000 clients, including many in the Fortune 500 and Fortune 50. Additionally, the company demonstrates its leadership with awards for product design, innovation and exhibit design. Vice President of Operations Tim Brengman credits all of this to Skyline's ongoing commitment to answering the evolving needs of exhibitors.
"Skyline is known for its product quality, innovation and exhibitor education," he says. "In terms of quality, Skyline produces most of its systems and components in-house for quality control and to provide best fit and finish. Skyline's manufacturing facility includes large-format graphic production and comprehensive wood and metal fabrication shops. A large set-up area in the center of our facility is used to assemble and preview exhibits prior to shipping to ensure accuracy and quality."
Based in Eagan, Minn., the company designs and manufactures custom modular exhibit systems and portable displays for trade shows and marketing events, from small table-top displays and banner stands to massive island exhibits that feature towers, hanging structures and double decks. Its mission is to help clients trade, grow and prosper, and it fulfills that with quality and innovation.
In fact, Skyline was recognized for its manufacturing when it was named the Gold Winner for Large Companies in the 2014 Minnesota Manufacturer Awards. Focusing on quality in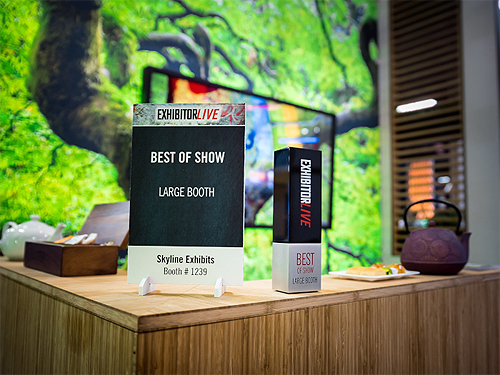 manufacturing is key for the company because its operations support the innovation it delivers to the industry. Skyline holds more than 100 patents, with an ongoing and aggressive focus to help clients exhibit easier, better and more efficiently.
"There are several examples of our innovation," Brengman says. "One of our current systems has been very successful – the SkyRise exhibit system. This is a wall system that is designed to be cam locked together and is easily installed without tools. That is part of theme in a number of our new product introductions over the past three to five years. It provides real simplicity on the setup floor, which is good because it is costly to set up and tear an exhibit down on the show floor itself. Cam locks are an integral part of the hardware – you just push, twist and pull back, and you've snapped the frame into the system."
He notes that SkyRise has been a popular product because of its ease of use and how great it looks on the floor. It allows people to get really creative, he says, by stacking walls on top of each other, making offices or conference areas within the exhibit. The company also works closely with clients to ensure they know how to make the most out of their Skyline products.
"Skyline is always synonymous with quality," Brengman says. "Skyline Exhibits doesn't sell on cost, we sell to the advantages we bring: better design, superior graphics and overall aesthetic of the displays we create." But in addition to our products, Skyline helps exhibitors exhibit better and keep current on exhibiting trends and best practices through free educational seminars, online webinars and the monthly Trade Show Tips e-newsletter."
Key Competencies
Ease of use is key for Skyline's customers, and that is why the company designs and produces its systems to weigh less, pack smaller and install easier than traditional systems, which helps to reduce exhibit operating expenses. Additionally, Skyline's portable systems are created to look better and last longer than competing products, while it also continues to develop new products that help to give clients distinct looks. In fact, an independent industry survey rated Skyline at the top of all other exhibit system providers in the categories of design, service and quality.
This level of quality starts in Skyline's manufacturing process, which has four key competencies:
Graphic production – The company's industry-leading color management process utilizes dye sublimation, UV, latex, inkjet and digital photo printing processes. Skyline also employs CNC cutting technology and fabric laser cutting technology in this part of its operation.
Fabric finishing – Skyline uses a customized patterning system to produce fabric graphics.
Wood fabrication – Experienced carpenters and custom cabinet builders use CNC cutting and routing equipment to deliver clients' creations.
Metal fabrication – Skyline's custom design/build capacity in this area includes CNC machining, CNC tube bending, robotic welding, sheet-metal lasers and a powder paint system.
"The output from these four production areas typically converge on our setup floor, where we fully assemble the client's exhibit," Brengman explains. "This allows us to check for proper fit-up of graphics and other custom components when matched with standard hardware systems to assure we are providing the required customer aesthetic."
On-Time Operation
In addition to quality, Skyline has to ensure it meets delivery deadlines, which are key in the trade show industry. Trade show dates are set years in advance, and Brengman notes that if the company can't ship an exhibit on time, the client could miss the show opening and Skyline is likely to lose that client forever. He takes pride in the fact that Skyline has averaged more than 99.5 percent on-time shipments over the past five years.
"Managing inventory costs are important to Skyline, but they are balanced against our desire to become known as the FedEx of the trade show industry," he says. "A growing segment of Skyline's business comes in the form of short-lead orders. To accommodate on-time delivery of those orders – which are nearly impossible to properly forecast – we keep higher levels of inventory, particularly during our peak seasonality."
Skyline partners with its suppliers to ensure quality as well as maintain inventory. For example, Brengman explains three of the company's directors went to North Carolina recently to work with its fabric supplier on new products. It is a true partnership, because although the suppliers may need to spend on R&D upfront, Skyline will buy from them for the long term.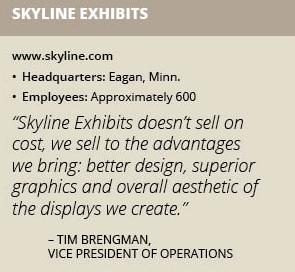 "We use fabric to wrap around the large displays and these are high-quality graphics printed on fabric," he says. "A number of hardware lines we design are unique and depending on the application, require specific attributes to provide the quality finish our clients demand. We work with our suppliers to find the best available fabric or when required, engineer a proprietary fabric to meet market demands." A lot of these fabrics are specially designed by our vendors, and we wanted to look at a longer-term approach at having them design three to six fabrics for us that work equally well on a number of different hardware systems. This vendor is very good at engineering solutions for us, and they will help us design new fabrics that will reduce the number of fabrics we have to buy and stock."
'Speed, Simplicity and Accuracy'
Skyline has been integrating lean manufacturing processes for 10 years, and it has a dedicated continuous improvement group to help it drive change throughout the organization. Its focus is to solve quality issues, improve productivity and shorten lead times. Brengman explains the company will use is improved strengths to gain market share through "aggressive, market-driven product development and expanded services."
"Skyline is a firm believer in continuous improvement," Brengman says. "We have an acronym that we use to describe our continuous improvement activities, SSA, which stands for speed, simplicity and accuracy.
"Driven by strong Sales and Marketing efforts, the Skyline brand has become very prominent in our industry over the years, so it was very fulfilling for the folks in manufacturing to win the Minnesota Manufacturing Award and be recognized for what they do," he adds. "It was a confirmation that we not only do a good job in designing and selling displays, but we do a good job in building them, as well."