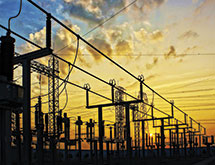 For more than 100 years, Slacan Industries has helped utility providers across Canada keep the lights on regardless of how cold it gets outside. "Canada is a challenging place for the products we make," President Peter Malnick says. "We've developed product designs that withstand the terrain and weather conditions, which is a competitive advantage for us."
Slacan is Canada's largest designer and manufacturer of poleline hardware, specializing in transmission, distribution, telecommunication and substation structures. The company primarily serves the utility and communication markets. Its products include structural transmission components such as steel crossarms, davit arms and anchoring assemblies. Slacan also provides small stamped and forged products to the agricultural OEM market.
Founded in 1912 in Hamilton, Ontario, the company today manufactures products in a single 150,000-square-foot facility on 11 acres of land in Brantford, Ontario, located 70 miles from Toronto and Buffalo, N.Y. Slacan Industries is ISO and Canadian Welding Bureau certified.
Quality First
Slacan's customers know its products for their quality. "We have a strong reputation in every utility of having a strong, quality product, and that's what we're most proud of," Director of Business Development Eduardo Cordova says.
The company attributes its quality to its manufacturing and testing processes as well as the engineering expertise of its staff. The majority of Slacan's products are produced in small runs and customized to the specific needs of its customers.
"We are changing constantly in our manufacturing operations, because that's what's required to meet the diverse requirements of our customer base," Malnick says. "We're geared toward low runs and accept that even if that approach may not be optimal from a cost point-of-view, it is optimal in terms of what our customers want."
Slacan's manufacturing capabilities include forging carbon and alloy steel, hot and cold stamping, steel fabrication, heat treating, shot blasting and CNC drilling and machining. The company regularly adds to and replaces its equipment. "Our facility has significant excess capacity. As we grow our business, we also add to our equipment and staff," Malnick says, noting the company is at roughly 70 percent of its capacity. "We're very fortunate to have that kind of capacity in a single facility."
The company typically produces between 1,500 and 1,600 different types of products each year. "We've developed an expansive product offering that allows us to provide customized solutions, which is a real value to our customers," he adds.
Most of Slacan's products are available with short lead-times or on an emergency basis. Clients such as Quebec Hydro have taken advantage of this level of flexibility several times during the company's history, including in 1998, when the company ran 24-hour shifts to produce parts during an ice storm that left most of the province without electrical power for more than two weeks. Slacan's response during the incident earned it recognition as the utility's primary supplier, National Sales Manager Tom Lepera says.
Products are tested in an in-house laboratory, where they undergo a number of tests including magnetic particle inspection. Charpy impact testing – which assures the products' resistance to shattering under cold temperatures – is also standard.
Quality is engineered into Slacan's products from the design phase thanks to the efforts of its engineering staff. Company engineers are closely involved with organizations such as the Canadian Standards Association (CSA), which determine the minimum standards all utilities in the country must meet for their line operations. "Our engineering group is very experienced," Malnick notes. "The utility sector in Canada has seen a lot of turnover when it comes to engineers; they don't have the amount of experience we do."
Staying Strong
Slacan Industries' experience and dedication to quality have helped it remain competitive even in the face of increased competition from overseas manufacturers. The company, however, has no plans to move.
"We're proud to be a North American manufacturer in today's economy that is doing very well and is able to compete," Malnick says. "A lot of companies haven't been able to do that because of offshoring, but we've stayed strong for more than 100 years."
The company continues to grow and is making inroads into the U.S. utilities market.
"Our business model of offering customized solutions is one that works for us, and we're growing our business and getting positive interest from the U.S. market because of that model," Malnick adds.