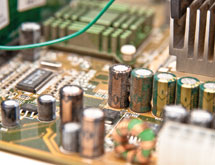 SLE Quality Engineering USA knows all about upward and downward pressure. As a supplier for the automotive industry, SLE-USA takes note of its manufacturing customers' needs while also challenging itself to be a leading innovator in its market. Operating by a philosophy of total quality engineering, SLE USA has developed and produced quality control systems with proven success like micrograph laboratories, crimp force monitors, testing tables, opto-electronic measuring systems, crimping presses and the latest-in-technology coaxial cable process semi and automatic machines.
With SLE's headquarters in Germany to serve the European wire harness industry, along with its offices in Singapore and China to serve its Asian customers, SLE USA was opened in 1997 to serve North, Central and South American markets to guarantee comprehensive worldwide customer support.
"We were the first ones who came up with the new equipment to process coaxial cables," explains Jesus Duarte, Director – American Market. "With its innovating technology these machines reduce overhead, drastically improve production and overall guarantee its high quality." As SLE-USA perfects its products, it allows its customers in the appliance, aircraft and especially the automotive industries to add greater capabilities to their final products, which are becoming more dependent on electrical processes. SLE-USA provides the testing tables that ensure those electrical processes are working correctly before they are installed into the final product.
"Before, cars didn't have any computers," Duarte says. "Now, most cars have computers that manage and control most of its functions, like GPS, airbags, tire pressures, brakes, etc.; therefore, it is of crucial importance to have a high-quality test on the electrical harness in order to avoid any type of complications that can end up in fatal accidents."
With this growing trend, SLE-USA has had to ramp up production while also maintaining the quality of its operations. Investing in high-tech equipment such as programmable CNC milling and lathes machines while also maintaining ISO 9001 and 14001 certifications and working with suppliers that maintain the same certifications goes a long way in ensuring it maintains quality.
However, Duarte says that without the right people in place, having state-of-the-art machines and processes alone cannot get the job done. "Therefore, we have our own engineering department with highly-educated engineers that [possess] bachelor's and master's degrees in several areas like electrical, software, mechanical and design," he says. "In order to be updated in technology and be prepared for the future demands of our customers, we constantly send our engineers to attend seminars all over the world that different suppliers or customer offer, like GM, BMW or Volkswagen."
Global Strength
SLE-USA also leverages the expertise of its parent and sister companies based in Germany and Asia, respectively. The Texas-based company often sends its engineers to Germany and Asia to train on new equipment. It also can combine manufacturing capabilities to ensure its customers never have to turn elsewhere for their testing equipment, this way SLE assures professional support all over the world.
Being a global organization fits in well with its global client list. SLE-USA began operations 15 years ago, and its Germany-based parent company will celebrate its 20th anniversary this September.
With operations in Asia to boot, Duarte says that the entire organization can provide consistent, quality products to customers on five continents: North and South America, Europe, Asia and Africa.
"All the big customers are getting more global," he says. "They have operations in America and Europe, and it is the same with our company. For instance, GM has plants all over the world, and they can buy the same piece of equipment from us and have the same service and technology throughout all of their plants by working with our company. Companies truly benefit from working with a global company like us."