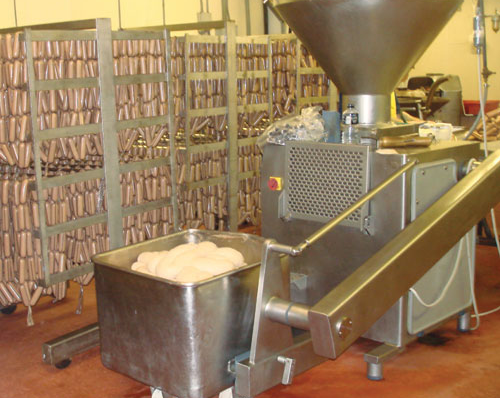 "One of our biggest assets is that we are diversified," Vice President Eric Smith points out. Smith Packing is a custom meat processor, food distributor and consolidator and offers storage and transportation services. Additionally, the company delivers U.S. food products overseas to commercial export customers as well as military customers. "All areas of our business work together, which has allowed us to find opportunities for the last 100 years," Smith notes.
Smith Packing is a customer-focused company offering a full line of food products to both retail and foodservice companies. The company currently distributes beef, pork, poultry, seafood, lamb and veal, produce, dairy, eggs, frozen foods, prepared foods, non-foods and disposables, chemicals and many national brands. Over the years, Smith Pack­ing has maintained its focus on meat processing and the "center of the plate," but has added a full line of products to support the demands of its customers.
"One-stop shopping has really become a big part of food distribution," Smith declares, "However, we are still a very meat-focused, center-of-the-plate company. When customers look at Smith Packing Co., they know that we've been handling perishables for many years. Smith Packing distributes its products within 150 miles of Utica, N.Y., mostly to independent operators in industrial, healthcare, retail or foodservice ind­ustries. Central New York state is the heart of our business."
Batch Processing
Smith Packing is a batch processor that has never been a slaughterhouse, but it is a USDA-inspected custom meat processor. "The food business has seen a lot of consolidation in the last 25 years," Smith observes.
The company's flexibility has to do with daily production scheduling using batch manufacturing methods. "We are a bit of a job shop," Smith explains. "Rather than trying to keep up with the big companies, Smith Packing seeks out niches."
Smith Packing can challenge larger producers who make a quality product. "I think we're not challenged by volume as much as just finding the opportunity," Smith emphasizes. "The country seems to think bigger is always better, and we find that is not always the case. We are focused on nothing other than making quality products without cutting corners."
Market Innovations
"Historically, the lines were drawn more strictly than they are today," Smith maintains. Smith Packing has always kept pace with industry trends. "Presi­dent Wesley Smith has developed our business considering complementary attributes within our operation," Smith says. "So the acquisition of a seafood company, an egg company, a storage company and a regional competitor all complemented our ability to serve our customer.
"I think that my father recognized very early that the global market for food was expanding and that products of U.S. origin were in demand," Smith asserts. "He was one of the first people to introduce U.S. beef into the Middle East marketplace 25 to 30 years ago."
Wesley Smith – who still is active in the business – originally was selling U.S. beef in the Middle East to Ameri­cans working there. He developed programs that allowed Smith Packing to offer portion-controlled, value-added and fully cooked items to its customers. Smith Packing is a licensed Certified Angus beef distributor and is aligned with the Golbon buying group. "Wesley Smith reinvested in our business to maintain a strong foundation for the future," Smith says.
Smith Packing Co. is working with a customer who raises all-natural cattle. "He generates a lot of trimming materials and now needs to turn those into a finished good," Smith says. "We're working to prepare a hot dog for him." The company also has produced bison franks, a low-fat beef frank, all-natural and halal products.
Closer to home, Smith Packing Co. hosts lunch-and-learns that consist of four forums in one afternoon. "We try to contribute information and service to customers' businesses – not really to try to sell them anything – but provide them with a forum and information to run their businesses better," Smith explains. "Through events like that, we do tend to learn a few things about their businesses."
Like many businesses, the company is struggling to overcome recent price increases in food and fuel. "The landscape changes – it's a part of our business – and our ability to change with it is one of our assets," Smith declares. "The interesting thing about the meat or food business in general is that things change very quickly. We try to surround ourselves with products we feel bring the customers effective menu solutions based on both cost and quality. We still feel that quality is what brings people back more often than anything else. Between quality and service, we feel that's why people do business with Smith Packing Co."
​