Intelligent solutions
Under its 'Innovation, Service, Delivery' motto, SMP Group continues to drive improvements to its business proposition, which keep the company at the forefront of the printed advertising industry
For the majority of its existence, SMP Group (founded in 1928) has targeted two specific areas – outdoor advertising and retail POS. Having noticed that its customers were showing a greater interest in pop-up retail and experiential events, however, the award-winning specialist designer and manufacturer of print advertising solutions decided to branch out into the exhibition and events sector about five years ago. These three divisions now form the backbone of the company, with recent investments also made in complementary software development and shopper psychology organisations, whose role is to support the growth of SMP's core business.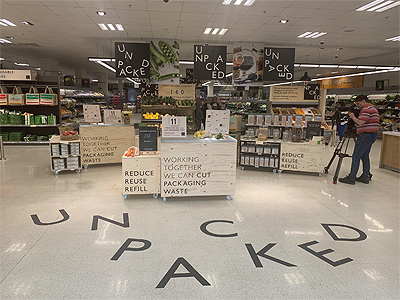 Managing Director, Bradley Slade, tells us about the latest highlights for the company from a commercial point of view, before moving on to discuss the traits that characterise SMP's manufacturing process, the business' apprenticeship scheme, and the future aspirations it harbours. "We now build exhibition and event displays, mainly because we found that we can apply a lot of the skills we demonstrate in our retail POS business to this area. By doing this, we diversified our offering and we are now looking to improve our skills further with a new software solution and the shopper psychology business that will enable us to better understand our products and how they work in the marketplace."
In Bradley's view, stepping into the field of unravelling consumer behaviour patterns represents an effort that will lead the company to deliver more value-added products to its customers. "At the end of the day, our solutions are there to do a job for our clients and help them sell more of their own products. It is, therefore, critical to learn as much as possible about the ways people engage with what we present them, so that we can do the necessary tweaks and keep moving forward, thus building a more sustainable business in the long-term."
It has been some ten years now since SMP Group first adopted lean manufacturing principles in its work. Initially partnering with the British Printing Industries Federation (BPIF), more recently, the company started a collaboration with Hosca – an external consultancy that supports the business in the optimisation of its processes.
"We operate in a very competitive marketplace and there is a lot of downward pressure on prices, as well as increased raw materials costs," Bradley remarks. "Our work with Hosca has helped us to manage our waste better and organise our workflow much more efficiently."
Alongside lean manufacturing, SMP Group has also been exploring the possibilities of automating more of its processes in the last couple of years. Bradley comments: "As the entry level for robotics has come down, we found it sensible to make it part of our capital investment programme to bring in new equipment that is fully automated and that removes some of the human element of what we do.
"Due to the fact that we work with a wide variety of substrates, however, it is not always easy to find the most appropriate robotic solution for a specific operation, and this is one of the biggest challenges we face when adopting automation," he also points out. "We do not always do the same things on every operation, meaning that there is not enough of repetitiveness in our tasks and from this follows that we need to look hard to find the most flexible option."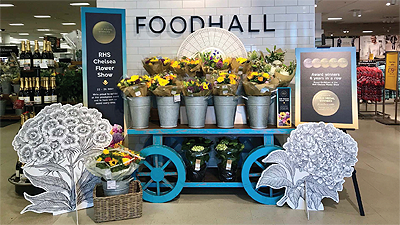 In its history, SMP Group has been approached by many of Britain's best-loved brands, including Marks & Spencer, WHSmith, H&M, Tesco, and Waitrose, to create innovative displays for their campaigns. One of the most recent successfully-completed projects for the company was the job it did for M&S, as the latter was promoting its sponsorship of 2019's Britain's Got Talent.
SMP Group was asked to create some glitzy POS to promote M&S' 'Big Night In' campaign, which went live across 950 stores. The manufacturer recommended the use of an eye-catching Mirri Confetti board that would make the POS sparkle and pop, generating the WOW factor and drawing the shopper's eye. Theatre was created by crafting elements such as hanging dials and stars, aisle headers, shelf wobblers and strips, barkers and woofers, as well as plenty of branded bunting. Adding to the customer experience, the Britain's Got Talent POS was supported by the voices of the judges and presenters Ant and Dec on the self-service checkouts.
With Bradley being confident in the health of the printed advertising industry in the coming years, one of his priorities for ensuring the continuity of the business is the incremental integration of younger workforce into the company. SMP Group has just completed a scheme where six youngsters joined the manufacturing side of the business and embarked on another one, which will see another six go into its administrative departments. He explains: "We are very keen to bring in some fresh ideas into the company and adopt an approach where it is not only us that teach young people a trade, but also them introducing us to new concepts that will help us grow on to the next level.
"To give you an example, the young people of today are so much quicker in embracing new technology than older members of staff. Their tech acumen is something that allows them to bring a lot of valuable skills to the party and when we combine this with the in-depth experience of our more senior colleagues, we have a workforce fit for the future."
Having effected its Brexit contingency plan earlier this year, the breaking of the deadlock remains the biggest issue for SMP Group and, in fact, the entire industry in the short-term. Despite the uncertainty, Bradley is positive about the company's prospects, going forward. He concludes: "Manufacturing is alive and well in the UK and I think that a well-run business focused on controlling its costs, managing its waste, and improving its productivity, will be good to the UK economy. As regards our industry, in particular, printed graphics will stick around for a very long time still and we are well-positioned to continue to grow in the years to come."
SMP Group
Products: Point of sale, visual merchandising, exhibition stands