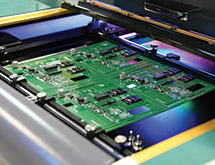 SMTC Corp. CEO and President Sushil Dhiman talks about the future of his electronics manufacturing company with the utmost confidence. He speaks of continued revenue growth, expanding the customer base and working with an experienced executive staff that is charged with elevating the company to the next level.
Dhiman took the reins at SMTC Corp. in January 2014 after spending more than 25 years in the electronics manufacturing services (EMS) industry. He's no stranger to overseeing complex organizations and effectively managing costs and working capital – skills Dhiman has applied during his tenure at SMTC Corp.
"We developed into a more robust company in 2014," Dhiman says. Indeed, the company's client base expanded last year and continues to do so in 2015. "Our new customers represent in excess of 20 percent of SMTC Corp.'s revenue in 2015," he says.
Building the Base
SMTC Corp. experienced a transition away from two large customers last year but realized continued growth with the addition of significant new clients. Building a broader base of partners was no simple task. Rather, it required an aggressive strategy, Dhiman says. "We make a list of the customers that we want to go after," he says.
The Markham, Ontario-based company has facilities in the United States, Canada, Mexico and China. The U.S. facility is located in the heart of Silicon Valley, San Jose, Calif., and supports both new and existing companies looking to bring innovative products to market.
These companies engage with SMTC to leverage their extensive supply chain ecosystem, value engineering expertise and manufacturing capabilities for Quick-Turn Prototyping, new product introduction and high-mix, medium- to low-volume production. This facility serves as their New Product Introduction (NPI) Tech Center for excellence and provides a gateway to their low-cost regions in Mexico and China.
The company also stands by its brand of being a "manufacturing partner to innovators,®" which attracts new customers based on their continued success to support new growth. SMTC Corp. continues to spread the word in a positive light by attending key trade shows and hosting an annual investors' day conference, which is designed to generate new capital and promote the company. "We want to continue to build on our success," Dhiman says.
SMTC Corp. is an end-to-end EMS company that specializes in product design and engineering, printed circuit board assembly, production, enclosure fabrication, systems integration and comprehensive testing services. Its clients can take advantage of its configuration-to-order as well as build-to-order and direct-order fulfillment services globally.
The company's services extend over the entire electronic product lifecycle, from new product development and introduction through to growth, maturity and end-of-life phases. SMTC Corp. offers fully integrated contract manufacturing services to OEMs and technology companies that strive in the industrial and commercial, communications and instrumentation, consumer and high-tech electronics, computing and networking, medical and life science, and power, lighting, and energy markets.
Dhiman credits much of the company's ongoing success to the experience of the executive staff, many of whom come from large organizations. "Many of them have Tier 1 experience," he says.
Providing manufacturing solutions that meet partners' specific needs and offering a customer-centric approach sets SMTC Corp. apart from its competitors, Dhiman says.
"We believe that we have the best supply chain and most flexible manufacturing technology solutions globally," he says. Those technologies are critical because the company often works under tight deadlines to meet customer needs and expectations. Efficient management of a client's supply chain is one way the company achieves those goals, he says.
"We're pretty tech savvy," says Steve Brown, vice president of quality and engineering, who adds that the company subscribes to the Lean Six Sigma methodology to stay on the cutting-edge of quality. "We're always looking for the optimal supply chain solution for our customers," he says.
But SMTC Corp. does not rely solely on technology tools to serve its partners. Rather, it counts on its employees to attain goals and surpass expectations. "We reinvest heavily in our workforce," Dhiman says. "Our people are our most important asset. The entire staff is one of the best in the industry. I'm very proud of the employees and the quality they produce."
Forging Partnerships
SMTC Corp. develops partnerships with its customers and continually works with them to determine their specific needs, Dhiman says. "We provide a lot of custom solutions to our clients," he says. "We're a very collaborative company. We take the partner work very seriously."
Brown agrees that the foundation of the company's success is built on partnerships with customers. However, it takes dedication and commitment to cultivate those partnerships, he notes.
"We work with customers early in the design process," Brown says. "The earlier the better." Interacting with clients at the preliminary stages allows for valuable feedback that helps shape the overall supply chain for the life of the product, he says. "We give the feedback to the design teams in a very digestible way so it is easy for them to incorporate suggested changes and unlock the value without adversely impacting their schedules."
Brown joined SMTC Corp. in 2013 and, like Dhiman, possesses more than 20 years of experience within EMS and OEM companies. He has experience in product design, new product introduction, assembly and test engineering, R&D and quality.
Brown is responsible for overseeing SMTC's global quality management system and technology roadmap development and implementation. He leads the quality and value engineering teams in delivering world-class quality and state-of-the-art innovation in technology for SMTC's customers. Brown also is intimately involved with SMTC's Technology Support Group, which focuses on providing customers with Design For Excellence (DFx) services to support the development or re-development of products. "Our team delivers expertise so our customers' ideas can become reality," Brown says. "The initiative involves the advancement of concept and design, product development and compliance, quick-turn prototyping, rapid manufacturing and supply chain strategies."
SMTC's Technical Support Group meets the unique design and development needs of every customer while providing the security and confidence of a global manufacturing partner, Brown explains. The dedicated team of engineers enables customers to engage with key experts at the early stages of an idea to ensure success and significantly reduce risk. Additionally, it empowers innovators to focus on new product development while realizing their full market potential, Brown says.
SMTC's hard work is getting significant notice.  Frost & Sullivan recognized SMTC in 2012 with its Global EMS Award for Product Quality Leadership and again in 2013 with the North American Growth Leadership Award as one of the fastest-growing EMS companies.