Kitted out for success
Snijtechniek-Brabant's expertise in manufacturing aluminium and steel parts and boat kits has resulted in the adoption of many new innovative manufacturing techniques, which have contributed to solid growth and a full order book
Snijtechniek-Brabant began life back in 1991, when it essentially consisted of a son cutting parts for use in his father's shipyard. As it turned out, this activity quickly caught the attention of other shipbuilders wanting to have parts cut for their own ships. Within three years, demand had increased to such an extent that premises of its own were required and the company today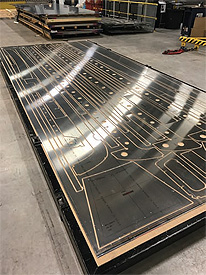 operates from a 6000-square metre factory in Raamsdonksveer. From here, Snijtechniek-Brabant has become a trusted name, specialising in manufacturing high-quality aluminium and steel construction packages for the shipbuilding and hunting industries.
"Within those three years, such was the level of demand for our service that we set about building and installing the first new machines that would carry out our marking and cutting operations," begins Pieter Vermeulen, Co-owner, Managing Director and Technical Director of Snijtechniek-Brabant. "It was at this time that we first introduced our innovative ink marking technology, which just happened to coincide with the mass adoption of aluminium into the shipbuilding process."
Today, the 3D milling and printing of aluminium is far more widespread, with multiple industries recognising the many benefits provided by this form of manufacturing. Additional features and benefits of 3D milling include, but are not limited to, the ability to carry out five-axis simultaneous and double curved surface milling, drilling and pocket milling, while also providing high tolerance levels, no heat input and zero shrinkage, all without using lubrication.
"One of the keys to our success is our ability to innovate and an example of this was the invention of our own router cutting machine," Pieter explains. "The machine has a flat table underneath, on top of which we place aluminium sheets in order to carry out the printing and machining of the material. It is a rather expensive piece of machinery, which we built on our own, and we followed it up with the idea of introducing a second machine to complete the printing element. What we have now, in addition to a dedicated machine for cutting and inking, is a large flat-bed printing machine that allows for text and full colour images to be printed onto metal sheets. It is a very unique way of working and separates us from most of the other cutting companies active today."
Aluminium and steel parts, as well as complete kits, forged within Snijtechniek- Brabant's premises are delivered to mega yacht and yachting customers all over the world. Said customers are drawn to the company as a result of the quality of par ts that it produces on a continuous basis. The company's kits have also been delivered to owners of ferries, tugs, and commercial and private vessels.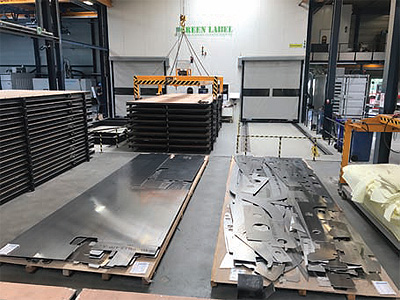 "What we do extremely well is create ways of making vessel building kits smar ter and easier to work with, while our printing processes add an extra layer of value to the package of services we provide," Pieter says. "Our router cutter means we can manufacture very complex 3D parts, but our expertise extends much further, through to completing complex insert plates and even window frames for ship yards or working boats. A lot of people get the impression that we only handle aluminium, but there remains a strong demand for steel packages and parts for working yards and vessels, and we are well positioned to service these needs as well."
The nature of Snijtechniek-Brabant's work is particularly high-tech, and with the demand for the highest quality products being unwavering amongst its customers the need for highly skilled and experienced labour is near constant. Due to insufficiently trained staff, part of the machine coding work is being outsourced in India through our Dutch partner Exes group. They provide us with the right flexibility and excellent engineering services to help our clients to get their products quick and correct. Therein lies a challenge for the company, which has seen the pool of potential machine operators shrink in recent years. The answer to this problem rests in the adoption of greater levels of automation within its facilities. "We are making strides when it comes to devising ways of getting more output from fewer physical resources," Pieter states. "With the support of subsidies from the European Union we are investing capital into making our facilities smarter and more automated, and this will grow in importance as time progresses."
At present the company is par ticularly busy, with one project in particular seeing it producing the aluminium kit for one of the biggest aluminium sailing yachts ever produced, which measures an impressive 81 metres in length. "This project only helps to reaffirm our position at the top of the chain when it comes to aluminium cutting for the ship building industry," Pieter enthuses. "We now want to take this a step forward to become completely integrated with shipyards, completing our move away from being simply a supplier to becoming an integral par t of a shipyards' activities. That is our goal for the next three-to-five years and we are confident we have the tools in place to make this a reality."
Snijtechniek-Brabant BV
Products: Aluminium and steel kits and parts