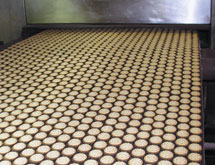 The 2010 merger of equals between Snyder's of Hanover and Lance Inc. was a sensible marriage. The two companies both made a variety of snacks such as pretzels, crackers, cookies and chips sold in grocery stores and convenience stores nationwide. When these two like-minded companies joined forces to form Snyder's-Lance, it created an even stronger organization. Two years after the merger, the company is still steadily on the track to becoming a stronger and more unified entity.
"Both groups had their strengths," explains Greg Flickinger, vice president of manufacturing and corporate engineering. "The opportunity was to blend what each organization was doing well into one better organization. It was like starting over, but in a better place with a further reaching and stronger foundation. We are now speaking the same language and are at the point where we are much more aligned throughout the supply chain."
Snyder's-Lance consists of 11 plants, and each manufactures a variety of product lines. Since the merger, Flickinger says the company's focus has been on developing a common continuous improvement (CI) approach and methodology. The company has leveraged a number of CI tools to align each plant's process with key goals and objectives. Each plant has its own challenges and strengths so the tools the Columbus, Ga., plant initially prioritizes and applies may differ from what the plant in Charlotte, N.C., leverages at the current point in time. The objective is to allow the plants to selectively choose the tools from the toolbox and apply them in a sequence that is congruent with their current opportunities and challenges. Over the long-term, plants will all end up in the same destination. Allowing plants to apply tools and develop expertise by need and opportunity builds internal centers of excellence that can be leveraged by other facilities as their needs and opportunities develop. This creates "pull" and nurtures cross-plant sharing of knowledge and resources even across product lines and technologies.
"If you analyze companies that mandate rigid tools and processes, it can become an activity-based proposition, where people are rewarded for the use of the tool as opposed to gaining transformative and sustained results," Flickinger stresses. "Improvement won't be sustained unless the people and the culture come along with it. The focus has to be on the people, where the process and tools are leveraged as enablers of knowledge, competency and ownership. This is the key to unlocking discretionary effort which facilitates performance improvements that not only happen, but sustain over the long term. You can't do one without the other, so for us, it has to be focused on both people and process. They must go hand in hand."
An Equipped Force
Snyder's-Lance operates with a top-down led, bottom-up driven leadership philosophy. The objective is to create ownership and accountability at the individual level, giving teams and individuals the ability to make decisions resulting in not just involvement, but engagement. Once pull is initiated, the corporate leadership must remove barriers as well as ensure associates have the resources to execute continuous improvement methodologies at the plant level. The primary knowledge base used by Snyder's-Lance is the total production maintenance (TPM) toolset. All of the tools and processes exist; there is no need to reinvent the wheel. The true value is found by the leadership that can translate paper to practice.
"What some organizations do with TPM is take the full toolbox of tools, formally educate their workforce and begin to expect everyone to use every tool proficiently," Flickinger says. "Our approach has been, and is currently to some degree, a more surgical approach. We are deploying tools and processes with intent to solve issues and most importantly develop associate capability and teamwork."
As is always the case, each manufacturing plant has its own culture, strengths and opportunities. Since a prescriptive one-size-fits-all continuous improvement mentality would not yield the highest overall organizational performance, each plant has the flexibility to leverage and implement the tools that make the most sense for where they are in their cultural journey. Flickinger says the plants are at different places and moving at different paces in their CI implementation, but everyone is moving forward and will eventually reach the same destination. The most-improved award would certainly go to Snyder's-Lance's Columbus manufacturing plant.
Moving Forward Together
Through surgical TPM implementation with a focus on people, the entire Columbus manufacturing site improved its year-over-year performance against controllable cost by 9 percent. The value of systematic engagement of people and process is best exemplified by the improvement results in the Columbus bakery on their primary sandwich cracker line. The line has historical equipment and had a history of underperforming. In 2011 the line averaged 66 percent against theoretical max throughput with capability to do much better. Line performance was plagued by a number of interrelated issues including a high frequency of major and minor stops, a lack of robust standard work processes, and the treatment of symptoms as opposed to root cause. Brian Dubak, the bakery plant manager, pulled from the TPM tool box and leveraged resources to systematically apply foundational tools to engage his team, resulting in an average performance against Tmax throughput on this line of 84 percent for the last eight months of 2012.
"They applied basic principles in a way that created true ownership on the floor, such as leveraging communication tools, integrating production control boards, center-lining the system and solving issues to root cause," Flickinger explains. "They did this with existing equipment and without capital expenditures. Through people and process, they customized their toolbox for what was needed."
Since the plants pull the tools that apply to their specific needs rather than having tools prescribed to them from the corporate office, it creates an even greater sense of associate ownership and reinforces that continuous improvement is founded in developing culture at the floor level.
"Some companies create perceptions that they are focused on continuous improvement but for it to be real and embedded it has to be a cultural change and by definition, that can take a number of years," Flickinger says. "We provide the tools, but the plants have the ability to tweak them depending on their acumen, experience and skills. The philosophies, framework and methodologies are all the same, but the tools are customized and tweaked for each respective culture, because the power is in the application."