On a roll
One of the world's most reputable manufacturers of high-alloy special steels, Soderfors Steel AB offers a wide range of products and customised contract services to some of the largest steel mills in Europe
Focused on delivering high performance, high purity, high alloy steel for demanding applications, Soderfors Steel has a long tradition for excellence in steel forming and heat treatment. "Soderfors was operating as a producer of anchors for the Swedish navy as far back as 1676," says Abraham Melkeson, Managing Director of Soderfors Steel AB. "Today we offer a wide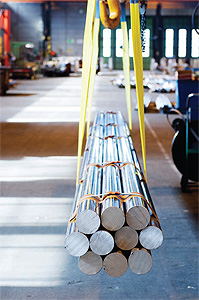 selection of rolled bars, sections, profiles and open die forged components as well as customised contract services; these include forging, rolling, heat treatment, finishing, testing, cutting, special marking and packing. We are currently focusing on growth as we have opened a new office in Cologne and also started a new GmbH; on top of this, we are focusing on quality and are in the process of recruiting one more person to the quality team."
Viewing itself as a natural partner to co-operate with in terms of capacity and competence, the company complements partners in the steel industry with its flexibility that ensures small orders are delivered reliably with competitive lead times. Moreover, its production equipment is specially tailored for challenging materials and the company has specialised knowledge to actively contribute to development projects that involve its clients. Elaborating further on the company's capabilities, Abraham notes: "We work with all special steel grades such as powder metal steel, tool steel and stainless steel; we also have short lead times and focus on having a very high delivery precision while also being price competitive. In fact, Soderfors Steel is probably one of the most flexible steel companies in Europe, which is thanks to our owner structure and size; we presently have around 110 employees."
One example of this flexibility and customercentric approach to business is the company's hot rolled profiles; these have become cutting edge products as they are rolled in accordance with customer drawings and include both symmetrical and asymmetrical shapes. Manufactured in high alloy steel, round and flat profiles and rolled products such as bars are available in different stainless grades, with an emphasis on various grades of Duplex and Super Duplex. Other important products include high-alloy tools steel and PM steel in the form of bars and, toremain competitive, the company has initiated several product development projects in close collaboration with its largest customers. To further strengthen this competitiveness, Soderfors Steel also continues to enhance its competence and skills with the goal of increasing the share of processed products and meeting the demands of key strategic customers. Additionally, a new system for the process handling of internal logistics has been implemented at the company to develop it into a just-in-time partner for customers.
To deliver this range of products and services to its diverse customer base, Soderfors Steel has a modern site with a comprehensive range of equipment. This includes a carrying capacity of six tonnes and a 1000 tonnes open forge press for its forging services; this segment of the business also boasts a four tonne pneumatic hammer and six tonne and five tonne manipulators. During the forging process careful timing, deformation speed and temperature combine to create a material that ensures structure is improved and defects in the material are neutralised.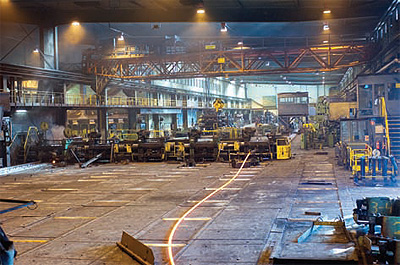 Because versatility is one of the key strengths of the forge at Soderfors Steel, the company can work in a wide variety of materials and shapes to produce both bar forgings and open die forgings.
With hot rolled profiles becoming a speciality at Soderfors Steel, the company can handle the most complex materials in its rolling process and thus manufacture profiles in both symmetricaland asymmetrical shapes that are based on customer drawings. This capability stems from the company's experience and expertise as well as its understanding as to what the final product will look like; complementing this know-how is itsrange of equipment, which includes a gas walkingbeam furnace, primary reduction stands, tandem mill, cooling bed and cutting station. Meanwhile, within the finishing and heat treatment segment,the company is among the world's most renowned subcontractors for the rolling, forging and machining of high alloyed steels and is very much involved in all aspects of its customer's requirements during a project. Equipment used within this segment include one gas heated bogie heart furnace and two water quenching troughs; machinery is used for soft annealing, tempering, straightening, rough turning, non-destructive testing and sawing and cutting.
Proud of its forward-thinking approach to business, the ISO 9001:2009, ABS, BV, DNV and NORSOK approved company uses liquefied natural gas in its factory and has done so entirely since 2015. Further investments in the factoryhave since taken place, with the company recently acquiring a new straightening machine, as Abraham comments: "We are developing new steel grades with a customer and without this straightening machine we would not be able to straighten their material because it is sometimes over 500 brinell. In addition to this project, we are also processing some other special steel grades that are patented; we are the first in the world to process these so that will be very interesting."
With a busy order book, long-term expertise and a cutting-edge factory, Soderfors Steel looks set for further success as it continues to focus on growth, quality and sourcing ways to work smarter in production. Through continued enhancement in all areas of operation, the company is certain to achieve its goal of becoming one of the world's leading contract manufacturers of high alloy steel products.
Soderfors Steel AB
Products: Forged and rolled steel bars, sections, profiles and open die forged components