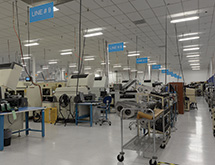 Sonic Manufacturing Technologies
Sonic Manufacturing Technologies' ability to offer both full production and prototyping services has enabled it to maintain a stable place in the fast-moving and often volatile technology market.
The Fremont, Calif.-headquartered company provides mid-volume circuit board and other electronic assemblies for specialized markets including the medical equipment industry, that have not off-shored their production. The company also offers new product introduction (NPI) services to customers that want to test, prove proof of concept or demonstrate a new product before production.
"Most companies perform either one of these functions, and in this particular market, that can be a weakness. The very fact that we can perform both of these activities with high speed and using our high-tech expertise is a discriminator," President Ken Raab says. "By virtue of doing both of those at the same time we are inherently fast and can bring our customers to production very quickly."
Many of the company's NPI projects for the medical market are inherently difficult and complex, making Sonic's location critical. "We're deliberately here in Silicon Valley because that's where there's the largest community for this type of product," he adds. "Having close contact to what is probably the best engineering community in the world is very important to us."
A Rapid Pace
The company's 85,000-square-foot manufacturing facility includes nine surface mount lines able to accommodate both higher-volume and low-run products. "Our NPI work is technically challenging but sporadic," Raab says. "Our production work is the backbone of everything we do; the mixture of those two things has helped Sonic to be a diverse and a financially stable company."
Raab describes the company's manufacturing processes as being highly flexible and capable of providing partial or full board assemblies and layouts. "We adjust based on what the product is and what the customer wants; we're not very rigid in how we set up our manufacturing," he adds. "Our operations don't place unnecessary constraints on the customers."
Products are engineered based on designs and schematic diagrams provided by customers. The company can produce circuit boards ranging in size and complexity from a computer mouse to telecommunications system with thousands of components. Sonic's materials team sources metals, electronic components and other materials based on the needs of each project.
Products are tested thoroughly before being turned over to customers, Sonic says. The company's inspection methods include X-ray and automated optical inspections.
All of Sonic's engineering, procurement and manufacturing processes are highly accelerated. NPI and other projects are typically turned around with a lead time of one week. "Today, you better have an entire product done within the same time frame that people just wanted to see a quote completed by back in the 1990s," Raab says.
Manufacturing is accelerated by the company's use of automation throughout its process, particularly when it comes to uploading and downloading information. "Our advantage is automation and having smart people running it," he adds.
Procurement is handled with speed in mind. Most of the company's suppliers deliver overnight shipments to it on an as-need basis. Sonic typically does not carry excess inventory. "Our approach is geared toward getting the inventory we need exactly when we need it and building products without a lot of waste and delay," Raab says. "Our whole company is lean by philosophy and in every business practice we have."
Close Connections
Sonic's diversity has helped it survive several significant market changes during its nearly 20-year history. "At the time we started, volume production was still being performed here in the United States, but most of that went offshore," Raab says. "From the late 1990s to now there's also been a reduction in contract manufacturing in these markets. We've been able to survive this sequence of events because our mission and capabilities fit the direction where the market has headed."
Instead of relying on one customer or market, the company serves dozens of clients with production and NPI services each year. In addition to the medical and biotech market, Sonic serves the automotive, aerospace and defense; computing, networking and storage; clean and renewable technology; industry, security, test and management; and communications markets. The company carries ISO 9000 and ISO 13485, as well as several industry specific certifications. "We would rather have several customers we really enjoy working with than paint ourselves in a corner by limiting the amount of markets we're touching," he adds.
Sonic has been based in Fremont since its establishment in 1996 by Raab and co-founders Robert Pereyda and Henry Woo. A large number of the company's employees have been there for 10 years or more.
The company maintains close connections with the local engineering community and area technical schools, which have helped it retain long-term business relationships and recruit new staff members.
Raab says he is proud of the company's continued success. "Given the trend toward offshore manufacturing and all of the events of the past 12 years, I've very proud that we have not only survived but thrived," he says. "We've provided a lot of onshore manufacturing jobs and done many things that prove that U.S. manufacturing can be done profitably, effectively and for the long-term."