Sony UK Technology Centre
Capturing life's most exciting moments
Wales' Best Kept Secret: Though the Sony name is instantly recognizable, its UK Technology Centre is less so – our interview discovers what is going on inside the electronic giant's Welsh manufacturing base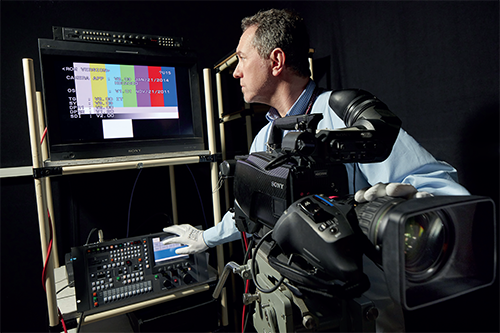 In 1973, Sony operations commenced in Wales. The site was opened by HRH Prince Charles, and the manufacturing of color televisions began there in response to the increasing demand for the recently released Sony Trinitron TV across the EU market.
The 30,000-square-meter Sony UK Technology Centre (Sony UK TEC) was originally conceived to help fulfill this unprecedented demand, and the site quickly became one of the largest producers of color televisions. It also set up a design center for its parent company, Sony Europe B.V.
In 2000, the manufacturing of broadcast and professional camera and camera systems began following the departure of Sony television manufacturing in Wales. At the same site, a new customer service center opened to offer aftersales assistance to customers.
Currently, the Pencoed-based facility manufactures 30 different camera types and 35 models of peripheral broadcast equipment. Each year, it ships more than 13,000 units to various countries across the world.
"The heart of Sony UK TEC's manufacturing operations is centered around the production of market-leading broadcast and professional equipment," says Gerald Kelly, Professional Services Director at Sony UK TEC. "By utilizing the latest state-of-the-art technology and highly efficient processes, these product solutions combine unrivalled quality, reliability, and choice. From film-making to creating the most captivating television drama and from live sport broadcasts to leading news studios, our range of industry-leading cameras are made to capture life at its most exciting moments."
In 2006, Sony UK TEC started to diversify its operations. Third-party manufacturing was established, and the business brought in new commercial partners. One was Raspberry Pi, which, having moved production of its innovative computer systems from China to Pencoed, secured a contract with Sony to have its products manufactured on-site at UK TEC in 2012.
Best-in-class facilities
Since then, the Sony-owned facility has produced around 37 million units for Raspberry Pi, including its successful flagship series of small single-board computers – that is equivalent to one unit manufactured every 3.1 seconds!
"This impressive level of manufacturing output was particularly important during the Covid-19 pandemic, as Raspberry Pi products were used as part of prototypes for ventilators and testing equipment," says Gerald. "Our unique contract manufacturing model enables us to build a bespoke solutions service that can be tailored to specific customer business needs. Our dedicated New Product Introduction (NPI) team also supports client needs and requirements from the concept stage through to the prototype and then onto volume, offering real flexibility and scalability with direct communication every step of the way.
"Our facility continues to both innovate and continuously invest in the latest technology to support the quality and requirements of our low-, medium-, and high-volume customers.
"From an Industrial Internet of Things (IIoT) and factory of the future perspective, Sony UK TEC has delivered an award-winning digital transformation of five production processes to an Industry 4.0 concept in Raspberry Pi, introducing collaborative robotics and in-house automation design, increasing efficiency and capacity by 35 percent," he adds.
With its own on-site incubation center, Sony UK TEC is also home to innovative and flourishing businesses: 18 of them, to be exact. From digital technology to renewable energy and from gaming to design, companies housed at the incubation center are offered the unique opportunity to become part of a shared community of like-minded businesses.
"Networking within Sony UK TEC provides the potential for additional business," details Gerald. "The access to amenities available on-site provides a more efficient model and reduces the need to go off-site".
In recognition of its best-in-class facilities, the Sony Pencoed-based hub has received numerous awards and has carved out a strong reputation for manufacturing excellence. Recently, it received the Innovation and Developing Future Talent prizes at the National Make UK Manufacturing Awards. Furthermore, Sony UK TEC has been recognized four times at the Queen's Awards for Enterprise for the categories of Export and Environment and won the prestigious accolade of the UK's Best Factory Award from Cranfield University for Factory of the Year.
"We were completely overjoyed to be recognized at the National Make UK Manufacturing Awards," asserts Gerald. The Innovation Award celebrated the innovations executed through new products, processes, markets, and business models at Sony UK TEC, which have all led to greater productivity, efficiency, and business growth within the last three years. Backing this up, the center is certified to ISO 9001 (quality), ISO 14001 (environment), ISO 45001 (health and safety), and ISO 50001 (energy), and is a previous winner of the British Quality Award.
"Our award for Developing Future Talent has recognized our dedication to promoting diversity, developing talent, building skills among our team, and increasing the knowledge of engineering and manufacturing careers within the community," he goes on. "As a company, we are focused on improving our skills and addressing succession concerns regarding our current team players and the UK skills shortage across science, technology, engineering, mathematics, and creative subjects."
Guiding the next generation

Steve Dalton OBE, who serves as Managing Director at Sony UK TEC, echoes this sentiment. "We are delighted to have had such great success at these prestigious industry award events," he says. "It is incredibly inspiring, and we are proud to be part of such an amazing industry. It is thanks to the passion of our team players that we have made these wins and, going forward, we remain committed to seeking and developing talent to become the next generation of innovators. It has been a pleasure for us to help highlight the invaluable work of Wales' industry-leading manufacturing sector."
Outside of robust investments in equipment, new technology, and innovative solutions, one of Sony UK TEC's most significant areas of development is in the upskilling of its team. Launched on-site in 2012, the Sony Wales Academy attracts, onboards, develops, and engages current and future employees, creating a robust team of experts that will help lead the company towards its clearly defined goals.
"We consider our team members to be our greatest asset, and their knowledge, skill, and expertise are what makes success possible," says Gerald. "As a dynamic, international organization, we pride ourselves on our dedication to employee development and wellbeing; therefore, we have created a pathway system open to all employees and encourage personal growth in every aspect and at every level within the business. The Academy also annually coordinates coveted apprenticeship and graduate schemes, enabling participants to gain qualifications and invaluable work experience at one of the world's most preeminent manufacturing sites."
In a similar way, Sony UK TEC created a school visits team in 2013, which continues to grow year-on-year and has brought over 20,000 pupils into the factory thus far, encouraging the next generation to dream big about technology. The outreach drive consists of several programs – all linked to school curriculums – and courses are available both on-site and online, supporting Science, Technology, Engineering, and Mathematics (STEM) learning in the community.
Environmental engagement
As a socially-aware and community-focused business, moreover, Sony UK TEC also consistently aims to work for the benefit of those in need. "Our Corporate Social Responsibility team has taken part in multiple charitable initiatives over the years, including direct donations made within the local community and matched fundraising for events," reveals Gerald. "Yet this drive for positive change also translates to our approach to the environment."
Through the roll-out of green initiatives developed specifically with product development and business protocols in mind, Sony UK TEC is striving to achieve a Net Zero environmental footprint across the life cycle of its products and business activities.
"At Pencoed, there are currently 900 solar panels installed and we have recently received grant approval to install more," comments Gerald. "All other energy purchased is 100 percent green and renewable. None of our waste goes to landfill and we continue to explore new ways to further our reuse of materials; for instance, we are currently repurposing PPE waste from the pandemic to create useable benches for our on-site environmental center.
"In 2021, we introduced four colonies of bees to the center grounds to increase biodiversity in the area," he concludes. "Our team are trained in beekeeping with the help of a local charity, and all materials used to build the beehives are recycled or reused. Our environmental center is used as part of our engagement work with nearby schools and offers an acute focus on sustainability for the next generation."
From our conversation, it is abundantly clear that, as Sony UK TEC gears up for a promising future, it will continue to invest in its people, processes, and best-in-class services, aligning the company with a new plan to explore further opportunities for growth and sustainable innovation.
Sony UK Technology Centre
www.sonypencoed.co.uk
Products: Professional and broadcast camera and camera systems