That's a wrap
Masters of the art of foil wrapping, Spaljisten finds itself in the midst of an exciting investment programme, having being buoyed by the winning of the largest single contract in its history
For Florim Mustafa, the beginning of February represented a personal milestone, with it marking the first anniversary of his appointment as Chief Executive Officer (CEO) of Swedish foil wrapped furniture specialists Spaljisten. Taking on the role vacated by Niklas Lundin – who left to become CEO of sister company Anebyhusgruppen AB – Florim has since guided a business of 150 proud employees, and which generates annual sales of over SEK 550 million by manufacturing over 60,000 cubic metres of foiled particle board within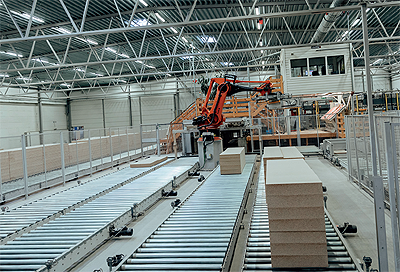 its 35,000-square metre factory in Åseda, Sweden, into the next phase of its development.
"The last year has been an extremely rewarding time, not just for myself but for the business a whole," Florim begins. "Ever since the first day I walked into Spaljisten as CEO I have been consistently impressed by the men and women who make up its employees, and of the culture that exists amongst them. A year later, and the best part of my job remains the dialogue that I get to share with our employees. Through these conversations, I can see how everyone here believes fully in what we are doing, believes in our ability to compete with the very best companies that our industry has to offer, and in helping to take things forward in the right direction."
The culture that Florim refers to is reflected in the company's receiving of the 'Employer of the Year 2019' award in its region at the Show the Way Awards (considered by many to be Sweden's most important labour market ceremony). The award honours employers who actively work to eradicate exclusion and create inclusive workplaces that benefit all individuals by focusing on what people can do, not what they cannot.
Florim's time at Spaljisten began with something of a reforming of the key management team, and an updating of the business' strategic plan for the next five years through the introduction of a new set of KPIs and the establishing of fresh targets. Now, 12 months on, Florim is very pleased to be able to say that key performance indicators from the first two months of 2020 have shown an improvement on those recorded in 2019. This, he believes, is down to not only hard work, but also working smarter.
The rewards of this work are certainly bearing fruit, with news being announced in February of this year that the company had entered into a new frame agreement with one of the world's largest international players in the furniture industry, one that represents the biggest contract won by Spaljisten in its 45-year history. Beginning in September 2021, the agreement covers the delivery of foiled fronts to various storage systems, mainly for wardrobes, and kitchen, bathroom and media furniture. Speaking at the time of the announcement, Florim stated: "We are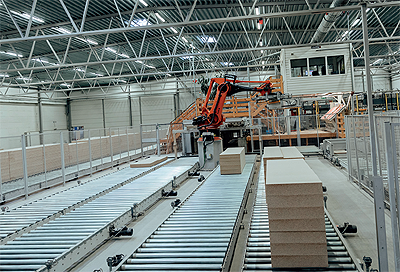 very proud of the confidence and commitment that our customer has shown us through this agreement. It lays the foundation for the continued development of our co-operation, allowing us to grow the business through new products and markets. The expertise of our employees, in combination with new investment, gives us the necessary tools to continue to be a world-class manufacturer in our business segment."
In light of this agreement, and in line with Spaljisten's own business plan, the company aims to make investments totalling more than SEK 300 million during the coming years. As part of the first phase of this plan, its plant in Åseda will increase in size to 41,400 square metres. "Work on this expansion began in March of this year, and we expect the additional space to be operational by the end of 2020," Florim reveals. "In the meantime, we will be installing a number of new machines for foil wrapping, edge processing, internal logistics and packaging as we go about increasing doubling the capability and capacity of the factory. We will also continue to examine ways that we can introduce more automation into our material flows and production processes so as to drive ever-greater efficiencies."
Efficiency certainly seems to be a central pillar to the growth strategy that Florim has enacted within Spaljisten. A key facet in achieving his desired aims is the implementation of a Lean manufacturing roadmap that the company will be navigating through to 2025. "I have personally worked with Lean principles for a number of years now, and therefore I am very familiar with how they can help to guide operational excellence when applied correctly," he says. "One of the important tasks that I made a priority to do in my first year here as CEO was to create a visual Lean plan that all of our employees could engage with. This has allowed everyone to truly understand where we are as a business, where we want to go, and what we need to do in order to realise this. The result is that all departments throughout Spaljisten understand the journey that we are on and why achieving higher levels of efficiency will only end up helping us all."
Bearing in mind the aforementioned contract wins, investment programme and the drive to adopt Lean manufacturing learning, 2020 is shaping up to be an incredibly important year for Florim and the rest of the Spaljisten family. "We have an ambitious plan to increase turnover this year to more the SEK 600 million," he declares. "By working hard to reach all of our stated goals, I see no reason why this cannot be achieved, all while continuing to deliver the service to our existing customers that we have come to be known for."
Spaljisten
Services: Leading manufacturer of foil wrapped furniture