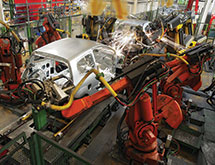 Spartan Light Metal Products
Toyota supplier Spartan Light Metal Products is a family owned aluminum and magnesium die cast manufacturing company. The staff is expert in machining, assembly, design and analysis. Its reputation for quality, service and value has made the company a valuable partner with a wide range of manufacturers, from automobiles and trucks to power tools.
"Our scope of experience includes design, engineering assistance and strict quality and process control for complex products," the company says.
Headquartered in St. Louis, the company operates manufacturing plants in Hannibal and Mexico, Mo., and Sparta, Ill.  It also has sales offices in Detroit, Tokyo, Japan and Landstuhl, Germany. Operations include heat treating, finishing, machining and assembly. Toyota is its largest customer.
In March, Spartan was named an Excellent Quality Performance Award Winner by Toyota Motor Engineering and Manufacturing North America Inc. at a supplier meeting in northern Kentucky. "Toyota works closely with each supplier partner to build our vehicles to the high-quality, safety and reliability standards our customers expect," said Robert Young, purchasing vice president.
When Henry A. Jubel founded Spartan Light Metal Products in 1961, he aspired to develop a corporate culture to create value for customers. Jubel believed that machinery and technology weren't going to build the company. Instead, employees with innovative ideas and strong work ethics would launch Spartan Light Metal Products to the forefront of the die casting industry. Helping customers with problems was his first dedication, the company says.
This dedication led to the development of B390 wear-resistant aluminum alloy in 1976. By 1978, these strong core values launched Spartan into an industry leadership position as it became the first company in North America to offer commercial magnesium die-cast products.
In the years to follow, Spartan Light Metal Products has earned many major quality certifications and awards from its customers. The company reached a milestone in 2004 with an exclusive licensing agreement with NASA for the use of MSFC-398.1 aluminum/silicon hypereutectic alloy.
Today, Spartan Light Metal Products continues to be a solutions leader in the design and manufacture of aluminum and magnesium die-casting products and assemblies.
"While the size and capabilities of Spartan have grown well beyond what was envisioned by its founder in 1961, there is one thing that remains the same: dedicated and innovative people striving to solve the customer's problem," the company says.
"For more than five decades, Spartan Light Metal Products has been an industry leader in both aluminum and magnesium custom die castings," the company adds.
Lighter, More Durable
Spartan Light Metal Products says it is a solutions company. "Leading manufacturers want lighter and more durable parts," Spartan says. "That's why they partner with Spartan for the development of high-pressure die-cast products in light-weight metals. With Spartan's unique experience and capabilities, we can help select the appropriate material for application needs. We also support product design, design validation and product testing."
The company recently expanded its facility in Mexico, Mo. It has close, long-term relationships with supply chain partners, good values and a dedicated workforce.
Spartan Light Metal Products is not only producing high-quality castings, however. "We pride ourselves on delivering solutions that meet our customers' needs, each and every time," the company states.
Spartan has designed and manufactured thin-wall, structural parts that are lighter and more durable. Reducing product weight while maintaining durability requires matching the manufacturer's application needs to appropriate materials. "We use a variety of alloys that include creep-resistant magnesium alloys for higher-temperature applications and hypereutectic-aluminum alloys for high-wear applications," the company explains.
Spartan utilizes low-creep aluminum developed with NASA. It is an ideal high-temperature substitute for cast iron. This alloy offers high-wear resistance and great strength at elevated temperatures. Also, its lighter weight provides critical mass reduction while maintaining or increasing product performance.
As a system provider, the key benefit Spartan provides is the technological expertise to design and manufacture custom aluminum and magnesium die-cast products that reduce engine oil leaks and seal failures. Increased product durability can lead to a reduction in warranty claims, the company points out.
"Our expertise is ideal for pressure-tight applications requiring a lightweight, thin-wall product and pressure-tight, leak-free sealing system," Spartan Light says. "For structural applications, we can produce a lightweight product that maintains its strength integrity under load. For wear-resistant applications that include hydraulic pump bodies, cylinder liners, or small engine and transmission components, our experience with the B390 aluminum/silicon hypereutectic alloy and the high-temperature MSFC-398.1 offers a broad range of solutions."
Plant Expansion
In August, Spartan Light Metal Products kicked off a $17 million expansion of its plant in Audrain County, Mo. The company's Mexico facility is growing from 58,000 square feet to 126,000 square feet. This space is dedicated to producing engine components for Toyota vehicles. The expansion adds 88 jobs to the plant built in 1995. The new space will also include locker rooms and offices.
In 2012, it added two new production lines to manufacture oil sumps and head covers for Volkswagen and produce battery cases for GM electric vehicles. That $12.5 million expansion added 42 new jobs. Missouri Governor Jay Nixon visited the plant at that time and said, "This exciting news from Spartan is continued evidence of the rebirth of the auto industry in Missouri and of how our state fosters an excellent climate for business growth."
As a global leader in light-metal technology, Spartan provides engineered solutions and products to major automotive manufacturers such as Toyota, Ford, GM, Honda and Volkswagen, as well as to other commercial companies including Hydro-Gear, a manufacturer of precision drive systems for the lawn and garden industry. Spartan ships its complex cast, machined and assembled products to locations throughout the country and international markets.
The company says it succeeds because of its outstanding workforce. It is currently hiring for roles such as CNC specialist, machining technician, preventative maintenance technician, product engineer, quality engineer and lean site coordinator in Sparta, Ill. Employee benefits include medical and retirement plans, potential performance bonuses, profit sharing, insurance and tuition reimbursement, among others. The company also has an internship program.
The company maintains that it creates a work environment in which employees are engaged and cooperate with each other and are respectful, helpful, supportive and encouraging, working together to improve performance with a mutual obligation towards fellow coworkers, Spartan Light Metal Products says.