Special Metals Wiggin Limted
Integrated for success
With roots dating back to the mid 1800s with the formation of Henry Wiggin and Company Limited by Sir Henry Wiggin, Special Metals Wiggin Limited has earned a commanding reputation as a leading innovator and manufacturer of nickel-based superalloys
With over 100 years of experience in the nickel industry, Special Metals Wiggin has survived the challenges created by volatile market conditions and clients operating within a host of industry sectors encompassing aerospace, automotive, petrochemical power generation, thermal processing and heat treatment, chemical, marine engineering; and oil and gas extraction.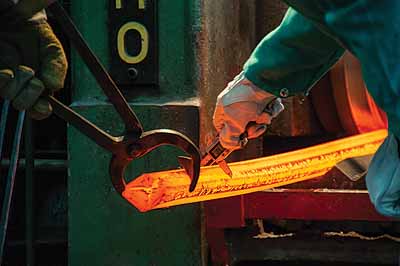 The company is presently part of the American manufacturer, Precision Castparts Corp. (PCC), which acquired Special Metals Wiggin in 2006. Following this milestone, the business has continued to provide solutions to difficult material problems through such time-tested products as its world-recognised INCONEL®, INCOLOY®, NIMONIC®, UDIMET®, MONEL® and NILO® alloys. From its Hereford base, Special Metals Wiggin represents a major European production facility in the Special Metals Corporation group of companies, which also includes facilities in Huntington, West Virginia and New Hartford, New York, as well as Perth, Australia. Using air and vacuum melting, vacuum arc and electroslag re-melting, powder metallurgy, forging, extrusion, hot and cold rolling, and cold drawing, the business makes a comprehensive range of nickel alloys in many standard wrought forms. These include ingot, billet and bar, extruded sections, pipe and tube, and flat products (plate, sheet and foil).
The business was last profiled by Manufacturing Today Europe in 2008, during which time Special Metal Wiggin's parent company had approved a scheme to build a new rod mill, which was manufactured in Sweden and commissioned in December 2008. Complimenting its state-of-the-art rod mill, Special Metal Wiggin offers a unique low-cost melting, forging and extrusion process placing it in a strong position to compete on the global market.
Although demand has been impacted by the current low oil price, business, particularly long-term potential for the manufacturing of specialty alloys, remains strong. As such, Special Metals Wiggin has continued to invest in its manufacturing capabilities in line with what is perceives as current market trends, as director of sales Mike Simon elaborates: "Since 2008 we have built on the development made from a new rod mill and have continued to grow our core business utilising that investment while also currently investing in new capacity to make seamless tubing. This includes an investment in another Cold Pilgering machine to increase our capacity as well as ancillary equipment. As part of this investment we are also moving and improving the layout of all our finishing and final inspection operations for operational flow improvement. A further important decision that we have taken was to close down our strip mill where we used to make cold rolled strip. We exited that business in order to use the space to ex and our tube production."
Commenting on industry demand for special metals across the market he adds: "Although there is a current downturn in terms of the oil and gas industry, the long-term trend in this and other industries is for increasing use of higher-nickel alloys for corrosion and temperature resistance. Across the energy sector for example, we perceive mid to long-term potential in solar energy, new technologies for conventional fossil fuel power stations as well as some opportunity in nuclear power."
Further to its continuing programme of development and investment, Special Metals Wiggin maintains its leading position by ensuring that it delivers the highest levels of quality. As such, all of its facilities are accredited to quality management system ISO 9001:2000 and in addition the testing laboratories are accredited by UKAS. Furthermore, approvals from individual customers include those from Airbus, ABB, Westinghouse, Fiat Avio, MTU GmbH, Rolls Royce, SNECMA, Statoil, and VdTÜV. The company also has EN/AS/JISQ 9100 and PRI/Nadcap Approval for heat treatment, non-destructive testing and materials testing.
Its combined facilities and industry recognised accreditation, allows Special Metals Wiggin to operate as a fully integrated nickel alloy manufacturer, whereas many of its competitors operate across several sites. "One of the things that gives us a competitive edge is that we are unusual as a tube manufacturer in that we go right from melting through to finished seamless tubes. We melt the ingots, forge and extrude them on site and go on to finish the tubes themselves. This means that we are able to control quality and generally means that we have lower lead times than any of our competitors. We can also have more flexibility," Mike reveals.
Considering the future of Special Metals Wiggin as well as the market in general, Mike concludes: "Over the next 12 months the business will focus on the market for seamless tube manufacturing, however, we are growing other products such as our capacity in the automotive sector. With the current downturn in oil and gas there has been an impact on all of the tube market, because it affects everything from steel through to nickel alloys. There is of course still capacity within the market, and it is very competitive at the moment. However, we believe that oil and gas will recover next year and as it does that demand will come back."
Special Metals Wiggin Limted
Products: Special metals and alloys
Sites: Hereford, UK
Employees: 530