Specialty Manufacturing Inc.
Many of Specialty Manufacturing, Inc. (SMI)'s customers look to them to provide custom silicone product solutions that their larger competitors cannot. "We take on jobs that have been no-quoted by large manufacturers," Vice President Kristi Wiechmann says. "If someone has a very intricate and difficult design and needs a high standard of quality, they can come to us."
One of the company's recent customers posed specific questions about how SMI adheres silicone to another silicone, metal or plastic component – a specialty of the company's. "We could tell, based on their questions, that they were having difficulties making their product," Wiechmann recalls. "After answering all their questions and winning their business, we learned they were eight weeks behind schedule because their previous supplier was new to silicone molding and could not make their part.
"We took the tooling they had already made, put it into our machines, and because of the knowledge that we have we were able to make their part right away and get them back on track," she adds.
Products and Markets
SMI supplies a wide array of silicone products including its own sheeting and tubing lines, which are sold online as unfinished devices.
One of the company's largest customer bases is the healthcare industry, where its custom silicone components are used in a variety of medical devices, and its tubing is used as hoses for catheters and other devices. SMI's sheeting products are used in healthcare in place of stitches or staples to close surgery entry points during a multiple phase surgery, Weichmann notes.
Other users of SMI's products include universities and medical research institutions, which use its sheeting materials to grow cells for research. The company also supplies products to the industrial market such as silicone covers for LED lighting. Silicone can be molded onto a fixture, bonded to metal or plastic, or as an individual bulb cover based on the customer's designs, she adds.
"LED lighting is one our newest and most exciting markets," Wiechmann says. "New, optically clear silicone has helped expand our capabilities to offer OEMs a better alternative to plastic lighting enclosures, which can yellow and become brittle over time."
Meeting Needs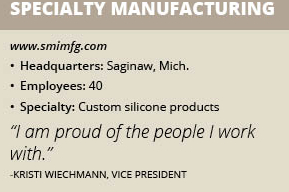 SMI uses a variety of manufacturing processes in its facility in Saginaw, Mich., to meet customers' needs.
"Our engineers explore the best solutions and work with customers to determine the best materials and processes to make their product," Wiechmann says. "We run the materials based on their specifications, inspect the parts and offer part assembly as a value add." SMI is ISO 13485 certified and registered with the FDA.
The company meets small-volume product needs through compression molding and dip molding processes. Injection molding processes are used to make larger product volumes, Wiechmann says.
SMI can produce as few as five parts on its small volume lines, necessitating frequent line changes. The company's larger volume lines can continue running for days or weeks, depending on the size of the order.
The company recently enhanced its manufacturing capabilities by adding an 80-ton shuttle press and a 310-ton injection molding press to its production floor. "These machines will allow us to manufacture larger parts," Wiechmann says. "We are known for making small parts, but that need is changing."
Wiechmann credits the company's manufacturing employees and its suppliers with helping it meet customers' needs for quality products. "I am proud of the people I work with," she says. "We are a team whose goal is to satisfy our customers, and we work hard to help them."
SMI has built several long-term supplier relationships. "We prefer to work with suppliers who share similar business practices and understand the importance of delivering a quality product," she adds. "This helps both of our companies work efficiently and make our customers happy with the product they receive."
A Family Legacy
Wiechmann's parents, Jim and Kathy Thompson, founded the company in 1979 after the couple noted that many of the customers of their then-employer, Dow Corning, were requesting small runs of silicone parts.
Kristi Wiechmann and her sister Amanda Schiebner – today SMI's vice president of quality – were exposed to the business at an early age. Kristi Wiechmann performed assembly work for the company while in high school and later worked in its molding, payroll and accounts receivable departments while in college. She joined the company full time in 1991. Recently, Kristi's two sons joined SMI, and all three generations are actively involved in the business day to day.
Wiechmann's goals for the company include enhancing its automation capabilities and developing new products and markets. "As technologies within our customers' industries advance, so do their design and parts requirements," she says. "We adapt as our customers' needs evolve by investing in machinery, developing new manufacturing processes and keeping abreast of the latest silicone trends.
"One of the most impactful ways we invest in research and development is by testing new silicone material as it comes to the marketplace," she adds. "This allows us to explore new products and techniques and then recommend them to customers before they even know what is newly available."
The company is also seeing an increase in customers who want to keep their part manufacturing in the United States. "We're proud to be based in Michigan, and strive to provide the most outstanding quality for advanced products that our customers can't get anywhere else," Wiechmann says.