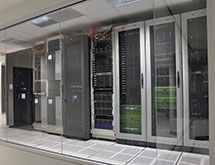 Technology is always changing, and for a company specializing in data storage solutions like Colorado-based Spectra Logic, keeping up with the advances in technology can keep even a company with decades of experience on its toes. Chief Technology Officer Matt Starr says the company succeeds because it never stops working to stay on the cutting edge of data storage technology. "We're a 30-year-old start-up," Starr says.
Spectra Logic's dedication to providing customers with the most effective and efficient long-term storage solutions for their data has made the company a trusted provider for clients ranging from McDonald's to the Discovery Channel to some of the world's leading research laboratories. The company is used by the National Center for Supercomputing Application's Blue Waters Archive Project.
Even though the company faces some stiff competition from some of the world's biggest names in computing technology, Starr says Spectra Logic remains a leader in long-term data storage because of its strong commitment to its technology and its customers. With the recent announcement of its BlackPearl cloud-based data storage solution, Spectra Logic is poised to meet the next generation of demands from its customers, but Starr says the company understands that the work is never done.
Big Requirements
Starr says Spectra Logic's customers typically have very large data requirements, and they want to keep those terabytes of information permanently. "We are hyper-focused on archive storage," he says.
The solutions Spectra Logic provides for its customers include tape libraries, disk-based systems and cloud-based storage. Starr says the company has a technological advantage over its competitors, but the way the company deals with its customers means just as much in most cases.
"It sounds kind of corny, but I look at our customer base and how often we're touching our customers, and I think that gives us a competitive advantage," Starr says. Spectra Logic operates under the belief that customer intimacy is just as important as the technology it delivers, and places a strong emphasis on listening to its customers about their data storage needs and working with them to find solutions that will serve those needs not only for the present but also well into the future.
Private Cloud
One of the company's most recent innovations was the introduction of its BlackPearl Deep Storage Gateway. Starr says this new product addresses many of the issues involved in storing data indefinitely. He says many of the company's customers want to store their data essentially forever, and cloud storage has been a popular method of achieving this. However, the cost and complexity of utilizing public cloud storage to the extent many customers need to, has been a major hurdle for many.
Starr says the BlackPearl system alleviates these issues by using a public cloud protocol to allow customers to build their own private cloud that can transition smoothly to tape storage systems. Most of the cost involved in cloud storage comes from paying cloud operators to host data. "It's like renting to own, and it starts costing too much money," Starr says.
By providing customers with their own local cloud-based solution, the BlackPearl Deep Storage Gateway gives Spectra Logic's customers all the benefits of cloud storage without the need to rely on outside cloud operators. "They can store petabytes of data in their own cloud for pennies per gigabyte," Starr explains.
Spectra Logic is moving towards more of these types of private cloud products, Starr says, as customers' focus is changing. Whereas in the past customers were primarily concerned with backing up important data, now they are looking to archive all of their data permanently.
Future Needs
The amount of data companies need to store permanently has been increasing exponentially, and Starr says solutions like BlackPearl are how Spectra Logic is using advanced technology to help customers keep the costs related to this storage flat or trending downward. "I'd say the biggest challenges across the board are how fast the industry is moving," he says.
No matter how Spectra Logic serves the storage needs of its customers in the future, Starr says the company is dedicated to continuing to manufacture in the United States. Although some of its competitors have tried to keep costs down by manufacturing overseas, quality suffers as a result.
"It may cost more up front, but in the long run it's much better for what we need to do," Starr says.