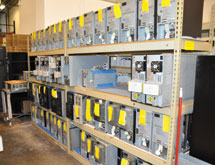 As the business world expands deeper into digital information storage, demand grows for larger data storage hardware that occupy less physical space while providing uncompromised reliability. With 33 years in the data storage industry, Spectra Logic of Boulder, Colo., has been at the forefront of an industry that changes with the speed of technology while developing specialized applications for each of its clients' specific needs.
However, Spectra Logic's reputation relies on the fact that its products are never noticed in the first place. As Chief Technology Officer Matthew T. Starr tells it, once installed, Spectra Logic's storage systems best serve clients when they are out of sight and out of mind.
"The best description for our product is it just runs, you don't have to think about it and it does its job," Starr says. "Where our product sits in the data chain, we just don't want the user to have to think about where the data is coming from. If they need a video or a file from our storage, it needs to be there with easy access and reliably available every time.  Just like a car, you don't want it to not start."
Although the company was founded to deliver disk and tape storage options when computers first hit the business scene more than 30 years ago, Spectra Logic's core market today revolves around large-scale long term archive of important assets as well as corporate disaster recovery assurance. Its services still involve tape and disk-based hardware storage but today Spectra has grown to offer full  business  solutions that enterprises around the world rely on.
The company always has performed product manufacturing in Boulder.  With the recent expansion to a new manufacturing facility, all of Spectra's  tape and disk-based now are being delivered from the recently expanded and updated manufacturing facility in Boulder. Spectra Logic primarily caters to clients in the federal government, media and entertainment, high-performance computing, cloud storage, healthcare, finance and energy sectors.
"We're known for our ability to move quickly," Starr says. "We want customer intimacy, and we like to get to know the customer to solve the customer's problem."
Making the Switch
As technological advances move its clients away from backup storage disks and tapes to digital archives, Spectra Logic and its line of products are following suit. Starr says while the company has capabilities to build storage systems ranging between 15 terabytes of storage (ideal for SME and remote offices) to more than 3 exabytes of storage (the highest capacity storage system offering in the world) slots, the smaller side of this revenue stream has been tapering off recently.  The need for higher capacity storage systems is rapidly growing, even for smaller businesses.
This shift in demand has led Spectra Logic to alter its manufacturing operations, as well. For instance, the company has moved the manufacturing of its large-frame units to an offsite facility, where they are assembled and stored until they are needed for complete assembly of a given system. However, that solution was palatable when the company was only shipping approximately five to 10 units per month. As demand picked up for these larger systems to about 20 to 50 units per month, this operation proved inefficient.
This is what encouraged Spectra Logic to invest in its expanded manufacturing facility in Boulder. The company this year moved into the 55,000-square-foot structure, which features 20,000-square-foot clear space plus a ceiling that extends to at least 8 feet tall. This allows for easier storage of the large cases, which can be stacked atop each other in the same facility where it will be assembled for the product. In all, the facility offers Spectra Logic 40,000 square feet of manufacturing space.
The expansion is certainly timely: The company just announced it has completed its largest data storage system to date. The 50,000-slot tape library can store 75 petabytes – one petabyte is equal to 1 quadrillion bytes – of data.
Also, Spectra Logic will provide 100 percent of the near-line data storage for the National Center for Supercomputing Applications' (NCSA) Blue Waters supercomputing system at the University of Illinois in Champaign, Ill. Spectra Logic's T-Finity tape libraries will provide the Blue Waters project with the ability to keep all near-line data accessible in an active repository, perform automated data integrity verification for the data store, and deliver high-performance read/write rates of up to 2.2 petabytes per hour using enterprise TS1140 Technology tape drives.
NCSA initially will deploy four Spectra Logic 17-frame T-Finity tape libraries to support Blue Waters' near-line data archive needs in year one of operations. NCSA then will deploy two more Spectra Logic 17-frame T-Finity tape libraries in its second year.
Making the Storage
Spectra Logic customizes applications per client requests, but the parts and materials used for these applications are standardized, according to Senior Director of Operations Thadd Corlett. "The products are highly configurable from the end-user point of view," Corlett says. "We build and stock frames along with all optional components that go into these frames. The optional components are very easily installed in the field."
Spectra Logic manufactures custom replaceable units, which also are easy to install, and can be altered based on what a customer wants on its interface. The back end of the library interface comes with a variety of options, as well, including customer installable capacity and performance options.
"All of these options are configurable, separate line items," Corlett says. "We build [systems] to a plan based on a forecast, and customization happens to a point. When an order comes in, we create the sales order internally, and the customer simply picks and chooses line items off the shelf."
The company refreshed its entire product line in October 2004, and the most recent addition to the line was made in 2011. Because most clients buy a storage system to keep in place  at their facilities for as long as possible, Spectra Logic aims to keep the product line stable for just as long to be able to maintain its units with replaceable components.
"We keep our products in the market for as long as possible, which can be as long as seven to 15 years," Starr says. "To do that, we use easily replaceable components and we are always adding new upgrades to the systems that are being deployed."
For instance, Spectra Logic's LTO product line is in its fifth generation. Instead of launching a completely new sixth generation of the LTO line and forcing customers to buy new equipment, clients who have the fifth-generation technology will be able to upgrade their systems to the sixth-generation capabilities.
"We'll offer the upgrade option to the newest generation of LTO tape drives," Starr says. "A couple little things will be changed out – the construction of the frames is being done differently, for instance, from a more ergonomic standpoint. We had to make the work area more ergonomic so the frame can move up and down vertically, bending down on the bottom of the frame, with the item moving up and down. This also helps speed up the assembly."
Even More Efficiency
For the future, Spectra Logic aims to increase its efficiency even more by catching problems as they arise. It plans to drive out more costs, not necessarily from a speed standpoint, but from a quality standpoint.
"The next thing for us is to start driving costs out, not by turning the screws faster or putting in more automation, but optimizing how and when we build it, we can lower the overhead in that space," Starr says.