Never-ending fun
SPI Global Play has continued to develop its geographical markets in 2018, delivering its playground equipment mainly into the family entertainment centre (FEC) and retail sectors
A clear sign of SPI Global Play's worldwide significance is that the developer and manufacturer of soft play, playground equipment, plastic play products, and custom solutions has established itself as one of the main suppliers for McDonalds in both the USA and Europe. The company has enjoyed a period of continued growth that has seen it increase its sales and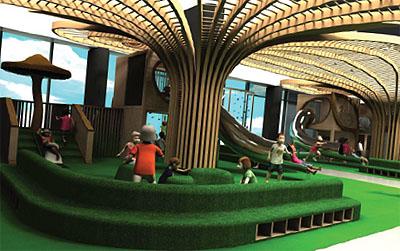 develop in line with its strategic plans, protecting its position as Europe's leading manufacturer in the market. Chairman Stefan Johansson talks us through the most recent highlights for the business: "We have been trying to strengthen the relationships we have with our existing customers, but we have also started to work with some new clients during the past 18 months. We are happy to announce that we managed to increase our annual turnover by more than ten per cent, which we attribute to the earnest investment we have made in both our R&D and sales departments. The close collaboration we attempt to nurture with our clients is another crucial reason or our continual success. They appreciate the fact that we offer them turnkey solutions and that is why they keep coming back to us – because we take care of the entire process, from initial concept creation to manufacturing and installation."
Since the beginning of 2018, SPI Global Play has capitalised on the positive development of the family entertainment centre (FEC) market, but Stefan notes with satisfaction that the company is gradually increasing its market share 97in the retail sector, as well – a trend that has started a few years ago. "There is a heightened demand for creativity and for the safe delivery of the playgrounds on our retail customers' part. It is necessary for the retail industry to reinvent itself in the era of Internet shopping and make sure that it continues to drive traffic, keeping the act of physical shopping attractive and entertaining," he opines. "The need to introduce entertainment in shopping malls is evident and our job is to understand their business philosophy, in order to serve them in the best way possible. At the same time, we should be working quickly, in order not to cause any disruption to the normal operation of the malls, whilst ensuring that we do not jeopardise the quality and security of the products in any way, either."
For it to improve its manufacturing capabilities, SPI Global Play made an investment in a plastic moulding machine in the end of 2017 to double its capacity for the production of slides and other plastic equipment. "We can now manufacture all kinds of plastic-moulded products, which has enabled us to widen our portfolio not just for the external customers, but for our internal needs, too. Alongside the plastic moulding machine, we also purchased a welding machine in 2017. These investments are a telling example of our commitment to equip ourselves with the latest technology and ensure maximum efficiency and the highest quality," Stefan claims.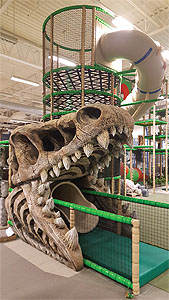 SPI Global Play had had a fruitful working relationship for a number of years with a glass fibre products manufacturer, before it decided to acquire this very company last year. Stefan explains: "We had been buying from this company for a long time, so we knew that they had an excellent capacity and a very strong team, which resulted in the creation of first-class products. Since the acquisition, we have invested in new equipment, training and education, and the general layout of the factory. We view adding this company to our business as a strategic decision that aims to significantly expand our capabilities and move us from producing mainly slides to manufacturing all types of fibre glass products. Naturally, this step will benefit the entire marketplace, too, as we will be able to feed it with even more attractive items."
At this moment in time, SPI Global Play is predominantly engaged with building multi-leisure centres featuring a wide variety of activities, as well as themed parks. To complete such ambitious tasks, the business has had to summon all of its creative powers and put some of its latest concepts, such as that of a trampoline park, into play. "We are especially proud of the bigger total concept projects we have been working on in recent times, because they are a true testament to the quality we can provide at every stage of a project," Stefan beams.
Putting all ingredients together, it is no wonder that the company is witnessing an escalation of sales, notably in geographical areas that have not been particularly strong for SPI Global Play in the past. "Asia and the Middle East are proving especially strong markets for us right now, and so is the US. We sell to more than 40 countries and have established a local presence in 14 of these, covering five continents. Given the good job we are doing in these areas, our ambition is to continue develop them and enlarge our geographical footprint further, while also targeting a year-on-year growth of about 15 per cent," Stefan concludes, sharing some of the plans for the future.
SPI Global Play
Products: Playground equipment