Reaching new heights
SPI Global Play has made its name by exceeding its customers' expectations, a trait that has led it to the point where the company is now experiencing its busiest and most exciting period of growth and success
Regular readers of Manufacturing Today Europe are likely to recognise the name SPI Global Play. Indeed, it has been this magazine's pleasure to report upon the success of the self-confessed 'play experts' for the last several years, during which time we have documented how it has come to be recognised as being Europe's leading play and concept supplier and manufacturer, responsible for designing and building family entertainment centres (FECs) trampoline parks and many other leisure concepts for clients across the globe. It was, therefore, heartening to be able to speak with UK Managing Director, Richard Evans, at a point when the company is experiencing arguably the busiest time in its history.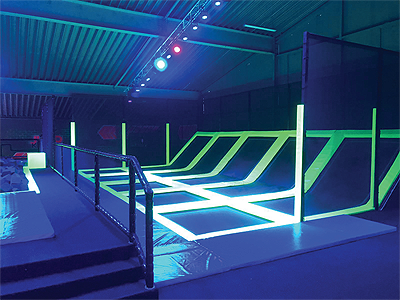 "The last 12-to-18 months have been incredibly busy for SPI Global Play, during which time we have been exporting equipment throughout the world and taking on a number of increasingly large, exciting projects," Richard states. "Despite this, we have continued to maintain strong lead times of around six weeks, meaning that any order we receive is shipped from our facilities in a 'prompt and timely manner'.
"Meanwhile, our Design and Development Teams have significantly adapted our FEC Concepts making them even more innovative and phenomenally more exciting than anything previously seen in the marketplace and therefore keeping ahead of the Industry trends. When combined with our ability to deliver turnkey solutions, it means that today we are able to offer our customers a profit-making business model, not just a play centre."
The efforts of the company have resulted in sourcing contracts in locations such as the Middle East, the Americas, Thailand and even in Iraq! "It is in Thailand, for example, that w comare about to commence work on a completely themed multi-leisure complex project for a high-profile customer of such size and scope that the finished FEC in question will require approximately 17,000 metres of steel, will encompass no fewer than 13 printed bespoke slides, and will ultimately measure larger than Wembley Stadium. This section is only the FEC portion of this immense venture. Our Sales Team have been steadily working towards this project for the last two-to-three years. When it will be the time to ship out the materials in December, we anticipate 12-to-15 full containers will be required for transportation," Richard declares.
All of SPI Global Play's play structures are manufactured in its 42,000-square foot facility in the UK. The past year has also seen the aforementioned facility continue to be the beneficiary of considerable investment. "As has previously been documented with your magazine, we completed the purchase of a £250,000 plastic moulding machine around 18 months ago in order to double our production capacity of slides and other plastic equipment," Richard explains. "Since then, we have also invested in new welding machinery, and have aquired a brand-new printing machine at a cost of over £50,000, which will help to speed up this process and give us even greater production capacity and flexibility."
Company's capital has also been utilised to make important acquisitions, which includes the release of Space Glider, a new innovative zip line coaster that is capable of negotiating corners. "Space Glider is a fantastic product, one which combines the excitement of a roller coaster and zip line into one solution that can be fitted into both indoor and outdoor spaces," Richard explains. "Being a gravity-fed system, Space Glider is easy to use and requires minimal maintenance. It is without question a concept that we felt would fit nicely into our offering and it is now part of our overall package offering as we look to provide our customers with unique experiences."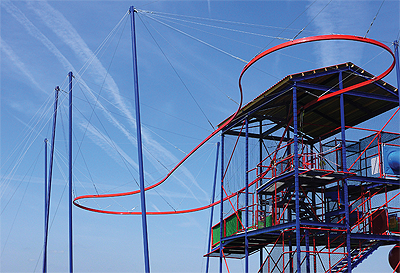 Although at time of writing there were less than three months remaining in 2019, SPI Global Play's plate remains as full as ever, with at least seven major projects due to come into its factory, and then being shipped back out, by the third week of December. Such a demanding workload looks set to continue into 2020, as Richard reveals. "As it stands, with so much work in the pipeline, we anticipate the first half of next year being an extremely busy time for us. While we expect this to pose some challenges in the production process, we are confident that all deadlines will be met and our quality standards will remain as high as always. Our goal is to exceed our customers' expectations at every stage of the process."
In summary, it is fair to say that 2019 has been a hugely positive and successful year for SPI Global Play. Now it is for the company and its hardworking employees to expand upon this and take the business to even greater heights.
SPI Global Play
Products: Family entertainment centres and turnkey leisure solutions