SPI Global Play uses its 'glocal' outlook to deliver culturally considerate, turnkey play and leisure solutions
WORK from Play
SPI Global Play (SPI) is a spirited model of a global company. Originating in Canada 50 years ago, it spread south to New Zealand and then north to the UK, before establishing the company's head office in Sweden – after merging with a major supplier that it had acquired. Innovative thinking encouraged SPI to move across from the agricultural sector into the manufacturing of playgrounds for children in the late 1970s/early 1980s. The global enterprise now has over 25,000 attractions spread across 52 different countries and the list is set to continue growing.
SPI's clientele can be divided between two categories according to Mikael Wettergren, the Chief Executive Officer. "We have one type of customer that utilizes our products to sell their own, such as McDonalds who use our play areas to attract more visitors to their outlets, or Ikea, who can sell more furniture by building a kid's play area for parents to leave their children in whilst they shop. The other type we refer to as 'destination clients.' They employ our products, concepts and turnkey solutions as an attraction for which people pay an entrance fee to use, such as a trampoline park, a family entertainment center or an adventure park."
Concept-driven
Whether the profit from their playground investment is direct or indirect, SPI customers experience the same thorough pre-briefing process when approaching the company for a quote. Operating as part of Global Leisure Group (GLG), a collective of likeminded companies, SPI has a specialist in every possible area, and determines to steer its customers in the right direction. As Mikael states: "We are more of a partner or advisor to our clients, rather than a sales company. At the end of the day, the customer makes the final decision." He continues: "When a client comes to us, seeking our products and concepts, we primarily need to understand what kind of project the customer wants to undertake. A shopping mall has different needs to an attraction park, so it's important for us to establish the goals, business idea and target age group."
The company's vast geographical growth over the last five decades has done more than just expand its customer base within new markets. SPI considers itself to be a 'glocal' company in Mikael's words, or: "A global company, but with a local presence." He explains, "We gain local knowledge by having a distribution network and sales force that operates all over the world – in being near to the client, we use the opportunity to understand the local market. The UK is not the same as Saudi Arabia, or China, for example. They have differing markets, different types of needs; People play and relax differently, which means that our concepts and leisure solutions need to be adapted to each market. We need to understand all of this to be able to consistently provide the correct products and give clients the service they require."
Once SPI has generated an in-depth profile on the client in question, the next step involves returning to the larger organization and selecting the appropriate team to assign to the project. This is principally based around the type of leisure and entertainment area being produced, however it will consider a broader spectrum of logistics in terms of implementation too: the layout of the available space, its people flow throughout the area, where would best suit a toilet or café and what kind of activities are allowed within the vicinity. At the end, SPI will produce a design presentation of the concept it sees to be the correct solution. "We are selling a concept. A concept is a turnkey service – this is what we are good at. We don't only look at the product we want to sell, but everything around it. By utilizing our expertise, the client can be confident in their investment," Mikael adds.
Winning combination
With a level of global coverage, providing a reach to 'virtually every country on earth,' SPI is required to apply its worldliness and multinational mindset to its own people too. Mikael cites communication as being the company's biggest challenge, but one that they undoubtedly have managed to overcome with one simple principle. "We currently have more than 500 employees to support. We need to have a deep understanding of how different people perceive, process and share information. At the very ground level, everything starts with respect and understanding for each other," Mikael implores.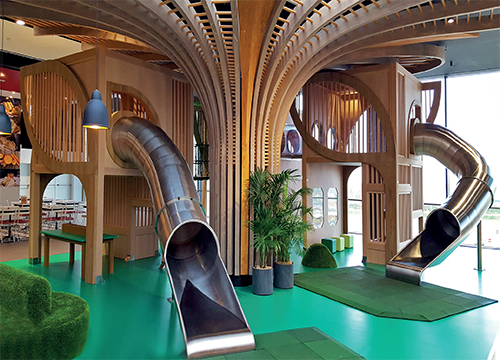 "We have a wide variety of national cultures within the company and furthermore, within each of those, there are different types of people. We need the entire team to cooperate as a single entity, so for that, we need to get down to base level and understand every individual in each company, all the way up. Besides respect and understanding of different cultures, SPI carries a strong winning mentality, which is a part of our success too. We like to win, we want to have the best play and leisure centers in each country and we aim to extend our success to our clients. Everything is a team effort though. When we secure a contract, for example, it's not only the sales guys that take the credit. We recognize that it's the whole team around them; we win together," he concludes.
Having celebrated its impressive half-century milestone earlier this year at the International Association of Amusement Parks and Attractions (IAAPA) show, the company now has its sights set firmly on a greener outlook for its next 50 years. Within its green initiative, the company is committed to improving its environmental performance both in its production processes and final products, by realigning its approach to design, resource consumption, waste and pollution. This comes as no surprise, as a company that is so globally oriented, it is obviously going to focus on the world.
www.spiglobalplay.com