Work hard, play hard
Self-confessed 'play experts' SPI Global Play strives to meet the future needs of its clients through the development and manufacturing of innovative play solutions
Part of the Global Leisure Group, worldwide suppliers of play and leisure solutions, SPI Global Play has been at the forefront of the manufacturing and supplying of indoor, outdoor and water adventure play equipment since 1972. With a reputation for quality and innovation, it is Europe's leading designer and builder of Family Entertainment Centers (FECs) and operates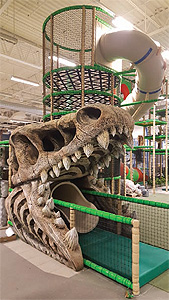 today from 25 different sales offices located around the world.
With design offices in seven different European countries, and production units in the UK, Italy, Belgium, Germany, Slovakia and Sweden, the company is able to deploy installation crews to any location in order to quickly and professionally deploy its equipment. "Every project we take on involves delivering turnkey solutions to our clients," explains Mikael Wettergren, Chief Executive Officer of SPI Global Play. "When we start working with a client we begin with a concept and together we design the ideal solution for the best end result.
"Every solution we create is custom made for our clients, who typically can be separated into two broad categories. The first group are those looking to incorporate our solutions into their existing business space in order to attract a particular type of customer, usually families or teenagers. These customers include fast food chains, such as McDonalds, retailers like IKEA, and can also include hotels and airports. The second category are what we refer to as 'destination clients', for example major attraction parks or entertainment centers that people attend, pay an entrance fee and spend the better part of a whole day."
Each client, be it from the retail, food, hospitality or leisure industry, will begin the process by presenting SPI Global Play with an ideal end result for their project. From there the company takes the reins, designing and selecting the play items, activities and the look of the FEC in question, before presenting the finished design to the client. "As well as being the market leading manufacturer in our field when it comes to market share," Mikael continues, "we also consider ourselves to be way ahead of the curve in terms of innovation.
"We have several research and development departments at our disposal, two of which are located in the UK, one in Belgium and one in Italy. The two in the UK are focused on the creation of new products, from electronics to play equipment, and the subsequent testing, approval and certification of these. In Belgium, the team specializes in the development of solutions for our fast food and retail clients, creating products that are tougher and more durable in order to stand up to testing environments. Meanwhile, our Italian team works on new concepts for shopping malls, attraction parks and other clients looking to utilize FECs within their business space."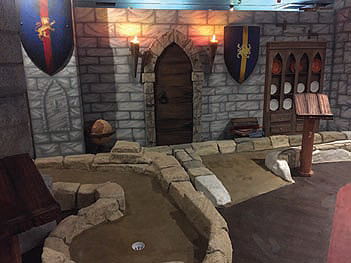 These departments continue to be responsible for numerous ground-breaking concepts and products. Among the most recent to be developed is an adventure golf product for use in both indoor and outdoor activity centers. A visually beautiful piece of equipment, designed and manufactured in the UK for the entertainment centre company Namco Funscape in Tamworth, it has just recently been installed for immediate use.
Another development that the company is very excited about, which took two years to perfect and is a first for the industry, is a newly created technology that makes it possible to merge and print directly onto glass fiber slides. Whereas designs would previously have needed to be painted by hand onto the slides, SPI Global Play's new technique allows a client to specify the design, pattern and color they wish to see, which is then photo-realistically printed and applied under the glass fiber protection to the slide. This also means that the design is not susceptible to wear and tear, thus reducing maintenance costs.
"In terms of market segments, we are seeing particularly high demand coming from our clients within the fast food, retail and attraction park sectors," Mikael says. "While Europe remains very much our home market, and as such performance here remains strong, we are continuously discovering that our largest sales volumes are coming from clients based in Asia. They have a very specific requirement for European products and are more than willing to pay for the quality, innovation and safety that our company offers."
Turning to the future and it is clear that SPI Global Play has in place a tough, aggressive plan to achieve growth of between 30 and 40 per cent on an annual basis going forward. "Our goals have definitely been set at a high level, but we are confident in our ability to achieve them," Mikael states. "We will do so by exploring potential opportunities to merge with other businesses inside our market segment, should the conditions suit, while also pursuing our own organic growth in both established and emerging regions. This will involve identifying potential sites for new production units, as we have most recently done in Slovakia where we are now experimenting with steel and wood production, creating completely new products for our clients to enjoy."
SPI Global Play
Services: Manufacturing Family Entertainment Centers (FECs)