Laser sharp
Holding strong positions in the US and Europe, and with an ever-growing presence within Asia, SPI Lasers' product portfolio covers countless application process areas across a range of critical industries
With over 300 employees serving customers in more than 150 countries, SPI Lasers (SPI) is one of the world's leading manufacturers of industrial Pulsed and CW Fiber Lasers, and one of
the few to operate on a truly global basis. Aspiring to become the benchmark player in the manufacture of said lasers, as measured by its stakeholders, customers and employees, SPI's mission is to provide the very best quality products and after sales service.
It achieves this through the manufacture of Pulsed Fiber Lasers from 20W to 200W for marking, welding, engraving, frilling, thin foil cutting, thin film patterning, micro machining and layer removal, and CW Fiber Lasers from 300W to 8kW. These particular lasers are used for cutting, drilling, welding, soldering, scribing, material processing, cladding and heating.
Founded in 1999 as a spin off from the Optoelectronics Research Centre (ORC) at the University of Southampton, where it continues to retain a state-of-the-art R&D laboratory, SPI has been a leading innovator since the early days of active fiber development. Since 2008 the company has been wholly owned by the TRUMPF Group, and in 2015 it successfully acquired JK Lasers, bringing together two businesses with combined experience of providing effective laser solutions stretching over more than 50 years. In the time since, JK Lasers', products and operations have been incorporated into the SPI Lasers brand, with its site in Rugby continuing to run as an additional manufacturing, development and customer service centre for Fiber Lasers and optical components.
"Our key markets are Asia, the United States and Europe, with approximately 95 per cent of our production capacity being exported outside of the UK," explains SPI's Chief Executive Officer, Mark Greenwood. "Our customers are predominantly machine builders looking to integrate innovative, reliable lasers into their products to supply global manufacturing industries with a high-quality precision product that enhances productivity, while simultaneously reducing costs. Our expert capabilities have resulted in our lasers making their way into a variety of global industries, including the automotive, electronics, aerospace, medical, additive manufacturing, solar and telecoms sectors."
It was the Asian, particularly the Chinese, as well as the European market that helped create conditions suitable for very strong growth for SPI in 2017. "We secured some big contracts in China within the consumer electronics market over the last 12 months, while also achieving good traction in Europe, especially in the world of additive manufacturing, and across both regions in the field of 3D printing where our lasers play a key role in metal powder bed fusion systems," Mark continues.
Having achieved growth of approximately 35 per cent in the last financial year, current data points to this trend continuing for this year. "A great deal of our growth is currently originating from new applications for our lasers, which is helping SPI to gain market share in the industrial lasers sector, which is growing at an average of eight per cent a year," Mark adds. "In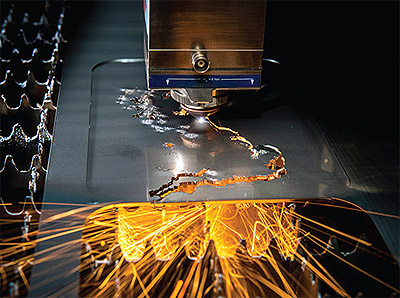 response to this, we are developing multiple new processes, made up of combinations of lasers and applications, where we bring the two together in a novel way to solve all manner of processing problems."
The present success of SPI comes at an important time for the company, and for Mark personally, as it was at the beginning of 2018 that he assumed the role of CEO, having previously served as Chief Technical Officer. Having been in the role for two months at the time of our conversation, Mark has a clear vision of how he wants to take the business even further forward. "In simple terms, it is about doing more of the things that we already do so well, which is essentially technology leadership, combined with applications knowledge and innovation," he states.
"One of the key areas that we are developing is the continued improvement of our manufacturing activities," Mark goes on to reveal. "In addition to making lasers we also make our own fiber, all the fuse components and all other sub-assemblies, and this has meant that we have become highly vertically integrated, which gives us an increased ability to design and ring fence IP, as well as optimise price performance within our core markets."
SPI has also taken massive strides when it comes to implementing, and perfecting, lean manufacturing philosophies and practices. "Traditionally, a laser is built with optical mirrors and other sub-mounts put together by mechanical electrical fitters, before a laser test engineer goes into a lab and spends several weeks making it work," Mark enthuses. "What we have done is take the principles of lean manufacturing to de-skill the process to an extent, reducing lead times and allowing for lasers to be constructed on a flow line basis. This means that we can now take a laser from scratch to a fully operating application in a very short period of time, and do so in a scalable manner that means that we can rapidly ramp up the production process when required."
The above-mentioned manufacturing activities continue at the same time as SPI works to increase its operational footprint, adding in extra facilities and factory space at its UK sites. In Southampton, the company is in the process of adding an extra 40,000 square feet of space, which is expected to come online around June 2018, with long-term ambitions for its Rugby site also being considered.
"On top of our move to increase our capacity, we are continuing to 'power scale' in every sense when it comes to our products," Mark reveals. "We are working hard to increase the power levels, the reliability and the versatility across our entire laser range. With our long history when it comes to laser innovation, supported by a very strong technology and applications pipeline, we are in a fantastic position to bring premium Pulsed and CW Fiber Lasers to all kinds of markets."
SPI Lasers
Products: Pulsed and CW Fiber Lasers